Mazda Premacy
Model Overview
Mazda Premacy Cars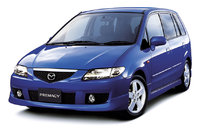 2001 Mazda Premacy reviews:







Questions
Dashboard Lights Light Up And Wont Disappear Even When The Car Is Moving
Check engine sign, key warning sign, the ABS sign, the AT sign, the battery sign, power steering malfunction sign and handbrake sign all light up at the same time when the engine is running and they...
At Warning Light
please explain whats the AT warning light about
Hi Guys My Name Is Longa And Have Automatic Mazda Axela. Have A Problem Wit...
what could be wrong with transmission? changed ATF oil with elfmatic oil(dextron iii) and now both AT and Engine check lights are on. what is the remedy?
Glow Plugs
wiring diagram
What Could Be The Problem On A Mazda Car 7 If The At Light Comes On The Das...