Mazda B-Series Pickup
Model Overview
Used Mazda B-Series Pickup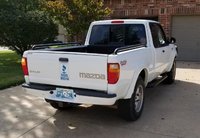 Used 2001 Mazda B-Series Pickup For Sale
| | |
| --- | --- |
| | 3 GOOD Deals |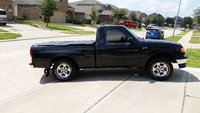 Used 2000 Mazda B-Series Pickup For Sale
| | |
| --- | --- |
| | 1 GREAT Deal |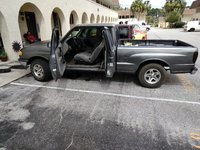 Mazda B-Series Pickup Questions
1991 Mazda B2600i Won't Start
All of a sudden the truck won't crank, I have power with the key on but won't crank. checked the clutch safety switch, replaced the starter....still nothing. fires up just fine if I jump the starter ...
My 1986 Mazda B2000 Pickup Cannot Put Gas In.
1986 mazda pickup is only taking a little gas at a time. then it acts like it is full. i know it is not because i ran out of gas! what can i do to fix it?
Does The 1992 B2200 Mazda Pickup Truck Have An In-line Fuel Filter?
It starts without difficulty but cuts out shortly. Could this be the fuel line filter or the fuel pump?
My Timing Belt Broke On My 96 Mazda B 23rd What Can Happen To Motor
Mazda Pickup Motor Swap
I have a Mazda b3000 pickup with a blown v6 is there any way I can replace that motor an tranny with a 4 cylinder out of Mazda b2300 pic up
Older Mazda B-Series Pickup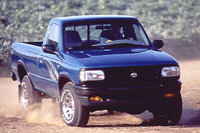 1995 Mazda B-Series Pickup
1995 Mazda B-Series Pickup reviews: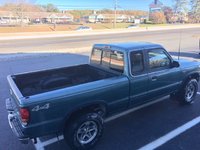 1994 Mazda B-Series Pickup
1994 Mazda B-Series Pickup reviews: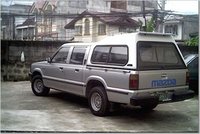 1993 Mazda B-Series Pickup
1993 Mazda B-Series Pickup reviews: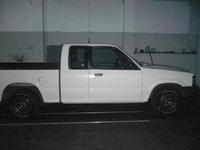 1992 Mazda B-Series Pickup
1992 Mazda B-Series Pickup reviews: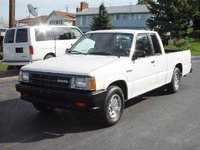 1991 Mazda B-Series Pickup
1991 Mazda B-Series Pickup reviews: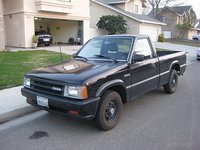 1990 Mazda B-Series Pickup
1990 Mazda B-Series Pickup reviews:





Mazda B-Series Pickup
Overview
Mazda's light, compact pickup truck, which was first produced in the mid-1980s, has been known by three different names throughout its North American run. From its introduction in 1986 through the 2001 model year, the truck was known as the B-Series Pickup. Then, for a couple of years, from 2002 to 2003, the truck was simply known as the Mazda Truck. And from 2004 on, the vehicle has been known as the Mazda B-Series Truck. Subtle changes, but underneath the badging they were all the same basic vehicle.
Mazda B-Series trucks have been sold in North America for more than two decades, and actually had their origins in the mid-1970s, when Mazda starting building compact pickup trucks for Ford. In the 1980s, Ford decided to launch its Ranger series, based on the platform originated by Mazda, so Mazda split away to launch its B-Series line of compact pickup trucks.
Though never as popular as trucks built by Ford and other foreign automakers such as Toyota, the Mazda B-Series trucks have been solid, reliable, and well-built throughout their run, garnering a large number of loyal fans and buyers, who keep coming back to the vehicle, purchasing it year after year. And while they acknowledge that the B-Series trucks are not as powerful nor as luxurious as truck from competitors, they appreciate the B-Series trucks for their value, economy, handling, comfort, and dependability.
Througout most of its run, the B-Series has been available with both standard and extended (Cab Plus) cabs, as well as in two-wheel-drive and four-wheel-drive versions. Engines have ranged from an 85-horsepower, 2.2-liter (2200 cubic centimeters) four-cylinder engine to the current 207-horsepower, 4.0-liter V6, which is the largest, most powerful engine available for the B-Series.
A few words about nomenclature. Throughout its run, the B-Series trucks have taken their name from their engine size, so trucks with the 2.2-liter (2200cc) engine became the B2200, while trucks with the 3.0-liter engine (3000cc) became the B3000, trucks with the 4.0-liter (4000cc) engine became the B4000, and so forth. Trim packages included the SE, SX, Dual Sport, and Troy Lee versions (the latter named for a designer of extreme-sports and racing equipment).
Initially standard features for the B-Series trucks were sparse, but they have been expanded through the years, with rear-wheel anti-lock brakes becoming an important standard feature. In the 1990s, extended cabs received four doors, with current models featuring rear-hinged rear doors that can be opened only when the front doors are open.