Lexus RX 350
Model Overview
New Lexus RX 350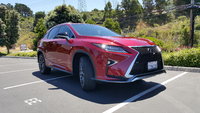 Used Lexus RX 350
Lexus RX 350 Questions
Car Keys
I have a lexus 350, 2013 car. I lost my keys and we have been searching for the keys. What I want to know is how many miles will the car run without the key inside the car. We want to know whether we ...
2008 Lexus Rx 350 All Passenger Doors Will Not Unlock With Fob Nor With Int...
All doors except for driver door will not unlock with the FOB, nor the manual unlock button on the door panel. Only the driver door unlocks. All doors will lock with no problem, but the unlock does ...
2008 Rx350 All Passenger Doors Will Not Unlock With Fob Nor Interior Door S...
The unlock button on the fob and inside the car will only unlock the driver door, all other doors will not unlock. The locking works just fine on all four doors. It is the unlock feature that is not...
What Is Happening To Have The "check Awd System" Message On Along With The ...
How Do I Reset The Window Controls To Allow Operations From The Drivers Sea...
We are unable to control window operations from the drivers seat. Windows will open & close using door buttons. But not from drivers master control.l
Lexus RX 350
Overview
The RX 350 is the third generation of the RX series, a crossover between luxury sedans and SUVs, introduced by Lexus in the late 1990s. The original RXs were built off the Toyota Camry/Lexus ES platform. The crossover concept was a quick success, and the RX soon became the top seller for Lexus.
Throughout the decade, Lexus incrementally dropped larger engines into the RX. The first was a 220 horsepower 3.0 liter V-6 and the latest, at 3.5 liters, made 270 horsepower. The RX 350 had 47 more horses than the 2005. Like all the prior models, the new RX was available in two trims: a 4WD or a FWD. It's success can be attributed to the combination of car-like ride and fuel economy with some of the conveniences of an SUV.
Common complaints about the RX dealt with the SUV attributes which were absent. The RX was never touted as an off road performer. It's low ground clearance and car-like suspension makes trailblazing a little nerve racking. The RX did offer Lexus luxury, handling, and interior comfort. Factors like the unique body style and vehicle niche have attracted many satisfied buyers.