Lexus RX 350
Model Overview
New Lexus RX 350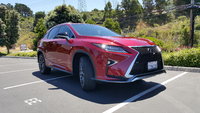 Used Lexus RX 350
Lexus RX 350 Questions
Check Engine Light Vsc Light And Engine Smoking
2007 Lexus RX 350 has check engine light and VSC light and smoking under the hood and oil
How Many Miles Can I Expect To Put On My Lexus Rx 350 2011 Model? Thank You...
2010 Rd 350
When it rain water is getting in the front only can you give me something that I could look for it maybe it could be quick and simple to fix
Lexus 350 Computer/battery Problems
My Lexus 350 just died at a stop light. I got it started after a few tries but it was not running right and showed all kinds of warnings like trac off, check brakes, awd system problems, check eng...
Where Is The Odometer Trip B Reset Device In My New 2017 Rx350?
I have found 2 pages in manual , neither of which has helped me figure out how to reset the odometer trip meter fro Trip A to Trip B.
Lexus RX 350
Overview
The RX 350 is the third generation of the RX series, a crossover between luxury sedans and SUVs, introduced by Lexus in the late 1990s. The original RXs were built off the Toyota Camry/Lexus ES platform. The crossover concept was a quick success, and the RX soon became the top seller for Lexus.
Throughout the decade, Lexus incrementally dropped larger engines into the RX. The first was a 220 horsepower 3.0 liter V-6 and the latest, at 3.5 liters, made 270 horsepower. The RX 350 had 47 more horses than the 2005. Like all the prior models, the new RX was available in two trims: a 4WD or a FWD. It's success can be attributed to the combination of car-like ride and fuel economy with some of the conveniences of an SUV.
Common complaints about the RX dealt with the SUV attributes which were absent. The RX was never touted as an off road performer. It's low ground clearance and car-like suspension makes trailblazing a little nerve racking. The RX did offer Lexus luxury, handling, and interior comfort. Factors like the unique body style and vehicle niche have attracted many satisfied buyers.