Lexus LX 470
Model Overview
Used Lexus LX 470
Lexus LX 470 Questions
2000 Lexus Lx 470 The Dashboard Shows That The Water Temperature Is Too Hig...
The dashboard shows that the water temperature is too high
My Suspension System Seems To Have Gone Out. I Heard Hiss Of Air From Rear ...
Keys Locked In My 1999 Lexas How To Open
Locked keys in car
Electrical Failure
My Lexus LX 470 (2006) has near total electrical failure. The battery had died and to bring it to the shop I went to jump start it from my other car. It sparked when I hooked up the cables, and th...
How Much More Does A Lexus Lx470 Cost Than A Toyota Capri In Repairs? Perc...
I'm thinking of buying a 2002 lexus lx470 with 112,000 miles and wondering what life expectancy is and how much, compared with my toyota Camry the repair expenses will be.
Older Lexus LX 470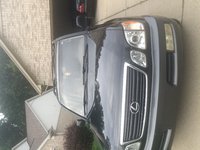 1998 Lexus LX 470 reviews:





Lexus LX 470
Overview
In 1998, the Lexus LX sport utility was redesigned and renamed the LX 470. The previous 4.5 liter inline six was replaced by a 4.7 liter V-8, which was designed for Toyota's full size T-100 truck. The seven passenger SUV still utilized the rugged Land Cruiser platform and body, but Lexus continued to refine the interior fittings and exterior details.
The new V-8 produced 230 horsepower, which propelled the 5400 pound LX from 0 to 60 in 9.9 seconds. This was quite impressive considering the bulk of the full size SUV. Acceleration through the higher gears was still a bit sluggish, but test drivers noted the improvement. The adaptive variable suspension system provided perhaps the best ride among all sport utilities, but the soft suspension caused some wobbles when cornering.
This year, the Lincoln Navigator joined Lexus, Land Rover, Cadillac, and Infinity in the growing full-size luxury SUV market. With the exception of the Range Rover, other competitors found that they were attracting more a high profile in-town crowd, rather than off-road adventurers. Lexus responded with a new LX that seemed to sacrifice some of the 4x4 capability of the previous LX 450.