Lexus IS 350
Model Overview
New Lexus IS 350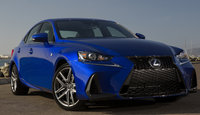 Used Lexus IS 350
Lexus IS 350 Questions
About My Car
How can I get the vsc off and the check engine light off as well
Forgive Me, But When Tires Are Rotated, Should They Rotate The Rims As Well...
How Do I Reset The Tire Pressure Warning Light On A 2006 Lexus Is 350?
Vsc Light
I just recently got my battery replaced through AAA, now my VSC light and traction light keeps coming on and off. Any ideas on how to fix that? Trying to avoid taking to Lexus dealer if I don't ha...
2008 Lexus Is 350 Has Tacky Dashboard
Dashboard is sticky. How should I clean it?
Lexus IS 350
Overview
In 2006 Lexus introduced this second generation of the IS series. The IS 350 was joined by a new smaller engine model, the IS 250. This new 350 addressed many of the prior complaints directed to the first generation IS 300. The new IS interior now had a finer fit and finish, and more standard features were added. The IS was now available with all wheel drive, but only the 250. The ill-fated SportCross wagon had vanished.
For the first time, the IS series was fitted with a V-6. The new 3.5 liter engine replaced the old 3.0 liter inline six, and it boosted torque and horsepower conderably. Horsepower rose from 215 to 306, and engine torque jumped from 218 to 277 pound feet. Nearly two seconds dropped from the IS's 0 to 60 time, down from 7.5 to 5.6 seconds. The adoption of the GS series' double-wishbone front and independent multilink rear suspension softened the ride a bit, and gas mileage improved to 21/28 mpg.
The new 350's performance put it far ahead of its 250 counterpart, and the former quickly became a leader in its class. Indeed, the 350 provides a totally different experience than that of the 250 or even its IS 300 predecessor. This is a true sport sedan, more in line with the Lexus GS series. Both ISs received a more luxurious interior, to quell the frequent complaints about the more pedestrian 300. Leather seating and Lexus SmartAccess were now standard.