Lexus IS 300
Model Overview
New Lexus IS 300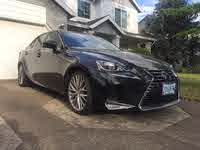 Used Lexus IS 300
Lexus IS 300 Questions
How Does Auto Pay Work, I Am The Seller
Is300 Lexus 2002
I have a Lexus is300 it's a 2002 at first the car couldn't go over 3k rpms so I went to AutoZone to check the check engine light and they said tps and maps sensor changed both but when I wanted to ...
GPS Map Update
How do I update the gps system. Where is the map card located ?
Rough Running
trac lite and check engine lite on and blinking car runs real rough like its running on 3 cylinders,what can cause this.
How Many Quarts Of Atf Do I Need For My Is 300
What is the capacity of atf in my is 300 ? Owners manual says only 2 liters. Is that really enough ?
Lexus IS 300
Overview
The IS series first appeared in 2001 as the entry-level offering from Lexus, priced just below the Camry-based ES. The IS was classified as subcompact, and it was conceived as a sports sedan. For half the price of the high-performance Lexus GS series, the IS 300 offered a stiffer suspension and manual transmission. However, many critics felt that Lexus luxury was a casualty of this new pursuit to combine performance with affordability.
Throughout its first generation, the IS was powered by a 3.0-liter inline six. This engine generated 215 horsepower and 218 pound-feet of torque. While the IS was considerably fast, moving from 0 to 60 in 7.5 seconds, many owners felt the 19/25 mpg fuel efficiency was considerably low for such a small car. Indeed, it was the smallest sedan Lexus ever built. The manual transmission became available in 2002, and it featured a limited slip differential through 2004. In the second year of production, Lexus also offered the IS as a compact wagon called the SportCross. It never ascended beyond limited production, and low sales led to its discontinuation after the first generation.
In 2006, the IS was redesigned and split into two engine options: the V6 IS 250 and the V6 IS 350. All-wheel drive became available on the car for the first time. With the second generation, Lexus aimed to create an IS that could keep pace with the comparably priced BMW 3-Series and the Mercedes Benz C-Class, with respect to both luxury and peformance.