Lexus GS 350
Model Overview
New Lexus GS 350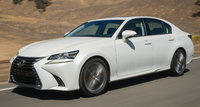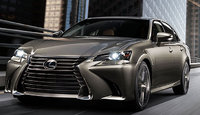 Used Lexus GS 350
Lexus GS 350 Questions
My Paint Is Peeling At The Trim On The Window, Anybody Have That Problem??
Alarm Started Going Off During Middle Of Night And Will Not Stop. Had To Un...
Why Does My Car Smoke From The Exhaust After Coasting Downhill When There I...
I own a 2007 Lexus GS350 with 185000 miles on it. It runs beautifully with a great amount of power. Besides the smoke that billows out it runs like a champ. I usually avoid the clouds of smoke by d...
How Do People Get A Hold Of Me If Interested In Listingf?
see question
Should I Purchase A 2006 Lexus Gs350?
I'm considering the purchase of a 2006 Lexus GS 350 with 125K miles. Would maintenance bite me in the butt if I make this purchase? What kind of repairs could I expect if so?
Lexus GS 350
Overview
Lexus introduced the GS 350 in the 2007 model year as a replacement for the GS 300, which had been continuously produced from the 1993 to the 2006 model year. The car got a newly designed, 3.5 liter engine that produced 272 horsepower - a 27 point jump from the 3.0 liter GS 300.
Like its predecessor, the GS 350 is a six cylinder engine, but Lexus seems to have eliminated some of the "sluggishness" that plagued the GS 300 for most of its tenure. Namely, the GS 350 had "fast acceleration" and a "smooth, quiet ride."
"Before you know it you are driving 85 and you feel like you're driving 60," wrote one owner. Interior and comfort features all got high marks from owners.