Lexus ES 350
Model Overview
New Lexus ES 350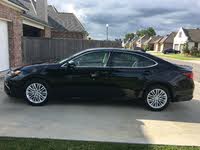 Used Lexus ES 350
Lexus ES 350 Questions
What Can You Tell Me About My Lexus ES 350 Transmission And Fluid Change
Should the transmission fluid be changed?
My Trunk Unlock Button And Key Fob Trunk Release Have Quit Working--looked ...
Trunk release button in car and key fob quit working --checked fuses but they look ok
Warning Lights
How do you get the low tire light to go out or the tires are properly inflated
Replacing Radio In 2010 Lexus
Can I replace the radio in my 2010 ES350 and still use the factory dash kit that is already installed? So basically replacing just the radio without buying a new dash kit?
Lexus ES
Why do the new 2019 Lexus ES not have auto power folding mirrors?
Lexus ES 350
Overview
The ES series had come a long way-from a car many considered a glorified Toyota Camry, to a car that can park itself. The ES 350 began the fifth generation of mid-size Lexus sedans. A larger and more potent V-6 had replaced the previous 3.3 liter version. The ES had long endured criticism for its resemblance to the Toyota Camry, but it had now evolved into a unique vehicle. The ES 350 was now a much closer relative to the Japanese market Toyota Windom.
The front wheel drive sedan received its most significant power boost yet in 2007, with the addition of a 272 horsepower aluminum block V-6. The 3.5 liter engine again utilized Toyota's Variable Valve Timing technology, which increased power, improved fuel economy, and lowered emissions. Performance increases were more significant than before, with the ES's 0-60 time dropping from 8.2 to 6.8 seconds. Fuel efficiency reached a new high at 21/30 mpg. The ES was also fitted with a new six-speed automatic transmission.
The ES's interior is decorated with leather seats and walnut trim, and the standard features list has continued to grow. A prior criticism of the ES was that too many luxury features were optional. Options increased as well. The ES could now offer additional amenities like an MP3 plug-in, 14-speaker Mark Levinson sound system, DVD-capable navigation, panoramic moon roof, and Lexus ParkAssist. Keyless entry and engine start features were now standard.