Lexus ES 350
Model Overview
New Lexus ES 350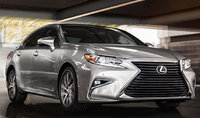 Used Lexus ES 350
Lexus ES 350 Questions
Pricing My 2013 Lexus Es 350
I have an ad with Carsgurus priced at $23,995. The majority of this model/year do not have NAVIGATION, a pricy upgraded Option. You have put that my car is overpriced. Not true ! The dealer says ...
I Had My Airbags Replaced And The Entire Dash Board Of My Car Replaced. Whe...
Does The Actual Tire Pressure Display Anywhere
Tire pressure light is on, I wanted to know which tire is low, does it display the actual tire pressure anywhere?
Should I Be Concerned If The Tire Pressure Light Will Not Go Off In My Lexu...
I have replaced sensors in m y tires and had all kinds of repairs done and the tire pressure light will not go off.
Charging Options
why does the ignition have to be on so that I may charge my phone
Lexus ES 350
Overview
The ES series had come a long way-from a car many considered a glorified Toyota Camry, to a car that can park itself. The ES 350 began the fifth generation of mid-size Lexus sedans. A larger and more potent V-6 had replaced the previous 3.3 liter version. The ES had long endured criticism for its resemblance to the Toyota Camry, but it had now evolved into a unique vehicle. The ES 350 was now a much closer relative to the Japanese market Toyota Windom.
The front wheel drive sedan received its most significant power boost yet in 2007, with the addition of a 272 horsepower aluminum block V-6. The 3.5 liter engine again utilized Toyota's Variable Valve Timing technology, which increased power, improved fuel economy, and lowered emissions. Performance increases were more significant than before, with the ES's 0-60 time dropping from 8.2 to 6.8 seconds. Fuel efficiency reached a new high at 21/30 mpg. The ES was also fitted with a new six-speed automatic transmission.
The ES's interior is decorated with leather seats and walnut trim, and the standard features list has continued to grow. A prior criticism of the ES was that too many luxury features were optional. Options increased as well. The ES could now offer additional amenities like an MP3 plug-in, 14-speaker Mark Levinson sound system, DVD-capable navigation, panoramic moon roof, and Lexus ParkAssist. Keyless entry and engine start features were now standard.