Lexus ES 330
Model Overview
Used Lexus ES 330
Used 2006 Lexus ES 330 For Sale
| | |
| --- | --- |
| | 18 GOOD Deals |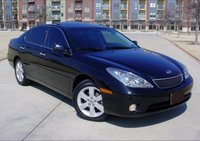 Used 2005 Lexus ES 330 For Sale
| | |
| --- | --- |
| | 12 GREAT Deals |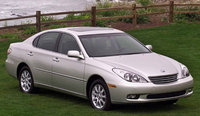 Used 2004 Lexus ES 330 For Sale
| | |
| --- | --- |
| | 6 GREAT Deals |
Lexus ES 330 Questions
Comment On Buying Experience
Where do I go to add a comment about one of your dealer members?
Can Any Body Tell Me How To Close Or Delete My Add.
help me to delete my car.
Indicator Lights
Replaced spark plugs for the 100,000 mile check. Now three indicator lights come on when engine is on. Track off, VAC, pic of little engine.
Why Does The Maintance Light Turns On
No Start On 04 Lexus 330
Changed fuel filter and pump, won't start, I can spray start fluid and it will run till out of fluid, have replaced alternator why will it not start, only has 93000 miles
Lexus ES 330
Overview
During the fourth generation of ES sedans, Lexus replaced the 3.0 with a 3.3 liter V-6 engine, and thus the ES 300 became the 330. The ES had undergone a total redesign 2002, in the ongoing effort to widen that gap between the Lexus and its Toyota counterpart, the Camry. While still built of the Camry platform, the ES had been fitted with a more unique exterior, providing the sedan with a bolder look. Also, the arrival of the new IS series relieved the ES of its entry-level status, and Lexus used the opportunity to build to ES into a vehicle more closely aligned with its GS and LS kin. The ES 330 also received a minor facelift in 2005.
The new 3.3 liter V-6 provide the ES with 225 horsepower, up from 200. Torque was also boosted to 240 pound-feet. Performance improvements were again marginal. The 0 to 60 time dropped to 8.2 seconds, down from 8.6, and the quarter mile time snuck just under sixteen. Fuel economy held in the same range at 20/29 mpg. During the 330's run, Lexus also introduced Variable Valve Timing + intelligence technology. VVT+i was borrowed from Toyota, and not only increased performance, but also improved fuel economy and lowered emissions. A five-speed automatic transmission replaced the four-speed during this time.
Despite incremental power increases, the ES was unable to reestablish sports sedan status. Mercedes and BMW competition left it too far behind. ES owners had found the sedan to reliable and comfortable, and that was enough to keep it amongst the top-selling Lexus models. The ES had only been recently replaced as the top seller by the new crossover RX 300 SUV, which was built from the same Camry/ES platform.