Ford E-Series Wagon
Model Overview
Used Ford E-Series Wagon
Ford E-Series Wagon Questions
Cannot Use Your Site For Sale My Car, Because You Don't Accept VIN
I post my motorhome for sake. It's old model, 1978, has old style Vin number. Web site is not accept it. I have inquiries from potential buyers, but website don't give me a chance for reply before ...
Air Conditioning
cost of replaceing
79 Ford Club Wagon Slant 6 Standard
Van won't start, but sounds like she wants to. It seems as if the engine isn't getting gas when I give it, but I don't want to flood it. I thought it was the plugs and wires. I replaced them anyway...
2001 E-150 Van Electric Seat
Electric seat will go forward and backward but will not move up or down or tilt forward or backward with the electric switch. Is this a switch problem, gear problem, or motor problem?
Engine Swap
Can I put a ford 360 in a 89 ford E150 van???
Older Ford E-Series Wagon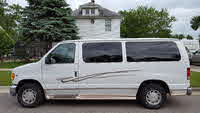 Ford E-Series Wagon
Overview
The new E-Series Wagon is a passenger version of the the full-size Econoline cargo van. The 2008 model year brings the first updates to the E-Series in quite some time, including aggressive new styling and an upgraded chassis. The new chassis improves handling and braking as well as load-carrying capability. The extended versions of the E-Series offer a 15-passenger capacity and improved rear seating. The redesign has placed the E-Series in closer competition with rivals like the GMC Express and Savana and the Dodge Sprinter.
The new E-Series has been lauded for its improved road manners, impressive payload, durability, and numerous power plant options. However, the van loses ground to competitors when buyers factor in considerations like legroom, standard features, and interior flexibility.
The E-Series Wagon is available in six trim levels, differentiated by engine, seating capacity, and features. The wagon differs from the cargo van by adding some additional feature-specific trim designations. The base XL package includes 16-inch steel wheels, Class I towing preparation, vinyl seating, front air conditioning, and an AM/FM radio. The more upscale XLT adds rear air conditioning, cruise control, powered accessories, halogen headlights, chrome bumpers, cloth seating, and a six-speaker CD audio system
The entry-level E-150 is powered by a 4.6-liter V8, which makes 225 horsepower and 286 pound-feet of torque. All other E-Series Wagons come equipped with a 5.4-liter V8 rated at 255 horsepower and 350 pound-feet of torque. This engine is also optional on the E-150, and both of these V8s are mated to a four-speed automatic transmission. The E-350 Super Duty is available with Ford's new 6.0-liter Power Stroke turbodiesel V8, which makes 235 hp and 440 lb-ft of torque and is mated to a five-speed automatic transmission. The E-350 Super Duty with the diesel V8 can tow up to 10,000 pounds.
Find great deals from top-rated dealersTM
Search