Ford E-Series Cargo
Model Overview
About the Ford E-Series Cargo
Available Now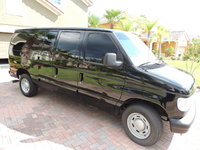 Despite being in its 50th year, the 2011 E-Series van is not your average silver surfer. Far from retiring, the beefiest brother E-450 can tow up to 22,000 pounds, leaving the 10,000-lb and lighter loads to the "runts" of the litter. Far from outdated, 2011 E-Series vans come with in-dash computers, rear-view cameras, convertible versatility and plenty of other industry-leading innovations - as they have throughout their history.
The half-ton E-150 is available only with 236 cubic feet inside and very few standard features, but the three-quarter-ton E-250 and one-ton E-350 Super Duty can be ordered in extended form with 275 cubic feet for cargo. Serious towing is easily accommodated with an optional 4.1 axle ratio, and the dizzying number of conversions make the E-Series optimally primed to not just work hard, but play hard too.
While the E-150 and E-250 come standard with a 4.6-liter, 225-hp, 286-lb-ft torque V8, this can be upgraded to the 5.4-liter, 255-hp, 350-lb-ft torque V8 standard in the E-350. With the workhorse diesel scrapped for this year, the only upgrade left to the E-350 is the gas-guzzling 6.8-liter, 305-hp, 420-lb-ft torque V10. Typical of Ford, you can have any engine you want, so long as it's got a 4-speed automatic with front-wheel drive.
Although it's not the tall, dark, and handsome dreamboat other cargo vans have made themselves to be, it is the hardest working and most reliable of the bunch. All the rest either fall back on hauling, towing, versatility or price, but certainly leave the number one spot wide open to the E-Series on technology.
Go ahead, shop around to see if something else suits you better - then come back to the E-Series. There's a good reason the E-Series is America's favorite van.
Model History
In the South, we have a saying, "If it ain't broke, don't fix it," and the E-Series van is so far from broken - with near-zero changes year over year - it is, in fact, the preferred tool to help you fix broken things. Known as the Econoline at it's birth in 1961, the E-Series has been the single most popular American van for over 30 years.
The first Econoline was a slightly more utilitarian version of the 8-passenger Ford Falcon, taking out the rear 3-passenger rows and replacing those with a few handy compartments and lots of open space. To prevent the now front-heavy two-passenger van from stopping like a puppy Pug, Ford opted to fit 165 lbs of dead weight over the rear wheels - not that it could get into too much trouble with a 2.3-liter (144 CID) V6 engine and 3-speed manual transmission.
Later models of this first generation got bigger engines - a 2.8-liter (170 CID) V6 or 4-liter (240 CID) V6 - and the option of an automatic transmission. However these would be the last Econoline vans featuring the typical split-engine setup that kept the combustion under the hood and everything else behind and beneath the seats.
The second-generation Econoline, starting in 1968, moved the entire engine under the hood in a revolutionary redesign, supporting it with a Twin I-Beam suspension, and upgrading the power to 8 inline cylinders. Ford led the pack with a progressively more rugged, truck-like style in each mid-generation facelift, adding sliding rear doors and spawning the stripped-down workhorse Hi-Cube van and the Class C cab van motorhomes still dominating the market today.
The 1975 complete redesign for the third-generation E-Series stuck around for the next 16 years, with more ergonomic controls, a longer nose and hood very close to the one used today, and a full-body frame allowing for extra utility as a truck chassis. Passenger and 4-wheel-drive conversions were very popular for this generation due to its solid construction.
The '79 facelift brought with it the familiar square headlights and grille later borrowed by the Ranger and Bronco II, and the oval Ford emblem was added in '83. Earlier models were powered by a 5-liter (302 CID) V8, but several considerably larger engines - including 5.8-liter (351 CID) and 7.5-liter (460 CID) gasoline V8 engines and the 6.9-liter and 7.3-liter diesel V8 versions - became available by the end of this generation, and with it the ability to tow up to 6,500 lbs.
To start out the fourth and current generation, the 1992 Econoline Chateau Club Wagon won Motor Trend's Truck of the Year award and robbed Dodge of its 15-passenger fame - and market. Unfortunately, this one goes the way of the Bronco and likes to get a little tipsy, so it is not recommended for the average driver, but in most cases you should not need to modify the van or acquire extra licensing.
Powering this Econoline Cargo starting lineup were one V6 and three V8 gasoline engines ranging from 4.9 to 7.5 liters, and one 7.3-liter diesel V8. Safety became a greater priority with a lowered front bumper, dual airbags and efficiently designed controls as Ford moved through this generation and deeper into passenger-van territory.
The engines were also revised in a '97 facelift for better stability, keeping only the diesel and scrapping the rest in favor of the new 4.2-liter V6 engine, 4.6- and 5.4-liter V8 engines, or a 6.8-liter V10. A few tweaks over the next 7 years gradually increased the horsepower and torque ratings of these engines without affecting much about their cross-compatibility, but the widening field of conversions and customizations for this Econoline incarnation can make swapping parts a bit tricky.
The big U.S.-market name change from Econoline to the familiar E-Series conventions for 2001 also came with a new E-150 Traveler model for families - but minivans prevailed, and the Traveler became old news quick. Despite that failure, Ford made the E-Series a household name with an E-150, E-250, E-350 or E-450 moniker on every large van or box-type vehicle it produced, from ambulances to recreational vans.
A facelift in 2003 freshened up the grille and added a couple of creature comforts - cupholders and a glove compartment - with a few changes to the gauges laying in wait for the next year. The 7.3-liter diesel V8 was replaced in 2004 with a more powerful 235-hp, 440-lb-ft torque, 6-liter intercooled turbodiesel V8. Although the engine was a detuned version of the one used in F-Series trucks, it was still a significant improvement over all of the previous engines.
As such, while previous versions were "rated" for less than 6,500 lbs of towing capacity, the '04 E-Series stepped ahead of the pack with actual towing capacities ranging up to 10,000 lbs. Keep in mind the GCWR (Gross Combined Weight Rating) can be quite deceiving - don't expect an '03 or older E-Series to deftly handle anything more than 4,000 lbs due to the engine's limited torque, but do expect the '04 to actually tow 10,000 lbs (including its own minimal curb weight) at 75 mph or better - just make sure your trailer and hitch are up to the task.
The E-Series we all know and love today was born in 2008 with a small facelift, and a complete chassis, suspension, braking and steering overhaul - keeping the full frame and Twin I-Beam suspension but upgrading it to a class-leading 5,000-lb GAWR (Gross Axle Weight Rating) and also class-leading 14,500-lb GAWR towing capacity. Handling and braking were also much improved due to these changes.
The next year saw the E-Series get seriously techie with an in-dash navigation system, backup camera, upfitter switches, and E-85 capabilities for the 4.6-liter and 5.4-liter engines. An industry-first passenger-side glove compartment finally gave that other person in the van somewhere handy to put everything, and every version grew 4 inches longer.
For its 50th birthday, the E-Series lost its diesel engine altogether (also dropping the maximum towing capacity to 10,000 lbs across the board), but the biggest brother E-450 could now tow up to 22,000 lbs. Aside from the typical pretty little touches in the 2011 special anniversary model, the current E-Series remains largely unchanged from the year prior.
Used Versions
Although the majority of the newest, fourth-generation E-Series vans suffer from a few problems, 2004 versions are "least" reliable with a $100 idling issue and a $200 speed control problem on top of the usual ball joint repairs necessary for almost every model year. 2008 and newer E-Series vans benefit greatly from the suspension overhaul, eliminating the ball joint issue so prevalent in all previous years.
The relatively short-lived but significantly more powerful 6-liter turbodiesel engine has a bit of an issue with the fuel injectors, especially in the '06, but is an otherwise solid engine. Starting at around $7,000 and ranging to just over $19,000, the diesel powerhouse offered between 2004 and 2010 is a bargain worth fetching.
The '03 4.2-liter engine has a rather costly problem with the intake manifold gaskets, but that doesn't mean you should go for a bigger engine in the $4,000 '02 - that one has fairly serious issues with its idling and ignition systems. Albeit inexpensive to fix, it can certainly take the fun out of having the more powerful 4.6-liter and 5.4-liter engines. Save yourself a grand and spend it on the purchase price of the newer model instead of losing far more stuck in the middle of nowhere.
The '00 third-generation and older models are not recommended for anything but light-duty vans, and even then the engine is likely to far outlast the body. After 100,000 miles you start losing brackets and other bits bolted to the underside due to rust and wear, and then you start getting into things like tie rods catastrophically failing at the worst possible time. Tread carefully in the bargain basement - these work vehicles were never gently used.
Used Ford E-Series Cargo
Ford E-Series Cargo Questions
Is This Too High Of Miles For This Van?
I'm looking at a 2010 Ford Cargo van that has V8, 4.6 Liter engine. It has 350,000 miles on it. Is this too many miles for this van? They are asking $2900.00 for it. It seems to be in good condition...
Seat Installation
Can bench seat be installed face the back
Why Do I See "no Price Analysis" So Often On Listings? What Does This Mean...
Why do so many listings have no price analysis? What causes this?
What Is Compatible In Change On 2014 Ford Cargo Van
What motor will innerchange with this vehicle
My Tailights Are Not Working What Can I Do To Fix This Problem
My headlights are working but my tailights are not but the brake lights work what could be my problem?
Older Ford E-Series Cargo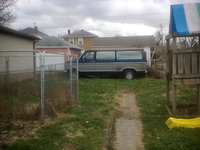 Find great deals from top-rated dealersTM
Search