FIAT Sedici
Model Overview
FIAT Sedici Cars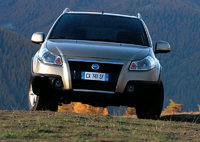 FIAT Sedici
Overview
Fiat's compact SUV is an idea whose time may already have come and gone. That said, the 2007 Fiat Sedici is an adorable-looking little vehicle, lower-slung and more streamlined than most of its American and Japanese small-SUV counterparts. According to Fiat, the 2007 Sedici's low profile adds to its agility; they also brag on the Sedici's fuel efficiency and interior comfort.
The '07 Sedici's base engine is a 16-valve (hence the name) 1.6 liter, 107-horsepower model; buyers can also opt for a 1.9 liter Multijet turbodiesel with a 120 horsepower output.
The Sedici is a joint project of Fiat and Suzuki; reviewers point to its transmission and electronic differential system, both by Suzuki, as a key part of the SUV's functionality. Fiat's stamp, though, is quite clear in the Sedici's stylings, both in its curvy exterior and comfortable, sporty interior.