FIAT Idea Cars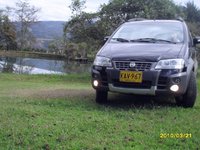 FIAT Idea
Overview
Exactly what is the Idea? It's an MPV (multi-passenger vehicle) supermini crossover. The 2007 Fiat Idea provides what one reviewer called a 'good-looking alternative to the usual stunted blobs' in its class; it's true that the sleek, streamlined Fiat design gurus have made this little van/SUV combo more graceful than many of its competitors.

The 2007 Idea has some other very attractive elements to recommend it. Its Sky Dome, a tempered-glass sunroof that stretches across almost the entire canopy, must be fun in beautiful weather. The passenger seats fold into numerous configurations, which makes transporting family and cargo easier.
Under the hood, the '07 Idea has plenty of power to move its light curb weight nimbly. The entry-level engine is a 1.4 liter plant with a 95-horsepower output; buyers can also choose a 1.3 liter Multijet turbodiesel, which offers more power and improved fuel efficiency.

Drivers describe the Idea as 'agile' but 'a bit stiff'; most agree, however, that it's a great value for the money.