Dodge Ram 3500
Model Overview
Used Dodge Ram 3500
Dodge Ram 3500 Questions
2008 Ram Truck Bed
I have a 2008 Dodge 3500 dually mega cab. what years of truck beds will fit on my truck? And is a short box on a regular truck different from a mega cab?
Towing Capability
I own a 2006 ram 3500 quad cab long bed dually sport 4x4 with a 5.9 cummins. I need to know the towing capability of this truck
Engine
My husband has a 2005 Dodge Ram 3500 cummins, Is it possible to put the engine from a 2000 Dodge into his 2005? They both are the 5.9L and a 24 Valve. The block in the 2005 cracked.
Heater And AC Fan Motor
Heater/ AC fan motor stopped working. I turned the fan on and it cut off briefly then came back on. Now it doesn't come on at all. Lights on the AC and recirculate buttons stay on even when the fan...
Headlight Switch Keeps Melting
The headlight switch on my 1998 Ram 3500 has melted 3 times since I purchased it in 2000. The third replacement required splicing multiple wires. I replaced the dimmer/blinker switch as well. A...
Older Dodge Ram 3500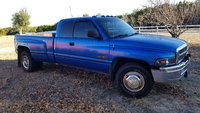 1998 Dodge Ram 3500 reviews: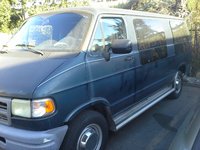 1997 Dodge Ram 3500 reviews: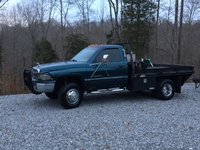 1996 Dodge Ram 3500 reviews: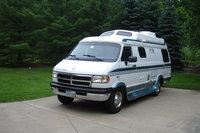 1995 Dodge Ram 3500 reviews: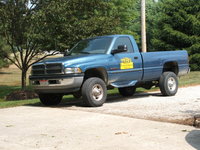 1994 Dodge Ram 3500 reviews:
Dodge Ram 3500
Overview
As part of an introduction of new heavy duty models to go along with its light model Ram 1500, Dodge debuted the Ram Pickup 3500 in 1994. Designated as the one-ton pickup (the 1500 was the half-ton and the 2500 was the three-quarters ton), the 3500 provided the ultimate heft and muscle for towing up to 16,000 pounds.
In 1994, the Dodge Ram 3500 came in one standard cab size with a choice of a 6.5-foot bed or an 8-foot bed. The two-door pickup was available with rear-wheel or 4-wheel drive, and was powered by either a 5.9 V8, a 5.9 turbodiesel, or the more powerful 8.0 V10. Dodge claimed all the Ram pickups had the most cabin space and best towing power of the full-size pickup class. Unlike the other two Rams, the 3500 was offered with either single or dual rear wheels. Over the years, trim names change somewhat, but basically came in a base (now the ST), power-equipped SLT, or the luxurious Laramie, which was more oriented towards ride comfort in terms of offering leather seats, a power driver's seat, and dual-zone climate control.
A Club Cab arrived in 1995, with a rear bench seat that could be folded up for more cargo room. A year later, the first full-size four-door pickup was introduced with the Quad Cab, featuring wide-swinging rear-hinged doors for easy access. While the Ram pickup was the first in its segment to offer standard 4-wheel ABS brakes, the 3500 comes only with rear-wheel ABS. Side curtain airbags, also an industry, first, are optional.
Over the year, the Ram 3500 received updates to its suspension, and lost the V10 engine. A Hemi V8 appeared in 2003, along with a major overhaul to the Ram lineup to make it more competitive and regain its once-dominant status in the market. The other engine option was the 5.9 turbodiesel, which had slowly gained horsepower ratings to reach a maximum of 325 in 2006. In 2007, this diesel engine is replaced by a 350-hp 6.7 liter turbodiesel I6 and a new 6-speed automatic transmission. A Mega Cab version of the Ram 3500 arrived in 2006, with a focus on passenger comfort. Available only with the short bed, it devotes space to a segment-leading 44.2 inches of front and rear legroom, with rear seats that recline and fold flat. With the Mega, Dodge has clearly begun marketing consumers wanting a combination of a powerful workhorse with a comfortable family car.
The Ram lineup has led the full-size pickup market for most of its life, though renewed competition from the Titan and the upcoming Tundra is probably what incited the new 6.7 turbo engine. Its towing power always gets ranked high, and with top-rated safety features and a spacious cabin, many owners find the Dodge Ram 3500 equally versatile as a family hauler.