Audi Allroad Quattro
Model Overview
Used Audi Allroad Quattro
Audi Allroad Quattro Questions
Audi 2001
Battery is 6 months old and car won't start if left for a day?
Audi Allroad '02
After being informed by my h.u.m. That my battery voltage is low , i was cruising along and the car stalled . The engine would crank but no fuel was igniting apparently . The engine light went on ...
Having Oil Temperature Problems
My oil temperature is Raising after the car has been warmed up and driving not sure what's wrong with it cuz my water temperatures okay new to an Audi somebody mentioned something about an oil coo...
My Is Having Trouble Starting In The Morning
i have a 2001 audi allroad 2.7T and in the morning it takes several attempts at turning over before it will start, if i touch the gas pedal it will stall, but after about 10 min of turning it over and...
Whats The Diffrence Between An A6 Avant And The Allroad
audi allroad looking 2 buy whats the pros and cons
Older Audi Allroad Quattro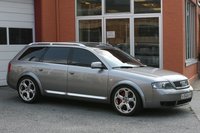 2003 Audi Allroad Quattro
2003 Audi Allroad Quattro reviews: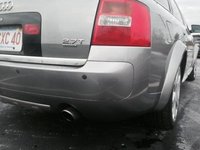 2002 Audi Allroad Quattro
2002 Audi Allroad Quattro reviews: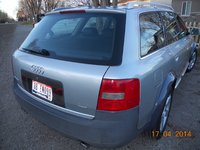 2001 Audi Allroad Quattro
2001 Audi Allroad Quattro reviews:





Audi Allroad Quattro
Overview
Based on an A6 Avant, the Audi allroad quattro made its debut in 2001 as a crossover vehicle that sat somewhere between streamlined station wagon and bulky SUV. Having no SUV offering anyway, the allroad quattro claimed to have more heft and performance capabilities than the Avant quattro.
The allroad quattro's biggest selling point was its variable air suspension that featured four settings the driver could select by hitting a button. These settings offered different ride heights depending on the traveling conditions. A lower and softer suspension suited normal highway driving, while a stiffer and higher one was meant for rugged roads or offroading options. Owners loved this feature, because combined with the all-wheel drive, they felt they could tackle anything.
As with all Audi cars, the allroad quattro was sturdy and solid, with strong safety features. Being more car-like, it handled better than an SUV, and though storage capacity was somewhat reduced, the interior cabin was roomy and spacious, with lots of leg and headroom for comfortable family trips. The luxury interior, plus many options packages made the allroad quattro not your ordinary wagon. Heated leather seats, dual climate control, power-adjustable seats and memory settings, and a solar sunroof are just a few standard Audi offerings.
There are many possible reasons why the allroad quattro never sold well in the U.S. Perhaps it was poor marketing, perhaps it was the lousy fuel economy and hefty premium gas consumption. Or perhaps it was the way the use of lower case letters in its name hinted at a lack of confidence and boldness. Whatever the reason, allroad owners seem to love the way their car handles, with high marks going to the AWD and variable suspension systems. Whatever the reason, the allroad is being redesigned with a diesel engine offering and should hit the US sometime in 2007.