Looking for a New Toyota Supra in your area?
CarGurus has 1,302 nationwide Toyota Supra dealers with 12,217 new car listings.
2021 Toyota Supra
Test Drive Review
A satisfying and uncommon sports car returns with four-cylinder power.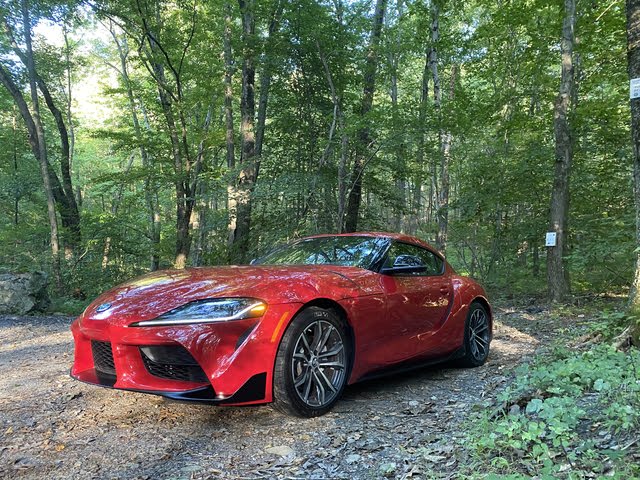 One year after its return, the Toyota Supra comes with two new engines: one that makes this two-seat coupe more powerful and one that makes it more affordable. Styled in Japan, developed in Germany, and made in Austria, the Supra is a hardtop BMW Z4 with a Toyota badge. It's an exciting little car that gets attention everywhere. This is our second romp in a Supra and our first with the lighter, cheaper, and slower Supra 2.0. It's very good. But this model prompts a tough question: Six or four cylinders?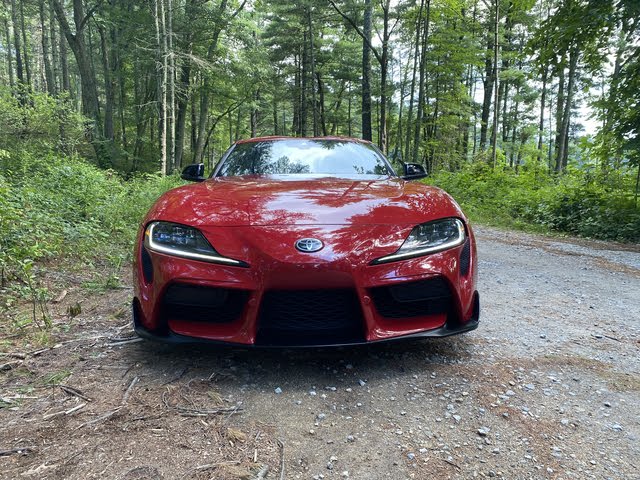 Nothing else looks like a Supra. This claim is backed up by the dozen people who flashed smiles, thumbs up, tailgated, and stooped down to peer through the slanted windows. And we guarantee it's not just because our Supra was red. We had the same experience driving a silver Supra earlier this year. It's a wild little thing and there aren't many on the road. The double-bubble roof is a racer's touch to improve headroom while wearing helmets (which our resident tall man, George Kennedy, has tested). The side windows are so pointy they're almost triangles. Wide rear haunches and a ducktail spoiler announce the Supra from behind, while a Formula-car-style nose, oversized headlight housings, and a clamshell hood tell the world up front that this is a serious machine.
We wouldn't call the Supra beautiful. There are too many extraneous vents and slots scattered across the body. That Formula nose sticks out like a swollen knuckle. But the proportions and small footprint are perfect. It's about six inches longer than Toyota's other rear-wheel-drive sports car, the 86, and just as long as a Porsche 718 Cayman. The short tail and long hood, with the driver positioned well behind the car's centerline, equates to a racy stance that the large wheels and fat exhaust tips emphasize to great effect. For 2021, the Supra 2.0 rides on 18-inch wheels while the 3.0 has 19s. Both use the same staggered width (255/275) and shiny red brake calipers. The cleverest detail is the reverse light. It illuminates as a large grid in the center of the rear diffuser, just like the rain lights on Formula 1 cars.
The only disappointment is the array of interior colors. Or, should we say, the lack of color. There's very little color inside a Supra, save for a reddish tint on the microfiber seat inserts and gray stitching, or blue-tinted inserts and stitching if you order the A91 Edition. Only certain 2020 Launch Edition cars had red leather seats and a partial red dash. We really liked this look, but Toyota goes all-black for 2021. Quality and design are good, especially the curved carbon-fiber trim on the console, and very appropriate for the Supra's mission and price. They're certainly better than many Toyota models, with thick padding on the center console, dash, and doors. BMW switchgear and infotainment are familiar friends. Anyone complaining hasn't driven a BMW lately—they feel great and are very easy to use. A row of preset buttons and climate controls on the center stack, a few more on the console, and a simple digital dash are all you see. The 3.0 Premium swaps the microfiber for full leather. Any Supra feels the same, which is most important for the base model—you don't get swindled.
The Supra's two turbocharged powertrains are straight from BMW. The 2.0 comes with a 2.0-liter inline-four (255 horsepower and 295 pound-feet of torque) and the 3.0 has an inline-six with considerably more power than the 2020 car (382 hp and 368 lb-ft). Both hook up to an eight-speed automatic transmission with rear-wheel drive (RWD). A manual transmission may be in the cards in the future, though you won't be disappointed with the automatic's quick shifts, throttle blips, and kickdown response. As you shouldn't—this is the same ZF transmission found in every BMW. In manual mode, the Supra really means it. The transmission stays locked in gear even if you slam the accelerator pedal, which only the raciest cars like Ferraris tend to do. There are only two driving modes, accessed by hitting the large Sport button on the console. A Sport Individual mode can mix the two together at your choice but we found such fiddling unnecessary. Unlike BMW, which has too many modes, Toyota has dialed in the Supra's responses from the get-go.
The turbo four-cylinder is very strong, very linear in response throughout the rev range, and always smooth. This is the best four-cylinder engine in the world because BMW is an engine company that's been doing it better than anyone for decades. Since the Supra 2.0 is about 200 pounds lighter than the 3.0, you'll leap to high speeds without any strain. Our only consternation is the exhaust, which is too muted from the driver's seat and doesn't exhale enough burble and pops—that's the six-cylinder's job. It sounds good, but we like good and loud in a sports car.
It's plenty of engine in a car this small, yet the six is just too fantastic to ignore. We drove the 2020 Supra with the 335-hp version of this same engine. While the four is quick, the six is fast. Like, Helen Hunt escaping from a twister fast. It barks, it bites, and it pushes your neck back. The six is addictive, and if you're new to the Supra, don't drive it first. Try the four so you're not immediately disappointed.
Both cars share the same superb steering. Light with road feel buzzing through the column, the wheel does a great job of communicating how hard the suspension is working as you're slicing through turns that would make an SUV flip over. There's balance and grip at work, and if the rear slides out, it's progressive and controlled. Toyota made several changes to make the 2021 cars feel more neutral and planted, even without the active differential that is standard on the 3.0. Toyota should have made the adaptive dampers optional on the 2.0—they're unavailable, and their absence shows every time the road breaks up, dips, or slopes to one side. The car never loses composure, but your spine becomes a fifth spring. It's so stiff you'll bounce in the seat. You won't that pain in the six-cylinder car. The 2.0 also has weaker brakes, which have smaller-diameter discs with a pair of single-piston front calipers instead of four. This was a bad decision. On a twisty road, the Supra 2.0 won't be outgunned by the 3.0. But it will be outbraked.
The upside is the Supra 2.0's stellar fuel economy. We averaged 28 mpg after a hard week of driving, which matches the EPA's combined rating and is above the 25 mpg city rating. Driven with care on a long steady cruise, this BMW powertrain in a car this light can easily exceed the 32-mpg highway rating by a long shot. The 3.0 has a 22/30/25 rating.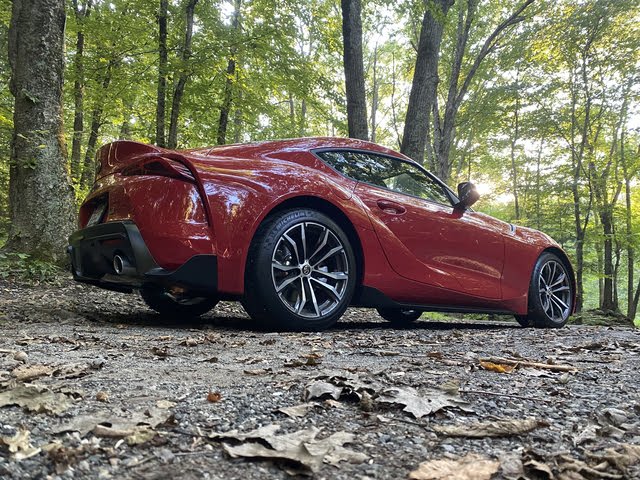 The Supra's sightlines are poor, which isn't the problem for a hot sports car built for two people. In a car like this, you expect bad visibility and work around it. The problem is the wind buffeting whenever the windows are down. This is the low-frequency rumble that hurts your inner ears if you open one window in any car at speed. It's avoidable if you open a second window. But in the Supra, this happens with one window or both windows, halfway down or all the way. It's most intense between 40 and 60 mph, which just happens to be the speeds that are most enjoyable to drive with the windows down. How Toyota engineers approved this aerodynamic blunder is most perplexing. It degrades the everyday driving experience, especially the freeing, warm weather experience a sports car is designed to deliver.
With those windows up, the Supra is good at being insulated and quiet. It's also roomy enough once you've acclimated to the small windows. The seats are snug and comfortable, with height adjustment for both driver and passenger (they're manual on the 2.0 and powered on the 3.0). The interior is simple and distilled to only the most critical information, like the central tachometer, large numerical speedometer, and the climate. Anything else is on the 8.8-inch touchscreen, which can also be controlled by the dial and buttons on the console.
Cargo space is good too, with 10 cubic feet within the steeply raked hatchback and access to that cargo through the two seats. We'd like a cubby underneath the central armrest, but otherwise, the Supra's layout is great. It gets major points off for the buffeting, which no other car in recent times has managed to achieve. There's one more concern: Each of the six vents on the fenders and hood are fake. This makes no sense on a sports car where cooling and airflow are paramount. Quite honestly, it's embarrassing to explain to other sports car owners.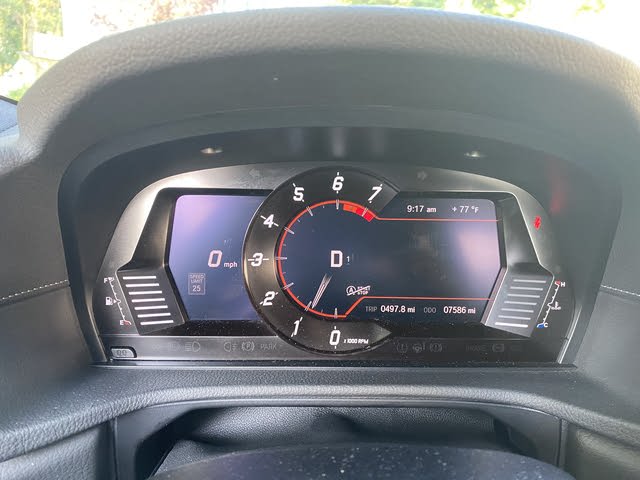 All 2021 Supra coupes have the 8.8-inch touchscreen infotainment system that was optional for 2020 and replaces the 6.5-inch touchscreen from last year. LED headlights and taillights, rain-sensing wipers, proximity key, auto-dimming power-fold mirrors, SiriusXM, Bluetooth connectivity, and a garage door opener come standard—that's proof the Supra is a Toyota and not a BMW. A necessary upgrade is the Safety and Technology Package. It includes navigation with fast online searches and accurate voice recognition, a 12-speaker JBL stereo, wireless Apple CarPlay, and four years of smartphone access for remote unlocking, location alerts, emergency calling, nav map updates, and live traffic. There are no annual fees for Apple CarPlay as there were on older-model BMWs.
The iDrive 6.0 doesn't have the newer unique features found in version 7.0, such as a digital car key or the ability to record the car's surroundings with the 360-degree camera. But while having a front camera and support for Android Auto would be helpful, those other frivolities would be silly in a focused sports car like the Supra. The tiled home screen is fast and easy to customize. The settings menus explain what you're selecting or about to change. The maps are detailed. But the Supra isn't interested in doing much more. It's here to make you smile at every turn of the wheel.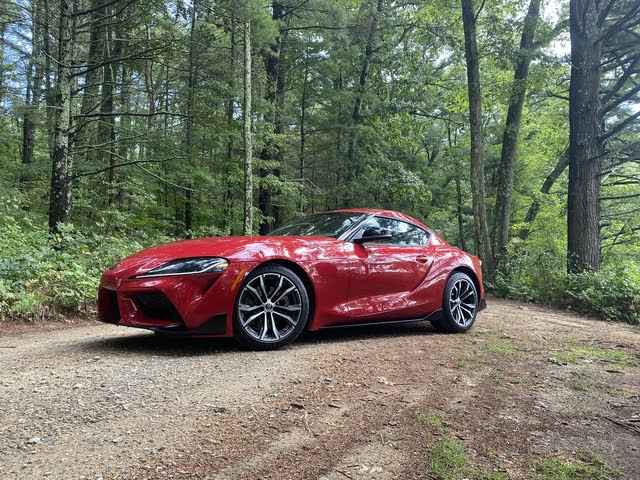 Neither the Supra nor its platform sibling, the BMW Z4, have been crash-tested by the National Highway Traffic Safety Administration (NHTSA) nor the Insurance Institute for Highway Safety (IIHS). Since this is a low-volume sports car, we don't expect the Supra to ever score a rating. As a new car introduced in 2019, we expect the Supra's body structure to be stiff and strong. Knee airbags for driver and passenger are standard. So are electronic safety aids: Forward automatic emergency braking, pedestrian detection, lane-keep assist, and auto high beams. Blind-spot monitoring, rear emergency braking, and adaptive cruise control are included in the Safety and Technology Package.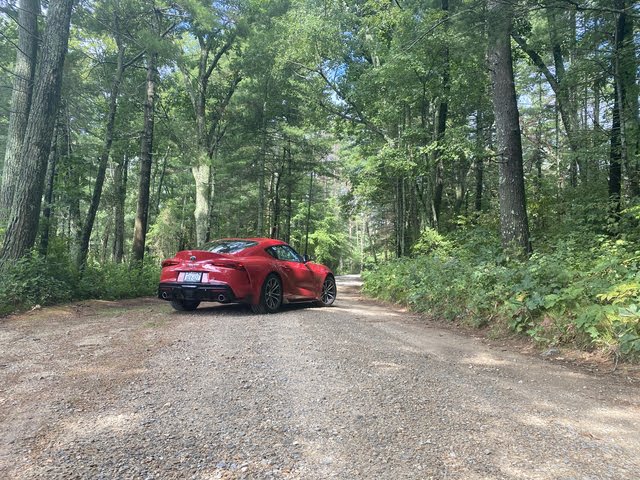 The 2021 Supra 2.0 starts at a base price of $42,990, which is $8,000 less than the Supra 3.0. Toyota will build 1,000 copies of the A91 Edition, which has the upgraded leather interior of the 3.0 Premium with a few styling tweaks for an MSRP of $54,975. Our test car was $47,470 with destination. The Supra, as a high-powered rear-wheel-drive coupe with only two seats, doesn't have many direct competitors. The two that relate the most in feel and performance are priced significantly higher, such as the Porsche 718 Cayman and Jaguar F-Type. A BMW M2 is a great alternative, as might be a Mercedes-AMG C43 coupe. The Supra is neither cheap nor expensive. What you pay for is a name that gives sports car drivers goosebumps—these cars were legendary in the '80s and '90s—and the performance to back it all up.
Updated
Clifford Atiyeh is a reporter and photographer who has spent a good portion of his life driving cars he doesn't own. He is vice president of the New England Motor Press Association and committed to saving both manuals and old Volvos.
What's your take on the 2021 Toyota Supra?
Have you driven a 2021 Toyota Supra?
All Supra Incentives
Enter your zip to see incentives for a new Supra in your area.
Cars compared to 2021 Toyota Supra
Looking for a Used Supra in your area?
CarGurus has 1,712 nationwide Supra listings starting at $39,766.
Trims
2.0 RWD

Starting At: $39,766
3.0 Premium RWD

Starting At: $49,501
3.0 RWD

Starting At: $48,356
A91 Edition RWD

Starting At: $56,985
Quick Links