Looking for a New BMW 8 Series in your area?
CarGurus has 374 nationwide BMW 8 Series dealers with 11,944 new car listings.
Review
by Sweengolly
— Great looking car that is very expensive and up to what the buyer is looking for. I'm bored with current 5 series and this is an amazing upgrade. I'd also consider the Audi S7 or RS7 and the Merced...
Read more
2020 BMW 8 Series
Test Drive Review
The BMW 8 Series has the performance to thrill and a comfortable interior to make it a fantastic high-end road-trip vehicle.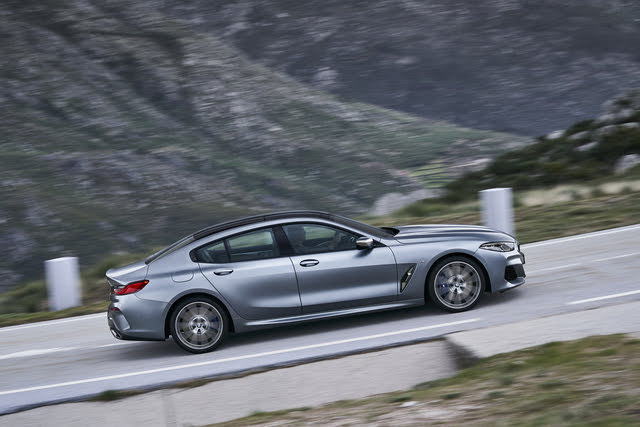 The BMW 8 Series is the modern interpretation of a flagship luxury car. For decades, the BMW 7 Series represented the range-topping sedan from the Bavarian automaker. It blended refined handling with a plush interior and a large rear seat for executives. But modern luxury doesn't involve a chauffeur—it involves driving yourself.
The 2020 BMW 840i Gran Coupe has rear seats and two sets of doors, but the focus is on the front seats. In this sense, it is the ideal grand touring car; designed to offer dynamic performance and the ability to drive long distances in comfort. Is this combination the right blend for you? Read on to find out.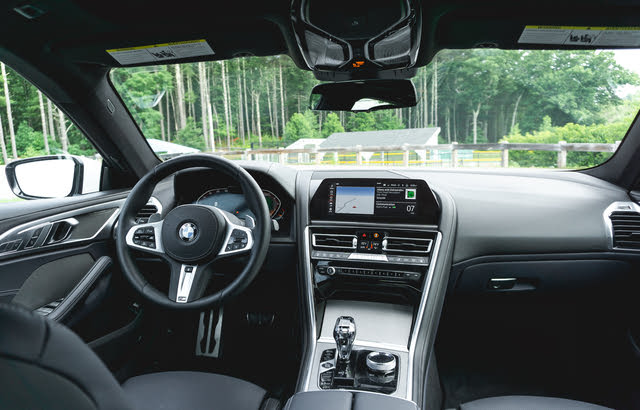 The BMW 8 Series was first offered in North America from 1991 to 1997. Its successor came in the form of the 2004 BMW 6 Series, which was discontinued after the 2018 model year. So, while this left BMW with a gap in its lineup for only a handful of years, the return to the "8" designation has been long-awaited.
The new BMW 8 Series looks understated, given its place atop the BMW lineup. The grille, rather than tall and brash like many new BMWs remains relatively low profile. The 8 Series will stand out in a mall parking lot, but it might be upstaged when parked amongst other high-end coupes. In fact, the way the 8 Series Coupe's rear window slopes into the spoiler looks similar to that of the Ford Mustang Coupe—not the connection BMW planned to make.
The 8 Series is offered in three body styles; a two-door Coupe, a two-door Convertible, and the Gran Coupe. We drove the latter, and despite having "Coupe" in the name, it has four doors.
The cabin of the 8 Series is beamy, modern, and plush. The dash area takes the modern BMW interior look to its most expressive form. And yet that's just it—an exaggerated version of a 3 Series or 5 Series dash. Both inside and out, one would have expected the long-awaited 8 Series to feel a bit more exotic.
Still, one can't complain about the absolute comfort the driver feels at the helm. The meaty sport steering wheel fits the driver's hands perfectly, and the seat is well-bolstered without wedging you into place. Soft-touch materials are used throughout, including the dash and door upholstery. The fit and finish of these materials are terrific. When hard materials are used, they feature sharp angles, underscoring the modern image of the car. A neat party trick is the available crystal shift knob. Once again, this gaudy gear selector doesn't feel at home in the modern, yet sedate, 8 Series cockpit.
The 8 Series lineup includes the rear-wheel-drive 840i that we drove, the all-wheel-drive 840i xDrive, and the more potent M850i. The 840i comes extremely well-equipped with 18-inch alloy wheels, run-flat tires, leather upholstery, and a premium Nappa leather dash. It also comes standard with remote start, a two-piece panoramic moonroof, 14-way power-adjustable front seats, a power rear sunshade, and ambient cabin lighting. Further standard features include wireless device charging, two USB ports, heated front seats, a heated steering wheel, and rain-sensing wipers. BMW provides a 16-speaker Harmon Kardon premium sound system as standard equipment.
The optional M Sport design package is a $4,850 option. It adds 19-inch wheels and the more aggressive lower front-end design of the M850i. It also swaps out the chrome window trim for dark "Shadowline" trim. Our test model featured this package, but swapped out the 19-inch wheels for 20-inch M wheels for another $1,300. The Comfort Seating Package adds ventilated front seats and heated rear seats for an additional $1,200.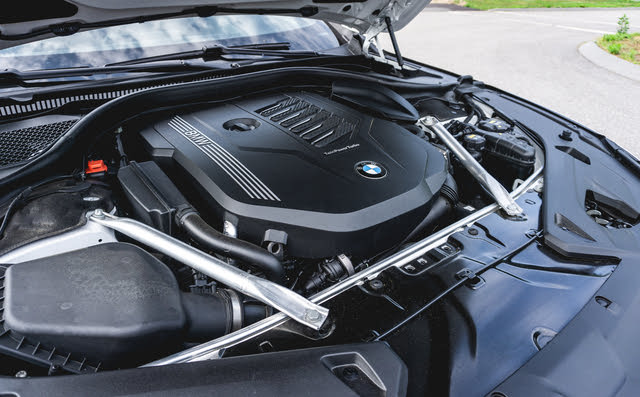 Power in the 840i comes from a twin-turbocharged 3.0-liter inline-six. This powertrain makes 335 horsepower and 368 pound-feet of torque. The M850i features a 4.4-liter twin-turbo V8. It generates 523 hp and 553 lb-ft of torque. Both engines are paired to an eight-speed automatic transmission with paddle shifters and a manual mode on the shifter. BMW gets the tap-shift configuration right, pulling back on the shifter to upshift, and pushing forward to downshift. This is the standard in the motorsport world for sequential shifters and is a solid nod to BMW's racing heritage.
Earlier this year, we had limited seat-time in the M850i. It was a breathtaking ride that will rocket you back in your seat. But we were never wanting for more from the 840i's six-cylinder powertrain. The seven-speed automatic manages power well and holds gears nearly up to redline when the driver lays into the throttle. There is a swell of power, accompanied by a fantastic burble at every energetic upshift.
The 8 Series features Driving Dynamics Control with Eco Pro, Comfort, Adaptive, and Sport drive modes. Sport is further broken out into Sport and Sport Plus. These latter modes stiffen the suspension and steering feel, increase shift points for the transmission, and liven up the throttle response.
In Sport and Sport Plus, the 8 Series' ride quality feels athletic without ever being brutish. Switching over to Comfort turns the car into a composed, refined luxury machine. The 840i cruises effortlessly with a serine ride in this setting. But even in Comfort, the transmission will kick down to harness the full engine power when called upon.
This is what a Grand Touring (or GT) car is all about. The idea of the GT car comes from Europe, where well-heeled customers wanted a car that they could take from Paris to Monaco with ease. Like a sports car, these cars were designed to be powerful and athletic, but they were also comfortable over long distances. The 8 Series is a contemporary interpretation of that concept.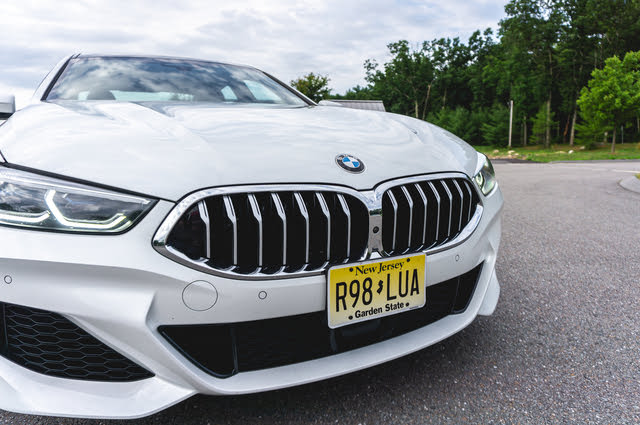 A grand tourer is more than just driving dynamics. It also needs to have a degree of practicality, able to carry a road trip's worth of bags. The trunk isn't 7-Series large, but at 15.8 cubic feet, it will hold plenty. Dropping part of the 40/20/40 split-fold rear seats will also allow for multiple golf bags. Trunk space on the coupe and convertible drop to 14.8- and 12.4 cubic feet respectively. Power open/close and hands-free trunk release come standard.
Because of the coupe-like sillhouette of our 8 Series Gran Coupe, the rear seats have limited headroom. But they make up for it with decent legroom and comfortable, supportive seats. The rear seats also have their own second-row sunroof, deploying sunshades, and a rear-seat center console with climate and seat controls. The Coupe and Convertible have somewhat less rear-seat space and definitely less headroom than the four-door Gran Coupe, but they may be tolerable for an adult on a short drive to and from dinner.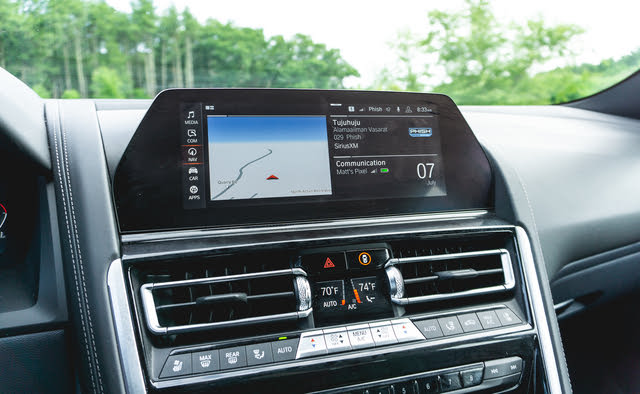 BMW's iDrive infotainment system has come a long way from its awkward early years around the turn of the century. BMW put great effort into improving menu navigation and layout. But one design flaw continued to stand in the way of a more perfect user interface: a touchscreen. Thankfully BMW has paid attention to critics and how many people prefer to interact with cars, and it has been adding a touchscreen to all its new models.
The current iteration of iDrive gives the user the choice of using either the touchscreen or the legacy button-and-joystick setup. The latter is located near the shifter, where the driver may naturally rest their right hand. The dial and hard buttons are helpful when jumping from the radio to the nav system or from the phone menu to vehicle settings. When in doubt, the large Menu button will always bring you back to the home screen.
BMW oh-so-graciously bestows the 8 Series with one-year of complimentary Apple CarPlay. After that year, owners must pay a subscription for the same functionality that comes standard in a Toyota Corolla. Let that sink in for a moment. But where the Corolla requires a USB cable to activate CarPlay, the 8 Series connects wirelessly. Like Bluetooth, this is a perfect pairing to the wireless device charging, and both wired and wireless connectivity come standard on the 8 Series.
BMW's gesture control provides the 8 Series with another nice party trick. The driver or front passenger can wave their hand in front of the iDrive screen to perform tasks like raising and lowering the volume, changing the channel, or answering a call. The act of declining a call by swiping your hand to the right strangely satisfying.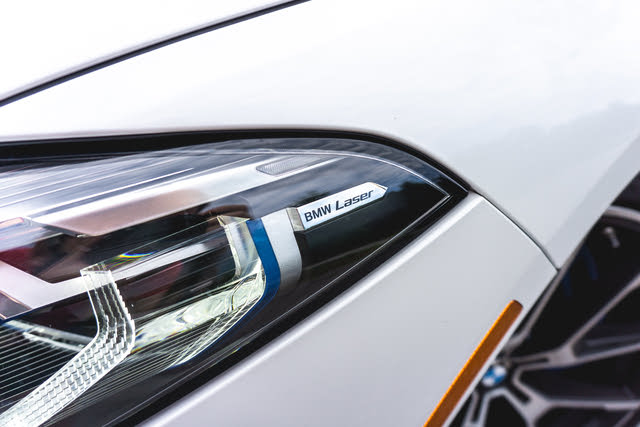 The BMW 840i Gran Coupe comes standard with advanced driver assistance features, including forward-collision warning, automatic emergency braking, pedestrian detection, and adaptive LED headlights. Further safety features like adaptive cruise control, lane-departure warning, blind-spot monitoring, and rear cross-traffic alert are all available.
The optional traffic jam assistant will move the car with the flow of traffic without input from the driver. At higher speeds, adaptive cruise control will match the pace of the car in front of it at a set distance. It should be noted that if you engage this feature and are within the set distance, the car will abruptly brake to match speed. It ensures you don't rear-end the car in front of you, but it may startle a following driver.
These tech items complement standard safety features such as traction control, active front head restraints, child seat anchors, and a full array of front- and side-impact airbags.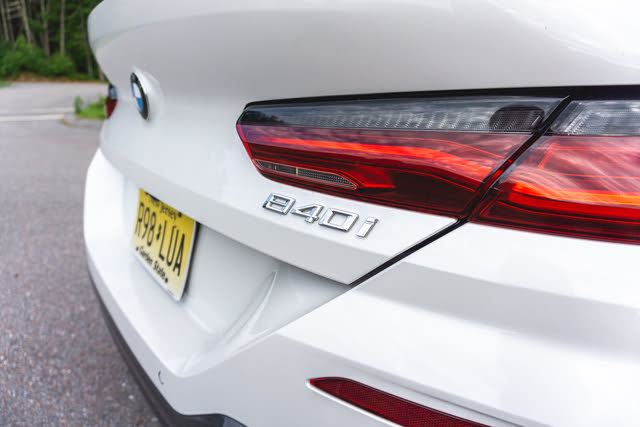 The most efficient version of the 8 Series is the 840i Coupe. It returns fuel economy of 23 mpg city, 30 highway, 25 combined. The 840i Convertible and our 840i Gran Coupe return an estimated 22 mpg city, 29 highway, 24 combined. These numbers match our experience, as in our week of combined city and highway driving, we observed fuel economy of 24.3 mpg.
The M850i and its V8 powerplant return fuel economy of 18 mpg city, 25 highway, 20 combined. City fuel economy for the M850i Gran Coupe falls to 17 mpg.
Base MSRP for the 2020 BMW 840i Gran Coupe is $84,900. An all-wheel-drive 840i xDrive starts at $90,800. The 8 Series Coupe starts at $87,900 and the 8 Series Convertible starts at $97,400.
Of course, it's never that simple with luxury brands, and the long list of packages and options brought the as-tested price of our 840i to $96,965. That's just over $12,000 in options alone. As for the potent M850i, the Gran Coupe starts at $108,900, while the Coupe starts at $111,900, and the Convertible starts at $121,400.
In a certain light, the Gran Coupe is a value play within the 8 Series lineup, although it's more expensive than its Mercedes and Audi counterparts (but less than a Porsche Panamera). You pay less for a larger cabin and easier access to the rear seats. You may not galavant across the south of France in your 8 Series, but the 840i Gran Coupe is a fantastic road trip vehicle for those who still care about the way a car should drive.
Updated
From open-wheel racecars to specialty off-road vehicles, George Kennedy has driven it all. A career automotive journalist, George has been a contributor, editor, and/or producer at some of the most respected publications and outlets, including Consumer Reports, the Boston Globe, Boston Magazine, Autoblog.com, Hemmings Classic Wheels, BoldRide.com, the Providence Journal, and WheelsTV.
What's your take on the 2020 BMW 8 Series?
Have you driven a
2020 BMW 8 Series
?
All 8 Series Incentives
Enter your zip to see incentives for a new 8 Series in your area.
Cars compared to 2020 BMW 8 Series
Looking for a Used 8 Series in your area?
CarGurus has 930 nationwide 8 Series listings starting at $78,977.
Have questions?
Ask a question
BMW 8 Series Questions
There aren't any questions yet. Ask the first question!
Trims
840i Convertible RWD

Search 1,790 listings

Starting At: $92,083
840i Coupe RWD

Search 1,526 listings

Starting At: $81,888
840i Gran Coupe RWD

Search 1,931 listings

Starting At: $84,988
840i xDrive Convertible AWD

Search 437 listings

Starting At: $92,975
840i xDrive Coupe AWD

Search 1,676 listings

Starting At: $82,755
840i xDrive Gran Coupe

Search 1,658 listings

Starting At: $84,800
M850i xDrive Convertible AWD

Search 81 listings

Starting At: $125,870
M850i xDrive Coupe AWD

Search 819 listings

Starting At: $113,695
M850i xDrive Gran Coupe AWD

Search 2,567 listings

Starting At: $100,770
Find great deals from top-rated dealersTM
Search
Quick Links