Looking for a Used Kicks in your area?
CarGurus has 6,779 nationwide Kicks listings starting at $10,435.
2019 Nissan Kicks
Test Drive Review
The Kicks is efficient and affordable, but Nissan's corner-cutting keeps it from being truly versatile.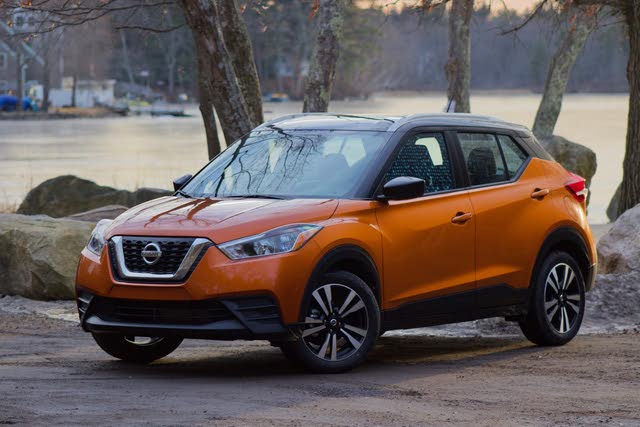 So, you're in the market for an affordable, efficient, and versatile vehicle. A small crossover makes perfect sense, right? The 2019 Nissan Kicks might hit the right marks on paper, but in practice, it leaves a lot to be desired.
Crossovers are the hottest-selling cars on the market, and with good reason. They offer added capability and versatility compared to the average economy car. The problem is, some automakers have tried to leverage the appeal of these vehicles without really offering increased practicality or performance. Give a hatchback a slight lift, slap extra plastic around the wheel wells and bumpers, and call it a day.
There are things I like about the Nissan Kicks, and there are things I hate. CarGurus has a recommended trim for the Kicks, but if you're on the fence, you might be served just as well by a conventional hatchback like the Volkswagen Golf.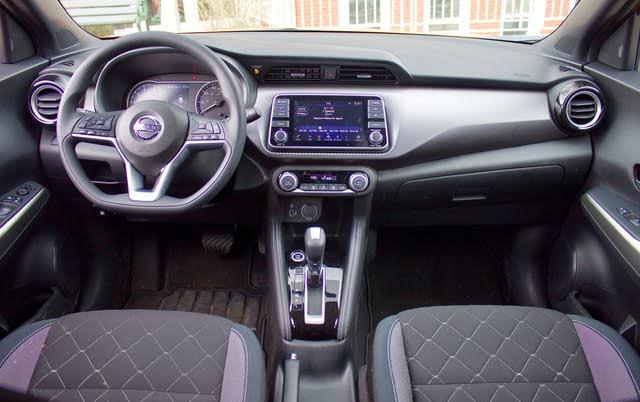 A bit of context: I praised the Kicks when I reviewed it late in 2018. I did so because it appeared to be more honest about what buyers are looking for in the crossover market. Shoppers might look to subcompact crossovers as if they're some kind of city-friendly Jeep Wranglers. The reality is far closer to this car.
So, I don't want to give the impression that I unabashedly hate this car. I just don't understand why a car like this can be a potential hit, while station wagons are relegated to "niche" status.
Let's start with what the 2019 Nissan Kicks does right.
For starters, there's the exterior paint job on my test car. It's called Monarch Orange, and I'm a sucker for a good burnt orange. It works particularly well when contrasted with dark gray or black, as with this two-tone paint scheme.
The cabin layout of the Kicks is pretty solid as well. It's simple and modern, with plenty of deep in-door compartments for your gear. The center cupholders are accessible from both front and rear rows—a clever little packaging trick from Nissan.
Unfortunately, the front seats are quite uncomfortable, and it's nearly impossible to find a normal position. The front seats are 6-way manually adjustable (the front passenger seat has 4-way adjustability), with a barber-shop-like hand crank for seat height. This would be fine if Nissan offered power seats in higher trims, but Nissan doesn't put them in any trim. No matter how much you spend on a Kicks, you're stuck with crank seats.
Speaking of trims for the Kicks, they are S, SV, and SL. The entry-level S trim keeps things pretty basic with 16-inch steel wheels with plastic covers, manual folding side mirrors, black plastic bumpers, and cloth seats. It does provide niceties like a 7-inch touchscreen, Bluetooth connectivity, Siri Eyes Free technology, and standard automatic emergency braking. In another clever move, the S trim comes standard with three USB ports, one in the front and two down behind the cupholders, where you can access them from any seat in the car.
CarGurus recommends the mid-level SV trim. This was the one we tested, and it upgrades the wheels to 17-inch alloys and adds body-color heated side mirrors, push-button start, and remote start. It also gets Apple CarPlay and Android Auto, as well as a half-digital instrument panel.
The range-topping SR trim adds unique cosmetic touches like high-gloss black mirrors, a dark satin chrome grille, a top rear spoiler, fog lights, and full LED headlights. Inside, the SR adds a 360-degree camera and is available with navigation, a Bose premium stereo system, heated front seats, and Prima-Tex leatherette upholstery.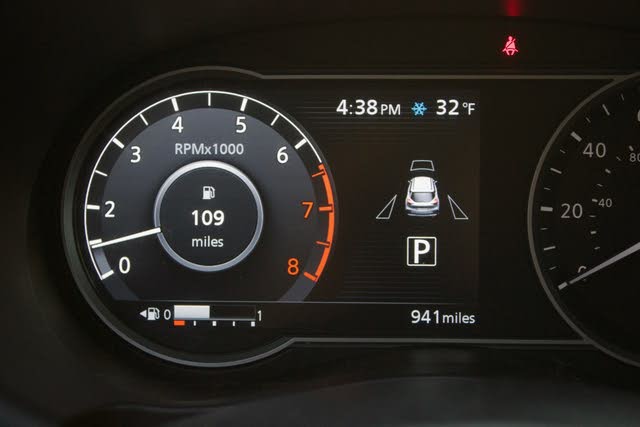 One engine is available in the Kicks: a 1.6-liter 4-cylinder engine. It makes a paltry 122 horsepower and just 114 pound-feet of torque. There may be lawnmowers with more power than this engine. What little power it makes gets sent through a continuously variable transmission (CVT). And it gets sent to the front wheels… full stop. All-wheel drive (AWD) is not available.
This isn't the first time we've seen a crossover with the front-wheel-drive-only approach; the Kia Niro and Toyota C-HR use it, too. And, look, there are plenty of regions in the country where it's always dry and sunny, and AWD vehicles are not in high demand. But to not offer AWD at all kind of makes a mockery of the notion of a sport utility vehicle. These crossovers allow you to sit a bit higher than a hatchback car, but beyond ground clearance, very little additional capability is offered when compared to a typical hatchback.
At low speeds, like when accelerating from a stop, acceleration is pretty good—the Kicks has a nice jump off the line. But when cruising along at speed, it offers very little additional acceleration. Pin the pedal to the floor and get out your favorite sundial to record its 40-60-mph acceleration time. If a driver needs to pass someone or merge onto the highway, the Kicks makes a lot of noise without going anywhere fast.
And while the Kicks is not a sports car, speed can become a safety factor in some situations. Consider the times you've had to jet across a busy intersection, get up to highway speed quickly, or attempt to navigate a busy rotary. In these tense traffic situations, you need to know your vehicle will do what you ask of it.
And then there's the Kicks' steering. Frankly, it's unpredictable and feels like it provides a different level of weight and responsiveness each time I begin to turn. In what sounds like a description of a 1976 AMC Gremlin, you actually don't know what you're going to get when you start steering left or right.
The suspension and ride quality aren't any better. While some modern crossovers, like the Volvo XC40, offer an amazing blend of pothole absorption and composed handling, the Kicks does just the opposite. It has all sorts of body roll in turns, and yet somehow, it remains way too stiff over bumps in the road. You can feel every crack and pebble in the pavement.
So where can I actually commend the driving characteristics of the Kicks? Well aside from its low-end acceleration, it has strong, direct brakes. And here's the kicker: It accomplishes this despite having unsophisticated drum brakes on the rear wheels.
Fuel economy is another bonus. The EPA estimates the 2019 Nissan Kicks at 31 mpg city, 36 highway, 33 combined. Impressively, we were able to surpass that combined figure, getting 33.1 mpg in a week of combined city and highway driving.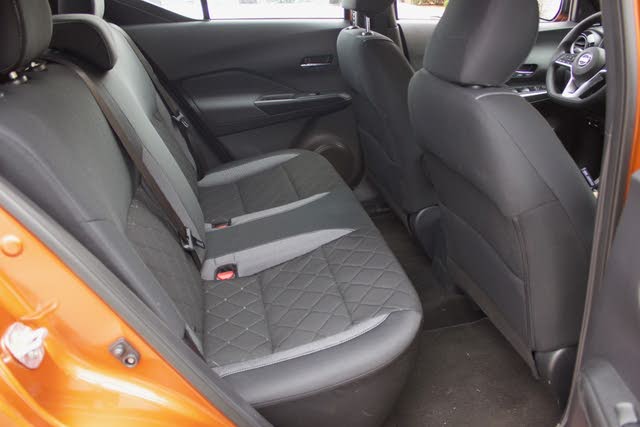 We mentioned the uncomfortable front seats, and the rear seats aren't much better. Despite the rear doors appearing to be large, there's lots of overlap with the door frame, for either packaging or safety reasons. As a result, the door opening ends up being quite small. When you do finally squeeze into the rear seat, you won't be comfortable at all. Since the seats are over the rear wheels, they can't be low enough or far enough back to make them comfortable.
The Kicks provides 53 cubic feet of cargo space with the rear seats folded, which is pretty solid for the class. That's more than some of its direct competition, like the Mazda CX-3 (44.3 cubic feet) and about the same as the Subaru Crosstrek (55.3) and Honda HR-V (55.9). But here's the thing: The Volkswagen Golf hatchback has the same cargo space as the Kicks, proving that added ride height does not necessarily translate into added capability.
Additionally, the seats are configured in such a way that, in order to fold down the rear bench, you have to either remove the rear headrests or slide the front seats forward. While this has been the case with cars for years, automakers have been getting clever in the past decade to work around this. Proper dimensions and headrests that automatically flip down (see: Volvo) have eliminated the need to spend any more time than it takes to fold down the rear bench. In this regard, the Kicks is still in the dark ages.
On the plus side, the hatch area and opening are wide and squared off, allowing for large items to be stowed without having to struggle to get them into the Kicks.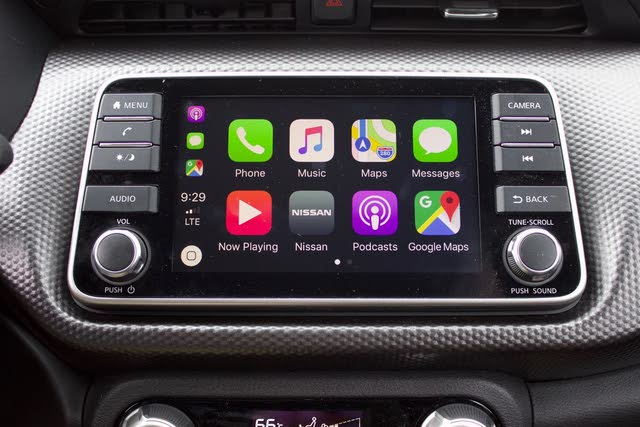 The Kicks comes standard with a 7-inch touchscreen, which is a nice touch, but Nissan infotainment screens feel a bit dated. The graphics are somewhat cloudy, even with the brightness and contrast all the way up. But on the plus side, the layout benefits from its simplicity, and the learning curve is short and quick.
My thoughts on the Kicks speak to how good cars have gotten. I can deride this vehicle all day long, but at the end of the day, it still has Apple CarPlay and Android Auto. With a simple USB cable, you have access to your phone's maps, thus giving you a navigation system in a car that costs $20,000. You also have access to your phone's music and podcasts, and you can use voice controls to compose and have texts read aloud to you.
The digital instrument panel that comes in the SV and SR trims is a nice touch. It retains the analog speedometer on the right, but replaces the tachometer with a color digital display that pans from where the tach would have been to the center trip computer. This allows for a digital representation of the tachometer, which can be quickly cycled out to display other critical information like fuel economy, tire pressure status, and any number of driver-assistance features.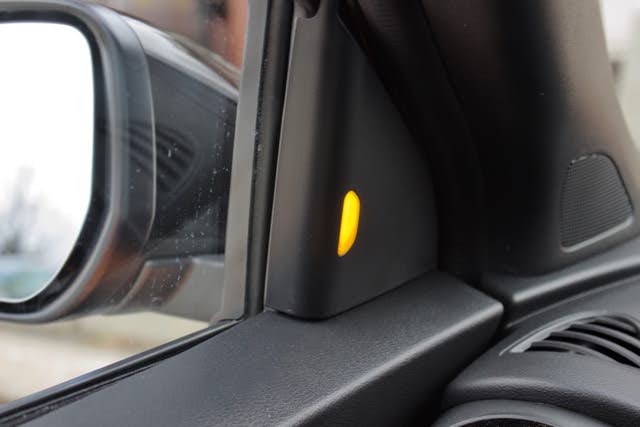 Impressively, the Kicks comes standard with forward-collision warning and avoidance. That joins a list of standard safety features, including front- and side-impact airbags, a reversing camera, and the tire pressure monitoring system.
Moving up to our SV or the SR trim adds blind-spot monitoring and rear cross-traffic alerts. The Kicks also comes standard with Nissan's Easy Fill Tire Alert system. If you are adding air to a tire, the system will give you a visual and audible alert when it is properly inflated. This means you won't have to keep a tire pressure gauge in your glove box—something few people do anymore.
In Insurance Institute for Highway Safety (IIHS) testing, the Kicks earns a top score of Good in Driver Side Small Frontal Overlap, Moderate Front Overlap, Side, and Head Restraint crash tests. Its standard front emergency braking also helps it earn a Superior rating for crash-avoidance technology and an overall 2019 IIHS Top Safety Pick rating.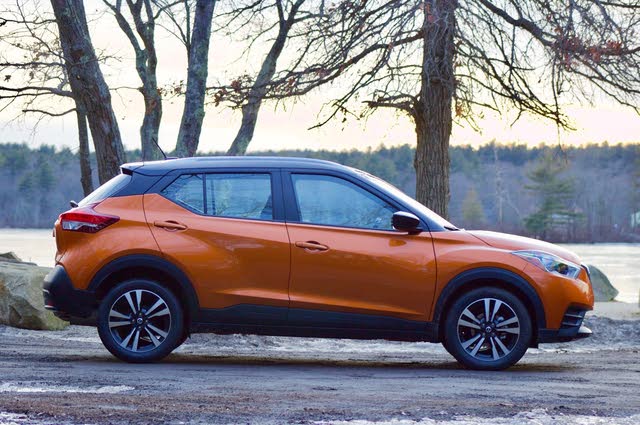 Base MSRP for the 2019 Nissan Kicks is $18,540. Our SV test model starts at $20,250, and the SR costs $20,870. Its low price, decent cargo space, and good fuel economy are all designed to make the Kicks attractive on paper, especially to those starting their shopping process with a spreadsheet. But if you spend any real time with a Kicks, you'll see the compromises Nissan had to make to earn those benchmarks.
Look, if cargo space is a priority, and you actually want something that's fun to drive, check out the Volkswagen Golf or the Honda Fit. The Golf has 53 cubic feet of cargo space and gets 34 miles per gallon, though it's a bit pricier, starting at $20,000. The Fit? 52.7 cubic feet, 40 miles per gallon, and it starts at just $16,000.
You might think the extra ground clearance of the Kicks gives it some kind of added capability over the Golf and Fit. Fine. But if that's what you're after, consider that the Subaru Crosstrek has standard AWD, and the Jeep Renegade (especially the Trailhawk trim) can genuinely handle itself on actual off-road trails.
It would seem a 2019 Nissan Kicks is designed to appeal to shoppers who want an efficient, economical car with cargo space and a higher ride. But frankly, if you're considering the Kicks, you might be just as satisfied with a compact hatchback. Yet for some reason, throwing extra plastic on the wheel wells and calling it a crossover gives the Kicks an immediate boost in appeal.
Updated
From open-wheel racecars to specialty off-road vehicles, George Kennedy has driven it all. A career automotive journalist, George has been a contributor, editor, and/or producer at some of the most respected publications and outlets, including Consumer Reports, the Boston Globe, Boston Magazine, Autoblog.com, Hemmings Classic Wheels, BoldRide.com, the Providence Journal, and WheelsTV.
What's your take on the 2019 Nissan Kicks?
Have you driven a 2019 Nissan Kicks?
Cars compared to 2019 Nissan Kicks
Looking for a Used Kicks in your area?
CarGurus has 6,779 nationwide Kicks listings starting at $10,435.
Trims
S FWD

Avg. Price: $19,208
SR FWD

Avg. Price: $21,347
SV FWD

Avg. Price: $19,445
Quick Links