Looking for a Used ES 350 in your area?
CarGurus has 4,704 nationwide ES 350 listings starting at $3,981.
2016 Lexus ES 350
Test Drive Review
The 2016 Lexus ES 350 represents a solid step up for Toyota-brand loyalists and midsize luxury buyers looking for good value for their money.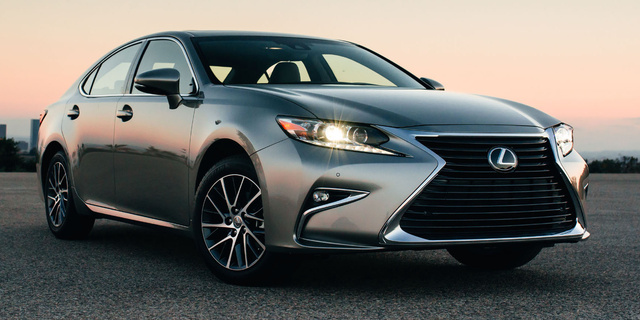 The 2016 Lexus ES 350 improves slightly on the complete overhaul of the car last year. A new grille and bumpers wrap a car that's built for comfort. A supremely quiet interior and easy tech features highlight a car that's so sedate it has a habit of fading too far into the background. It won't provide the thrills of others in its class, but there's enough to consider it when shopping for a quiet, luxury ride.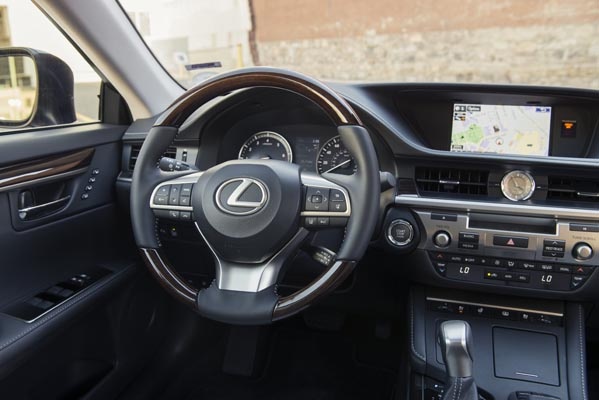 The 2016 Lexus ES 350 is a mainstay in the midsize luxury sedan category. Its plain looks and tasteful exterior set the stage for a conservative yet opulent interior. The sedan is awash in leather and sound-deadening material and designed to be the ultimate step up from the Camry, on which the Lexus ES 350 is based.
For 2016, Lexus has changed little—the car received a much-needed complete refresh in 2015. The signature Lexus spindle grille is all in one piece now, and the fog lights have been pushed to the corners. Around back, the L-shaped taillights are placed above chrome-tipped rear exhaust ports.
At the corners, Lexus has added optional 17-inch alloy wheels shod with all-season rubber alongside 17- and 18-inch wheels.
The ES 350 comes in only one trim, with different packages for buyers. An ultra-luxury package, which adds optional wood trim, a panoramic sunroof, heated and ventilated front seats, and a power rear sunshade, stands atop the options list for $3,500. Navigation and Mark Levinson premium audio can be added for $2,500, and Lexus's Safety Suite of lane-departure and blind-spot warnings can be added for just over $1,000. Those features can be mixed, matched, and even split in some cases on the ES.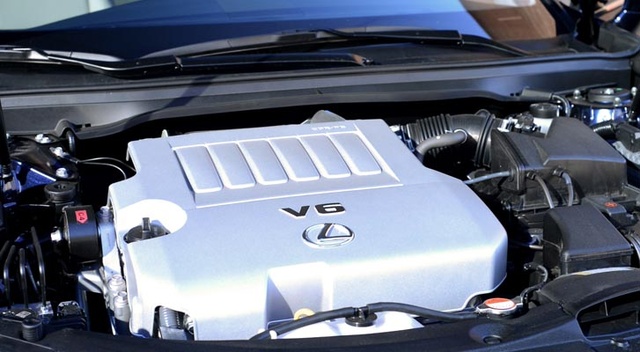 The 2016 Lexus ES 350 sports the same 3.5-liter V6 found in the Toyota Avalon and Camry models. The engine produces 268 horsepower and 248 lb-ft of torque, shifted through a barely there 6-speed automatic transmission. Two overdrive gears should be the first hint that the ES is built more for cruising than outright performance. Although Lexus claims that 0-60 mph takes somewhere around 7 seconds in the ES, the Lexus isn't in any hurry to get anywhere.
The Lexus ES is fully 110 pounds heavier than a comparably equipped Camry, which may help explain the ever-so-slight difference between a jumpy V6 Camry and a smooth-sailing land yacht like the ES 350.
According to Lexus, the ES 350 manages 21 mpg city/31 highway/24 combined. In combined driving, we managed roughly 22 mpg in a 70/30 highway/city mix, with liberal use of the car's Sport setting. The car's Sport mode may be an interesting conversation topic, but it doesn't change the vehicle's dynamics much.
A supple suspension and leisurely accelerator map in the ES 350 don't provide the thrills that some in its class, such as the Audi A6 or Mercedes E-Class, can offer, but the ES never feels out of breath. Stomping on the pedal for passing on the highway results in a swell of power up to 65 mph, and the 6-speed automatic predictably doesn't miss a beat to kick down for a pass.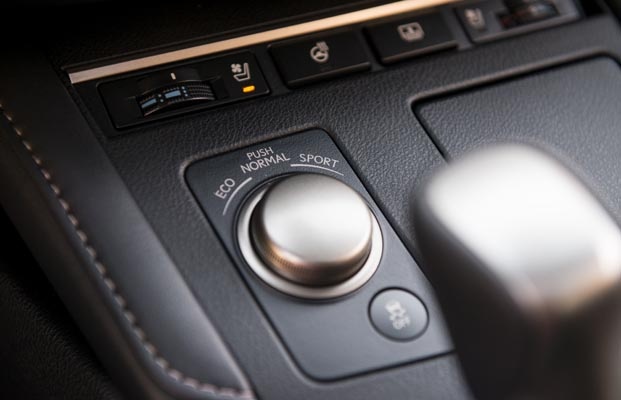 The Lexus ES 350 may not be the quickest dart, but it's a heat-seeking missile aimed at a segment of buyers looking to be coddled by their midsize luxury purchase.
The car is whisper quiet—I measured 70 decibels at cruising speeds—and fantastically sedate. With four adults, the Lexus ES is a competent transport and blends easily into the background. It's noticeably calm—even when you're mashing the pedal and sawing at the wheel—and a generous on-center spot in the steering rack suggests that you really need to mean it if you want to unsettle the Lexus.
With such a soft setup, the Lexus exhibits considerable roll and jostle if you do push it hard, although the motion in the ocean is far from dramatic. Independent corners all the way around, including MacPhersons up front and in back, help keep passengers relatively swaddled.
With more than 60 percent of the weight of the Lexus ES sitting over the front axles, the car is understandably nose-heavy in tight cornering and braking. Front 11.6-inch discs help arrest motivation if things get too hairy in spirited drives.
The ES sports 15.2 cubic feet of cargo room in the trunk, which is easily accessible and closes automatically. Because the ES is front-wheel drive only, there's no rear differential competing for space in the trunk.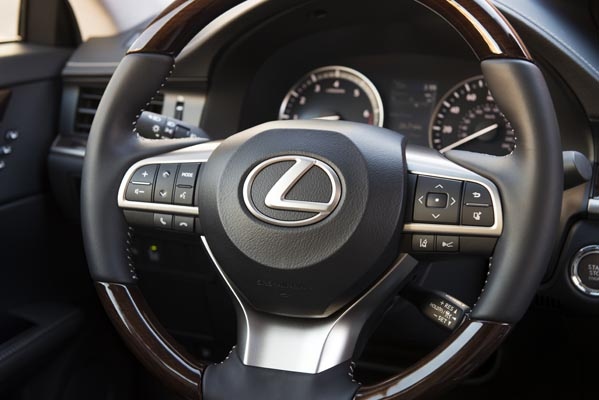 The Lexus ES comes equipped with a 7-inch customizable display that features HD radio, Bluetooth streaming, and traffic information as standard. When equipped with navigation, the suite—which Lexus calls Enform—transforms the car into a concierge with multiple functions including movie times, weather, and Internet radio capabilities.
Lexus is also rolling out in its cars, including the ES, an opt-in feature that notifies owners of pending services and scheduled vehicle maintenance.
Admittedly, the Mark Levinson premium audio system isn't the best-sounding system on the market. Our reference track, David Bowie's "Space Oddity," sounded a little "Space Tranquility" on the system, but allegedly there is hope for the future.
Outside of infotainment, the ES sports all the interior luxuries that have defined the Toyota luxury brand since it was launched in the 1980s. The doors close with a satisfying thud, the center-mounted clock is beautiful and simple, and the steering wheel is strangely gorgeous and easy to use.
All of Lexus's best features are nearly hidden, which makes them easy to forget when they're around, but easy to miss when they're not.
When equipped with the Ultra Luxury Package, the ES 350 adds a standard menu of heated and ventilated seats, wood-accented trim, a panoramic sunroof, and keyless entry. This $3,500 option seems like a no-brainer for many luxury buyers who want more than an optioned-up Camry.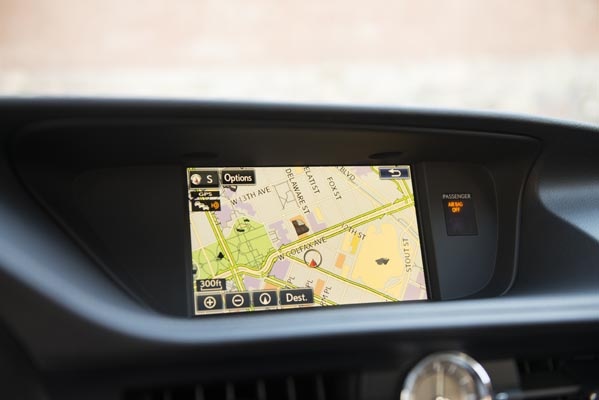 The 2016 Lexus ES 350 has not yet received a crash rating by the National Highway Traffic Safety Administration. The 2015 model, which is virtually identical, received a 5-star rating from the government organization, including 5 stars for front and side collisions.
The Insurance Institute for Highway Safety gave the car its highest rating for all its crash tests, including small overlap, moderate overlap, side, rollover, and head restraints. When equipped with the optional Pre-Collision System by Lexus, the ES 350 earned a Superior rating for front crash prevention.
Lexus offers the ES 350 with a host of safe-driving features, including lane-departure warnings, blind-spot monitoring, and adaptive cruise control.
Interestingly, Lexus has not yet applied any semi-autonomous—or fully autonomous—driving features to the Lexus ES, which would help separate the car from others in its class.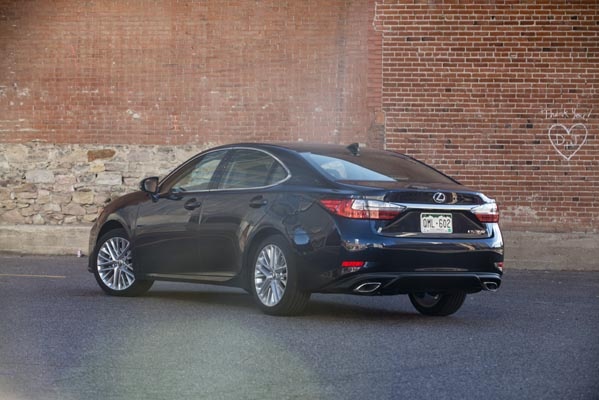 The Lexus ES is priced several thousand dollars lower than its German competitors, despite offering virtually the same amount of equipment. That may be due to Toyota's economy of scale, or differentiation with the sportier GS, but the Lexus ES represents good value for money in the midsize luxury class.
Lexus has always had a reputation for bulletproof reliability, and the ES doesn't give much reason to believe otherwise.
Despite trading some driving fun for reliability, the Lexus ES 350 presents a compelling reason for Toyota buyers to step up to a premium brand with familiar roots.
Updated
Forced into early retirement before his 1988 debut bout against "Million Dollar Man" Ted DiBiase for the Intercontinental Championship belt, Aaron is a syndicated automotive columnist in newspapers spanning the Louisiana and Gadsden purchases and the Northwest Territories. When he's not writing about cars, he's driving them. And when he's not driving them, he's probably eating or sleeping because you need to do that too.
What's your take on the 2016 Lexus ES 350?
Have you driven a 2016 Lexus ES 350?
Cars compared to 2016 Lexus ES 350
Looking for a Used ES 350 in your area?
CarGurus has 4,704 nationwide ES 350 listings starting at $3,981.
Trims
350 FWD

Avg. Price: $26,587
Quick Links