Looking for a Used V60 in your area?
CarGurus has 412 nationwide V60 listings starting at $9,999.
2015 Volvo V60
Overview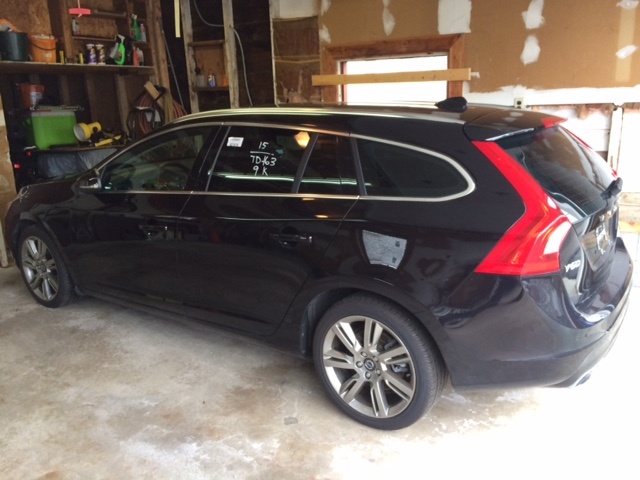 Volvo will bring its sport wagon back to the States after an agonizing 4 years watching everyone across the pond have all the fun. It's technically all new to us for 2015, but it's tried and true as far as European drivers are concerned. That said, all but one engine should be quite familiar; typical of Volvo, this Swede doesn't stray far from its heritage.
The smaller V60 sport wagon didn't bow out until after the 2011 model year, but it wasn't quite as entertaining as the V70 until you opted for the turbo engine. This V60 sits squarely between the two in terms of size, with the usual options of front-wheel drive or rear-biased all-wheel drive, but every engine is turbo-tweaked for a real fun factor at a more affordable price than the rip-roaring R-Design.
Oh yes, there's a wagon good for 4.9 seconds to 60 mph priced less than 50 grand, and this is it.
The engine pulling such a feat comes straight out of Volvo's S60 R-Design sedan, which should do about the same 325 hp and 354 lb-ft/torque in this application. This turbocharged inline 6-cylinder (I6) engine is offered only with all-wheel drive and a 6-speed automatic, just like the other engine borrowed from the S60 lineup, a turbocharged inline 5-cylinder good for 250 hp, 266 lb-ft of torque, and a sprint to 60 mph in 6.6 seconds for the T5 Wagon.
Unfortunately, other than a few tech specs and some in-the-flesh previews at auto shows, Volvo's keeping the lid quite adeptly sealed on details like feature content, and of course the new V60 hasn't gone through an official fuel estimate or safety test, either. We can guess the R-Design should get about 19 mpg city/28 highway, and about 1 mpg better with the smaller 2.5-liter I5, but that would be a guess.
The engine you haven't seen yet powers the baseline T5 Drive-E Wagon through an 8-speed automatic with paddle shifters routing power to the front wheels only, for an impressive 26/38 fuel-economy estimate and a 6.1-second sprint to 60 mph. Although its 240 hp and 258 lb-ft of torque may seem smaller than the T5 Wagon's engine figures, front-wheel drive has its benefits on overall weight and torque conversion to the road, and the V60 wagons make that advantage pretty evident.
Outside of that, details start getting scarce beyond its 43.8 cubic feet for cargo and the usual safety feature list, including adaptive cruise control, adaptive auto-dimming high beams, blind-spot monitoring, cross-traffic alert, lane-departure warning, lane-keeping assist, parallel-parking assist, collision mitigation and pedestrian detection. It's pretty safe to expect comforts like a heated steering wheel and heated seats in the cabin amongst pretty much every feature you'll find in a modern S60, but nothing is official on that as of this writing.
Updated
Your prototypical "Tom Girl" Patricia got her start digging into Ford engines before she aged into double digits. Gifted with a mechanical mind, her favorite pass-time in the summer is picking up a fixer-up'r at the local public auction and massaging its every ailment until it's primed for a new lover. From dirt bikes to land yachts, every partner offers something truly special in her love affair with the road - just don't tell her husband.
What's your take on the 2015 Volvo V60?
Have you driven a 2015 Volvo V60?
Cars compared to 2015 Volvo V60
Looking for a Used V60 in your area?
CarGurus has 412 nationwide V60 listings starting at $9,999.
Trims
2015.5 Platinum AWD

Avg. Price: $19,848
2015.5 T5
2015.5 T5 AWD

Avg. Price: $19,218
2015.5 T5 Platinum
2015.5 T5 Premier

Avg. Price: $16,922
2015.5 T5 Premier AWD

Avg. Price: $18,111
2015.5 T6 R-Design
2015.5 T6 R-Design Platinum AWD

Avg. Price: $24,817
Cross Country

Avg. Price: $20,132
Cross Country Platinum

Avg. Price: $20,689
T5
Show 10 more trims
Quick Links