Looking for a Used 918 Spyder in your area?
CarGurus has 15 nationwide 918 Spyder listings starting at $1,359,000.
2015 Porsche 918 Spyder
Overview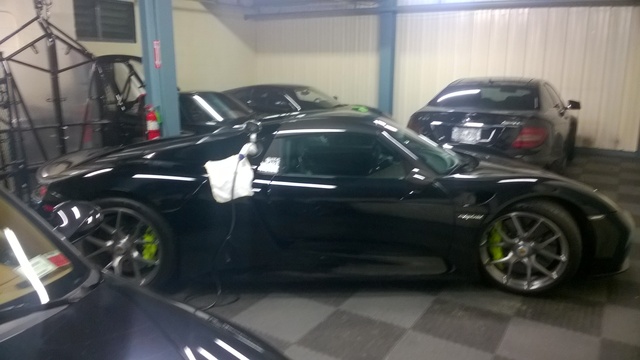 Porsche did not need to use a hybrid electric drive system in the 918 Spyder hypercar. The automaker could have set the track record at the famous Nurburgring without using two electric motors to augment its 608-horsepower flat-crank V8 engine. However, that would have meant just one more in a long line of amazingly fast cars. Rather than selling posters, Porsche is using the 918 as a showcase for plug-in hybrid electric drive and as a discussion piece for environmental issues.
Starting at the beginning, one must respect that the Porsche 918 is an absolutely gorgeous machine. Looking at this car, we know instantly that it's a Porsche. Look at the 918 and squint, and you can easily see the 2004 Carrera GT. However, the 918's twin cowls behind the seats are more pronounced. The car is part convertible and part open-top racecar, hence the Spyder designation, and the Targa roof can be stored onboard. The 918 is also a bit "swoopier" in front, to use a technical term. Long, wide, low, and flat is the theme in the 918, just as it was in the Carrera GT. The Carrera GT was called the 980 internally by Porsche. Even the name sounds similar.
The Porsche 918 is "just" the newest iteration of the top Porsche. It's interesting that all of Porsche's supercars are moving further and further from the classic 911 layout. The evolution is clear. The 959 supercar of the 1980s brought all-wheel drive to the top Porsche. The Carrera GT ushered in a V-configured engine rather than a boxer, specifically a V10. To make its required power now, the Porsche 918 uses electric motors driving the front and rear wheels as well as the impressive V8, which drives just the rears. Without the electric assist, Porsche would have had to consider something more than a V8 or turned up the forced induction and displacement to crazy levels.
The 918 is a rear-mid-engine car. That means that its V8 is inboard of the rear axle and behind the driver. There is no better way to balance a vehicle. Interestingly, the two electric motors are outboard of the front and rear axles. The rear electric motor is also a generator and charges the car's 6.8kWh lithium battery and also captures regenerative braking energy. That electric motor can add 156 horsepower to the vehicle's propulsion. The electric motor up front contributes 129 horsepower. More importantly, these motors deliver instant torque. There is no torque/horsepower compromise with the 918.
Porsche uses a 7-speed PDK dual-clutch automated manual transmission, plus the space-age hardware required to couple and uncouple the two electric drives. When the car is delivering full scoot, it puts 887 horsepower on tap. The 918 can accelerate to 60 mph in about 2.5 seconds. Pretty much nothing else with four wheels that you can put a license plate on can do that. Top speed is 214 mph. That's more than enough, since almost no road track can accommodate such speeds.
Normally this is the end of the chat about performance. However, the Porsche 918 can also drive along quite nicely for short distances as an EV. But don't let us give you the idea that this car's hybrid drive is civilized and refined like that of a Lexus. Quite the opposite. This is a raw-edged race car that shuts its V8 off once in a while, then brings it roaring back to life unexpectedly, causing children to weep and drivers to develop a nervous flinch. The electric and hybrid bits here could be said to save fuel, but that's mostly coincidental. Carmakers that want to reduce CO2 emissions for real don't start with a V8 that shoots its exhaust straight up and out of the middle of the car.
The Porsche 918 comes two basic ways. There is the road-going version we mention here, which is a thinly disguised race car, and then there is the one without the disguise, called the Weissach Package. In the Porsche literature and on its website, the Weissach version is shown with a racing number on the door.
Porsche is going to build 918 of the nine-one-eight. We think that's very cool. The car also costs roughly $918,000. Actually, $931,975. If that bothers you, you should have bought it last year when it was launched—it was only about $850K back then. Like some other rare cars, this is a vehicle that will very likely increase in value after purchase. Tell that to your spouse and then add, "And we might get a tax rebate since it's a plug-in hybrid!" Who could say no?
Updated
John Goreham is a life-long car nut and recovering engineer. In the early 1990s, he was part of a team that built a solar-electric race car from scratch. In addition to his work at CarGurus, John covers automotive news at Torque News and GM-trucks.com and is a contributor to CarTalk and BestRide. Aside from all things automotive, John loves fishing and hockey, preferably in the company of his two boys.
What's your take on the 2015 Porsche 918 Spyder?
Have you driven a
2015 Porsche 918 Spyder
?
Cars compared to 2015 Porsche 918 Spyder
Looking for a Used 918 Spyder in your area?
CarGurus has 15 nationwide 918 Spyder listings starting at $1,359,000.
Have questions?
Ask a question
Porsche 918 Spyder Questions
Check Engine Oil
How to check oil level
Trims
Roadster

1 national listing

Avg. Price: $1,662,042
Roadster w/ Weissach

Avg. Price: $1,643,734
Quick Links