Looking for a Used GT-R in your area?
CarGurus has 238 nationwide GT-R listings starting at $54,000.
2015 Nissan GT-R
Overview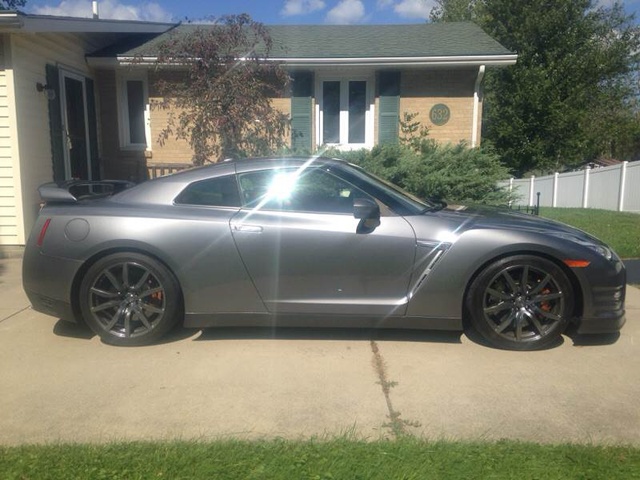 Like an artist who just can't seem to put down the brush and say "Finished," Nissan chief creative officer Shirō Nakamura keeps returning to the GT-R year after year with another tweak, another adjustment, another addition. Model year 2015 is no different. Yes, another round of changes come to the GT-R, and this may just be the year the Japanese technological titan finally compromises.
Godzilla compromise? Tell that to Tokyo. But giant monster mayhem aside, Nissan has definitely made efforts to make the GT-R more livable. The active suspension gets updated spring rates, new bushings, some reworked valving in the shocks and even a new antiroll bar, all in the interest of a smoother ride when you're venturing off the track. And lest the company start building a reputation of getting too soft, Nissan now offers a new staggered tire package of 20-inch Dunlop SP Sport Maxx GTs—255/40 in the front and 265/35 in the rear—both with stiffer sidewalls. Combining those with the suspension adjustments delivers what Nissan is calling a "more sophisticated ride and better road holding." As long as it no longer inadvertently removes fillings, I'd say it's on the right track.
Likewise, adjustments have been made to the braking and steering systems to make them more predictably responsive for everyday use. Whereas previously the brakes had a distinctly digital nature at anything near legal speeds and the steering required some time in the gym to handle appropriately around parking lots, a new steering pump and some recalibration of the brakes for a more linear response promises more forgiving operation.
But low speeds aren't the only times things have gotten a little scaly in the GT-R. Spend any time in the cockpit, and you'll notice a direct relationship between accelerator-pedal depression and noise. Even Nissan acknowledged this, forcing buyers to sign documents at the dealership preparing them for the avalanche of clunks and clatter that welcomed them upon driving off the lot.
At least this year, Nissan's addressing the issue directly instead of just warning its customers. Sadly, rather than actually dampening some of the rattling and buzzing, Nissan has taken the antidote du jour and installed an 11-speaker Bose Active Noise Cancellation audio system. It's the next best thing to actually fixing the problem! Thankfully there's also an additional 22 pounds of insulation to muffle the noisy driveline at least—that's great, since the Bose system is an option rather than standard.
Still, the experience of less noise is almost as good as the reality, and I'm sure most will welcome the Bose system's inclusion. Out front, you'll also notice a new headlight package with adaptive, high-intensity LEDs complemented by LED accents. These headlights not only follow you around curves, but will illuminate further down the road as you build speed, and that's a change we can all appreciate. The dotted rings surrounding the rear lights are now continuous lines, which does a lot to change the rear view while actually changing very little. Additional changes include a new accent on the side vents, additional stitching on the shifter and seats, and a new exterior color named Gold Flake Red Pearl, which features gold-tinted glass flakes that shine in the sunlight. If you want to really stretch the limits of class, a pale ivory interior stands ready to go the distance, and a Black Trim package gets you a dry carbon rear wing and a carbon trunk that saves even more weight over the standard aluminum lid.
No changes to the power profile, for regular or Nismo variants. For the non-Nismo GT-R variants, that means a 3.8-liter, twin-turbo V6 delivering 545 hp and 463 lb-ft of torque, whether you go with standard, Black or Track. The paddle-shifted, 6-speed dual-clutch transmission responds remarkably like a manual. The Black Edition gets unique wheels, a red-and-black interior, Recaro seats and a carbon-fiber rear spoiler. The Track Edition adds more aggressive suspension tuning and brakes, a carbon-fiber trunk lid and competition-style seats.
However, none of them come close to touching the Nismo, which gets the full 600-hp treatment, along with 481 lb-ft of torque thanks to bigger turbos, a larger fuel pump and some revised ignition timing. The job of delivering all that power has been handed to a race suspension that has been reworked through every unsprung element and supported through additional body stiffness. Even the wheel-hub bolts are the good stuff. But that alone wouldn't be enough to keep things from getting chirpy, so aero enhancements front and back manage to add an additional 220 pounds of downforce when bumping up against the top speed. Avoiding liftoff is desirable in a high-end car, I hear. Put it all together, and reports indicate a 2-second 0-to-60 time. Monstrous. And just to make sure you can hang on while experiencing that sort of power, you'll find Alcantara covering the vast expanses of the interior, from the carbon-backed Recaros to the chunkier steering wheel.
Nissan knows what it's released onto the world and is working hard to make sure it's as manageable a beast as possible. After all, killing your customers is a wholly poor business plan. Think of it as Godzilla in a bowtie. Sure, you can bring it to parties, but it's still going to knock over the dessert cart.
Updated
A CarGurus contributor since 2008, Michael started his career writing about cars with the SCCA - winning awards during his time as editor of Top End magazine. Since then, his journalistic travels have taken him from NY to Boston to CA, completing a cross-country tour on a restored vintage Suzuki. While his preference is for fine German automobiles - and the extra leg room they so often afford - his first automobile memories center around impromptu Mustang vs. Corvette races down the local highway, in the backseat of his father's latest acquisition.
What's your take on the 2015 Nissan GT-R?
Have you driven a 2015 Nissan GT-R?
Cars compared to 2015 Nissan GT-R
Looking for a Used GT-R in your area?
CarGurus has 238 nationwide GT-R listings starting at $54,000.
Trims
Black Edition

Avg. Price: $90,421
NISMO

Avg. Price: $122,647
Premium

Avg. Price: $86,109
Track Edition
Quick Links