Looking for a Used 650S in your area?
CarGurus has 30 nationwide 650S listings starting at $129,998.
2015 McLaren 650S
Overview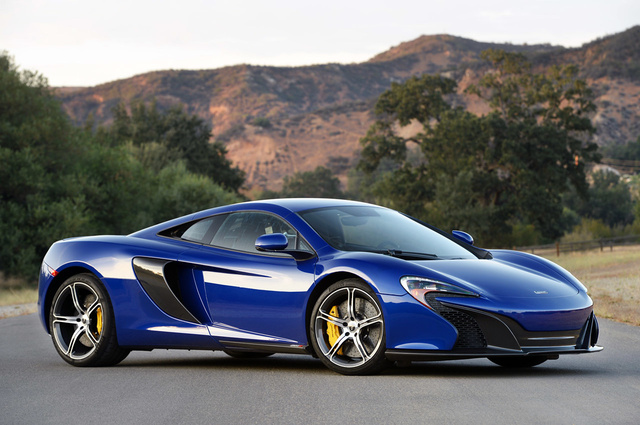 The defining aspect of the 2015 McLaren 650S may be how you are enclosed by it. As the driver, you'll sit ahead of the engine, and there is little trunk space (maybe enough for a small gym bag) separating your feet from the front of the car. The windshield is like a fish bowl of sorts, and overhead, when the aluminum folding roof is retracted, all you'll see is sky. Most of what you are driving is behind you.
Everything about McLaren's road-going supercars is influenced by Formula 1. Although, wisely, McLaren has not sought to replicate the V6-hybrid "power unit" of a Formula 1 car for the 650S. Instead, this machine is powered by a relatively small V8 engine that produces a relatively huge amount of power. The U.S.-specific horsepower figure is 641, although the UK's metric horsepower figure comes to 650ps (hence the name).
The layout of the McLaren is loosely derived from Formula 1, as is the intended experience. The 650S begins with a carbon fiber monocell. We know carbon composites are the underpinnings of many supercars, but why? McLaren answers that, saying "It's strong, it's light, it's safe, it doesn't flex when you finally dare to take Flugplatz flat." If you understand that statement, you must either be shipping your supercar to Germany for drives or you have a lot of posters on your bedroom wall. Possibly both.
McLaren fits two dihedral doors to the vehicle. This may be the car's most defining design element. They pivot from the front top corners and open in the fashion of what many call "scissor doors" or "Lambo doors" (due to their iconic inclusion on the Lamborghini Countach). Next, a fixed coupe roof or a convertible hardtop roof is added. The convertible hardtop has the added trick of being able to lower the rear glass while the roof is up. It can be raised or lowered in under 17 seconds (a relatively long time, actually), and you can do this while moving at speeds of up to 19 mph.
Up front, a splitter helps guide the onrushing air to create downforce. In back, a rear diffuser helps keep the tail down. These are passive aerodynamic aids, but McLaren doesn't stop there. It uses a rear air-brake to help stop the car. When deployed at speed, the company says it reduces stopping distances and also increases rear downforce by 20%. When top speed is the goal, it lowers to minimize resistance. Side air vents jam air into and through the hot parts of the car, such as the engine bay and the rear brakes.
Active aero is not the McLaren's only trick; it also uses brake steering. The idea behind this technology is that by braking the correct wheel at the right time, mid-corner understeer is managed and, upon exiting the corner, oversteer is controlled. The brakes are, of course, carbon-ceramic as well. With so much carbon, it's almost fair to call this car organic.
The flat-plane, 3.8-liter, twin-turbocharged V8 is the heart of the 650S. This is a racing-style V8, and its 641 hp is well balanced with an even 500 lb-ft of torque. The transmission is a 7-speed dual-clutch (DCT) unit with what McLaren terms "seamless shift, pre-cog functionality," although that last bit is pretty much the point of all DCT transmissions.
Drive modes include Winter, Normal, Sport, and Track. Naturally, launch control is also part of the driver-aid listing. The top speed is 204 mph, and 0-60 takes only 3 seconds. Those are not the main points of the McLaren 650S, however, as this car is a road-course vehicle if ever there was one.
Inside the McLaren 650S, Formula 1 is again the theme. The steering wheel is busy with buttons that control your movements. The center section includes an Active Dynamic Panel for selecting drive modes. Colors and materials are completely up to the buyer, and McLaren has a team to help with your interior design. If you thought the Formula 1 references must be over, guess again. According to McLaren, even the finish on the outside of the car is a "3-stage, Formula 1-inspired paint."
Unlike the company's P1 model, not all 650S cars have been sold, so if you have the means, you can have the car.
Updated
John Goreham is a life-long car nut and recovering engineer. In the early 1990s, he was part of a team that built a solar-electric race car from scratch. In addition to his work at CarGurus, John covers automotive news at Torque News and GM-trucks.com and is a contributor to CarTalk and BestRide. Aside from all things automotive, John loves fishing and hockey, preferably in the company of his two boys.
What's your take on the 2015 McLaren 650S?
Have you driven a 2015 McLaren 650S?
Cars compared to 2015 McLaren 650S
Looking for a Used 650S in your area?
CarGurus has 30 nationwide 650S listings starting at $129,998.
Trims
Coupe

Avg. Price: $195,046
Spider

Avg. Price: $167,445
Quick Links