Looking for a Used F12 Berlinetta in your area?
CarGurus has 34 nationwide F12 Berlinetta listings starting at $199,998.
2015 Ferrari F12 Berlinetta
Overview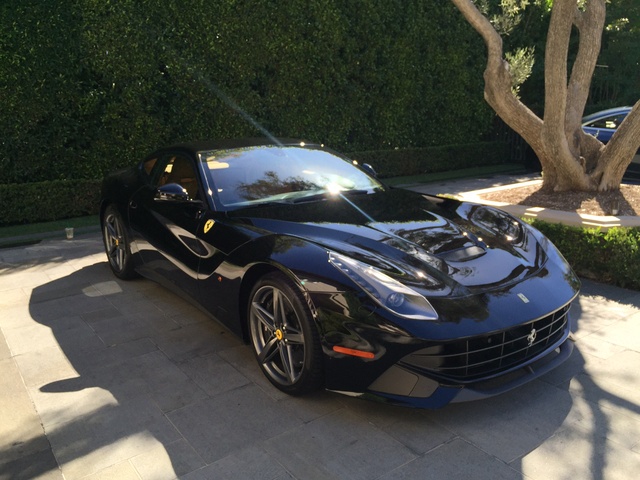 A screaming front-mounted, normally aspirated V12. A long, wide, functional and beautiful body. The 2015 F12berlinetta is not only Ferrari's top grand-touring car, it's also more capable than all but the very limited LaFerrari. Indeed, for many, the F12berlinetta is the definitive modern Ferrari road car. It's big, incredibly powerful, and since it's not a hybrid, perhaps the last of an era.
The 2015 Ferrari F12berlinetta traces its lineage all the way back to the 1953 front-engine, V12 grand-touring Ferrari 250. The sleek look of the modern F12berlinetta was evident as far back as the 1964 Ferrari 275. However, many might think of today's F12berlinetta as a modern "Daytona" Ferrari. Regardless of the vehicle one considers as this car's predecessor, a front-engine V12 grand-touring car is to many the only real type of Ferrari.
The 2015 Ferrari F12berlinetta, or simply the F12 as many call it, has at its heart a 731-hp 6.3-liter V12 engine. Although that number is more than impressive, the car also has more than 400 lb-ft of torque at just 2,500 RPM. Maximum pull is produced later in the rev-band and is 508 lb-ft at peak. The redline of this car is 8,700 RPM. The 7-speed, F-1 dual-clutch transmission is geared for acceleration, yet the car can still top 211 mph if one can find a circuit to accommodate such speeds.
Although wide at 76.5 inches and long at 181.8 inches, the 2015 Ferrari F12berlinetta is slightly more compact than the 2011 599 GTB Fiorano, which preceded it. Ferrari is no stranger to carbon fiber, but opts to use aluminum as the main material for the F12's construction. Due to its multi-alloy aluminum space frame and aluminum body, the Ferrari F12 is lighter than most supercars its size at just 3,362 pounds, and it is 154 pounds lighter than the Ferrari it replaced. The F12's weight is also distributed unlike that of almost every other car. This car is rear-biased in terms of weight, with 54% over the rear wheels.
Carbon is used by Ferrari in the F12berlinetta's brakes. The CCM3 carbon-ceramic brakes are state of the art, as are the magnetorheological shocks that perform miracles on rough roads while being able to stiffen whenever possible to help keep the car planted but agile.
Numbers are cold and dispassionate, but the Ferrari F12berlinetta is anything but. Because the car has rear-wheel drive and power well beyond what the two rear tires can control on their own, Ferrari's F12berlinetta comes with driver aids like traction and stability control. These are not meant keep its owner's passion in check, but rather to keep the car from oversteering off an Italian cliff. As in the Porsche 911, these driver aids work in a way that augments the car's drivability, not in a way that diminishes driving pleasure. Remember, Ferrari has midengine sports cars built for track use. The F12 is a grand-touring car. It just happens to be perhaps the fastest one.
Inside the 2015 Ferrari F12berlinetta is a Formula 1 car mated to a Bentley. The steering wheel can control almost every function, as in a race car. Ferrari even went as far as removing the turn-signal and windshield-wiper stalks to eliminate the need for a driver's hands to move off the wheel. That wheel is leather and carbon fiber, and behind it sit two prominent, stiletto-like paddle shifters.
Ferrari coined the term "manettino." This word means "little switch" or "little lever," and in the F12 it's on the bottom right of the steering wheel's hub. The driver uses it to set the car's traction control and other parameters to his or her preferences. Down to the right of the manettino on the center tunnel is a row of buttons that face the driver. The bottom button says Launch. This driver aid is the secret to achieving a 3.1-second 0-to-60 time. Ferrari makes that button conspicuous. Many fast cars hide their launch-control systems or use a ridiculous series of steps the driver must initiate in order to get the car up near top speed. Ferrari puts that function at the driver's fingertips.
No vehicle overview is complete without some mention of price. If you can find a 2015 Ferrari F12berlinetta for sale from a dealer, your budget should be between $330,000 and $350,000. Your Ferrari dealer will put you in touch with a personal designer that will aid you in your selection of all the elements of this vehicle. Ferrari is committed to limiting the availability of its products, which is a curse or a blessing, depending upon your viewpoint.
Updated
John Goreham is a life-long car nut and recovering engineer. In the early 1990s, he was part of a team that built a solar-electric race car from scratch. In addition to his work at CarGurus, John covers automotive news at Torque News and GM-trucks.com and is a contributor to CarTalk and BestRide. Aside from all things automotive, John loves fishing and hockey, preferably in the company of his two boys.
What's your take on the 2015 Ferrari F12 Berlinetta?
Have you driven a 2015 Ferrari F12 Berlinetta?
Cars compared to 2015 Ferrari F12 Berlinetta
Looking for a Used F12 Berlinetta in your area?
CarGurus has 34 nationwide F12 Berlinetta listings starting at $199,998.
Ferrari F12 Berlinetta Questions
Trims
Coupe

Avg. Price: $284,208
Quick Links