Looking for a Used FR-S in your area?
CarGurus has 406 nationwide FR-S listings starting at $9,650.
2014 Scion FR-S
Overview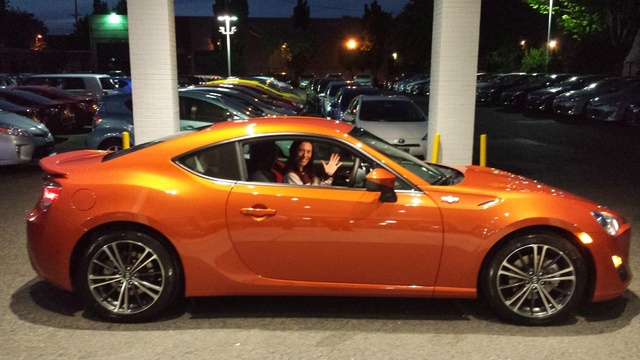 Everyone was talking about the Scion FR-S/Subaru BRZ when they debuted last year, rare entrants into the "actual sports car" field that is so dismally empty of late. Since then, everyone has been talking about the differences between the two, and more specifically, which is better.
It's a difficult question, leading to many a maniacal scavenger hunt looking for differences in options, materials and application, but one worth asking. While the Subaru has it over the FR-S with regard to features and finish, the Scion has a couple of key points going for it: It's cheaper, and it's scarier to drive.
No, scary isn't usually considered a boon in the automotive industry. In fact, many a car has met its demise at the application of such terms. But for every Corvair pushed out of showrooms for fear, there's a Cobra and an air-cooled 911 waiting to take its place. Fear is engaging, and people want to enjoy driving a car like the FR-S.
So how is it scarier? While Subaru was unwilling to risk its reputation for predictable stability, Toyota/Scion felt free to apply a more aggressive suspension and steering setup for the FR-S, a combination which leads to more oversteer and aggressive turn-in. For those familiar with the rewards of rear-wheel drive, this means more tail-happy, wheel-spinning, smile-inducing fun than in the BRZ!
Perhaps because of this, Toyota has added some extra knee padding to the doors and the center console to protect legs flopping side-to-side during more… ahem… spirited maneuvers. Toyota also added a newly standard 6.1-inch touchscreen display—something you'll find now standard across the Scion range—and now you can optionally add a premium audio system with navigation, previously unavailable in the FR-S but optional for the BRZ.
For all this extra, you'll suffer a slight price increase over last year of just over $500. Of course, you'll still be getting a lot of car for the money, especially one that's just so fun to drive. With its 200-hp, 2-liter boxer 4-cylinder attached to your choice of 6-speed transmissions, all you'll hope for is a bit more torque than the 151 lb-ft offered. But this is a high-revving 4-cylinder, with a redline of 7,400 rpm. Treat it like it just took the last cookie, and you'll do just fine.
In fact, the FR-S sports some cloth-covered front bucket seats designed to keep you safely in place no matter how rowdy you get behind the wheel, even if you're long of leg or high of head. Rear seats shine as well and can even accommodate those reaching 6 feet tall. You won't get the HID lights of the BRZ or the leather/alcantara upholstery, or the start/stop or keyless start either, but some say the FR-S has it over the BRZ in style, with more attractive standard trim, a larger front grille opening and a body-hugging rear spoiler that makes the straight-line example in the BRZ look like an afterthought.
Unfortunately, both vehicles suffer from electronic-assist steering. Precise, but uncommunicative—a fatal flaw in a car where the driving feel is paramount to its purpose. At the very least, you'll be able to enjoy standard climate control, keyless entry and Bluetooth, but those seem silly additions to a car meant to be driven, not ridden in.
Updated
A CarGurus contributor since 2008, Michael started his career writing about cars with the SCCA - winning awards during his time as editor of Top End magazine. Since then, his journalistic travels have taken him from NY to Boston to CA, completing a cross-country tour on a restored vintage Suzuki. While his preference is for fine German automobiles - and the extra leg room they so often afford - his first automobile memories center around impromptu Mustang vs. Corvette races down the local highway, in the backseat of his father's latest acquisition.
What's your take on the 2014 Scion FR-S?
Have you driven a 2014 Scion FR-S?
Cars compared to 2014 Scion FR-S
Looking for a Used FR-S in your area?
CarGurus has 406 nationwide FR-S listings starting at $9,650.
I have a lien so the Virginia DMV kept my title, can i sell my car on Cargurus with just the Lien information. I cannot contact the DMV and now live in another state.
Trims
Base

Avg. Price: $16,298
Monogram

Avg. Price: $19,385
Quick Links