Looking for a Used Viper in your area?
CarGurus has 24 nationwide Viper listings starting at $99,888.
2014 SRT Viper
Overview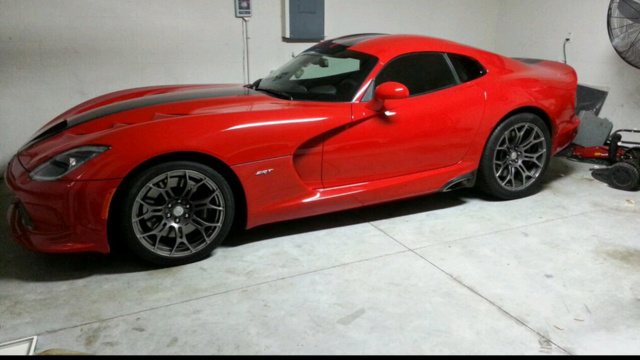 Another year, and still no new Viper. Oh, there's a new package option and a new color, and even a new mode for the stability control system—all designed to convince you the Viper needs another look in 2014—but no new Viper.
The most ridiculous is the new color, Competition Blue. Patryk Skarzynski of Chicago won Chrysler's SRT Viper Color Contest, beating out second and third-place entries Overtaking Blue and Viral Blue. Looks like cooler colors lead the pack here, and Patryk will travel to Florida to watch the Rolex 24 Hours of Daytona with the Chrysler Design Team, ostensibly to discuss his talent for re-naming colors that already exist.
It's no secret the Viper gets its inspiration from Mr. Shelby's Cobra of legend—a vehicle known for being a widowmaker. It's rumored that dealers couldn't take delivery of that storied roadster until they'd taken a class designed to teach them how to drive the beast without killing themselves or (more importantly) their customers. In that vein, new Viper owners are treated to a 1-day SRT Track Experience, similarly intended to make sure the new owners stick around long enough to become old owners. It's something that should become commonplace for any sports car of this caliber, and especially one that still allows you the room to make some mistakes at the limit. Most super sport cars have been reined in with so many safety nets and backups systems that the only time you're actually driving is when you're doing everything EXACTLY right. It's kind of like when you were learning to ride a bike, and your dad would run behind you with his hand on your saddle, keeping you upright while you learned balance. He'd let go for a few seconds, until you started to wobble and falter, and then he'd grab on again and set you straight for another few seconds of horrific freedom. Yeah the ride lasts longer, but are you really learning anything?
The Viper stands for no such coddling and is still more than willing to buck your passive ass right off the moment you decide to push things too far. But no one wants to screw around with 640 horses and 600 lb-ft of torque in the wet, so the Viper's stability control system comes with a new Rain mode this year. I guess Chrysler has tossed enough caution to the wind of late.
But if that's your thing, there are options. Wisely figuring that the base Viper would be much too tame for the average consumer, Chrysler is offering the Time-Attack special-edition package for 2014. This will tack on the optional Advanced Aerodynamics package, race-tuned suspension and upgraded Brembo brakes, as well as lightweight forged wheels, stickier tires and some unique trim.
If far is more to your liking than fast, take a look at the Grand Touring package, which adds voice-controlled navigation and HD radio to make those longer road trips more bearable. You'll also get a cupholder insert, floormats and a rear-view camera, must-haves on any grand tour.
Personally, I'd like to see more of the features from the GTS trim—power leather seats, upgraded audio system and the multi-stage stability and traction control system—drop down to the Grand Touring package. Then you can keep the rest of the GTS goodies like the dual-mode Bilstein dampers and 2-piece lightweight brake rotors, unique hood and trim additions, and pad them with some of the more non-sensical Grand Touring add-ons like the rear-view camera.
Cupholders and floormats should be included regardless of the Viper you drive home. Call me old-fashioned.
Updated
A CarGurus contributor since 2008, Michael started his career writing about cars with the SCCA - winning awards during his time as editor of Top End magazine. Since then, his journalistic travels have taken him from NY to Boston to CA, completing a cross-country tour on a restored vintage Suzuki. While his preference is for fine German automobiles - and the extra leg room they so often afford - his first automobile memories center around impromptu Mustang vs. Corvette races down the local highway, in the backseat of his father's latest acquisition.
What's your take on the 2014 SRT Viper?
Have you driven a 2014 SRT Viper?
Cars compared to 2014 SRT Viper
Looking for a Used Viper in your area?
CarGurus has 24 nationwide Viper listings starting at $99,888.
Trims
Base

Avg. Price: $110,029
GTS

Avg. Price: $121,451
TA
Quick Links