Looking for a Used GT-R in your area?
CarGurus has 223 nationwide GT-R listings starting at $59,991.
2014 Nissan GT-R
Overview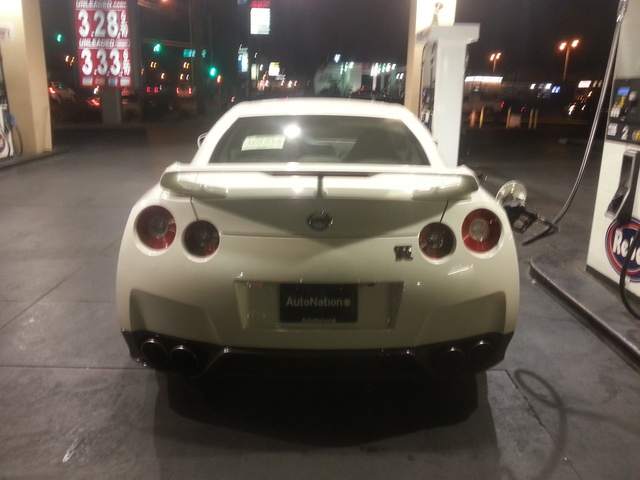 For the first time in longer than anyone can remember, Nissan announced it won't be increasing the power in the new version of the GT-R.
And then it did.
Despite arriving with the same specs—545 hp/463 lb-ft—the 2014 Nissan GT-R has more than a few upgrades to offer. Most notably, new fuel injectors provide extra torque and better throttle response in the mid-to-low rev range, as so many GT-R owners were complaining about the sluggishness of the twin-turbo V6 when it spins. Less notable but perhaps more important, an added oil-pan baffle will now stabilize oil delivery in a car that can go nearly as fast sideways as it can in a straight line.
That baffle was just in time, too. The GT-R also gets further suspension revisions after sending GT-R development driver Toshio Suzuki around the Nurburgring a few times. Specialized gas pressure shock absorbers and higher spring rates mean the rock-hard suspension of the GT-R is even harder, but Nissan claims it's more compliant as well thanks in part to a relocated front suspension link bushing and despite a new front anti-roll bar. Early reviews say it still rides like a red wagon, but does manage to be a bit quieter this time 'round.
If that wasn't enough of an advantage for Godzilla, Nissan has produced a special Track Edition trim for 2014 to really get the other motor monsters shaking in their rubber suits. This one offers even firmer adjustments to its Bilstein dampers, front and rear brake cooling ducts, a handmade dry carbon rear spoiler, 20-inch metallic black forged Rays lightweight wheels with nitrogen-filled Dunlop SP Sport Maxx runflat tires and—brace yourself—no rear seat.
For those who have sat in a GT-R, those last three words likely have you thinking, "So what?" Godzilla's rear seat has always been more symbolic than practical, and given the Track Edition is a mere 6 pounds lighter than the similarly equipped Black Edition, it seems a token offering. But the quilted recesses do seem a bit more useable than the seats they replace, as long as you're not actually planning on taking extra passengers in your… track car.
Track considerations aside, even in the base Premium trim, this is not a car you can be comfortable driving every day. The suspension will punish you for even looking at a pothole, the engine begs you to drive way too quickly, and the transmission that works so well at speed is a cacophony of clunks and clicks and clatter around the city.
This speaks to the inherent contradiction of the GT-R. It's one of the fastest cars ever produced, despite things like a V6 engine, a wealth of luxury and comfort items and its resultant 3,800-pound curb weight. It's appointed like a Maxima and performs like a turbo 911, except the 911 can be driven comfortably on city streets. Of course, you'll pay a bit more for that comfort, plus the "prestige" of driving a Porsche. If that's worth more to you than having the fastest car on your block—or pretty much any block—the GT-R isn't the car for you.
Updated
A CarGurus contributor since 2008, Michael started his career writing about cars with the SCCA - winning awards during his time as editor of Top End magazine. Since then, his journalistic travels have taken him from NY to Boston to CA, completing a cross-country tour on a restored vintage Suzuki. While his preference is for fine German automobiles - and the extra leg room they so often afford - his first automobile memories center around impromptu Mustang vs. Corvette races down the local highway, in the backseat of his father's latest acquisition.
What's your take on the 2014 Nissan GT-R?
Have you driven a 2014 Nissan GT-R?
Cars compared to 2014 Nissan GT-R
Looking for a Used GT-R in your area?
CarGurus has 223 nationwide GT-R listings starting at $59,991.
I need an air compressor for my car tire, which will be the best portable to any place and medium size. Price under 150 USD will be great choice.
Trims
Black Edition

Avg. Price: $89,133
Premium
Track Edition
Quick Links