Looking for a Used LR2 in your area?
CarGurus has 213 nationwide LR2 listings starting at $2,999.
2014 Land Rover LR2
Overview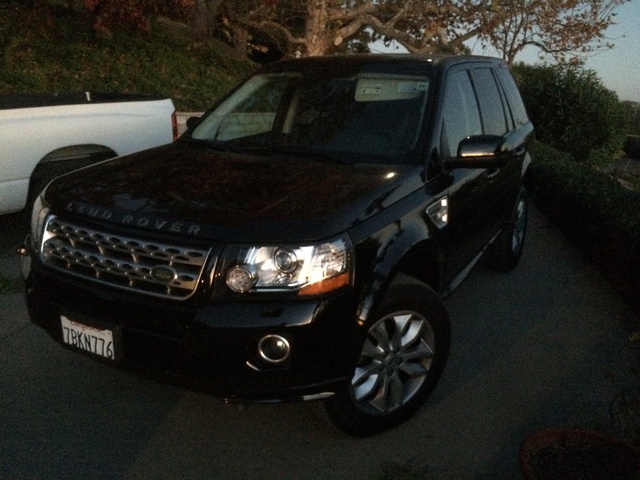 Set to flagship one third of an entirely new Land Rover setup for 2015, this year marks the end of the road for the one-generation wonder known as the LR2 compact crossover. Speaking to the perfection achieved since its 2008 debut, the LR2 remained essentially unchanged until its first major refresh for 2013, and 2014 just sees a few software improvements in its infotainment systems after a tidy sales recovery post-refresh. Otherwise the LR2 is unchanged, yet again—but for the last year in this form.
Unlike most makers who seem to need a neon "buy me now" sign in the form of a special cosmetic package for a vehicle's last year, Range Rover is instead allowing the LR2 to ride quietly into the sunset. The touchscreen display is now more responsive, being capacitive rather than resistive, featuring a QWERTY keyboard for searching contacts and added functionality with satellite radio, including instant replay and intelligent memory for artists and teams.
Outside of that, the 2014 remains the very same turbo-powered SUV built over a car, good for 240 hp and 250 lb-ft of torque out of an engine estimated to get 17 mpg city/20 highway. Still achieving 60 mph in 8.5 seconds with a 3,500-pound towing capacity or 27 cubic feet of cargo space available behind the rear seats, 59 with those seats folded down. For now the LR2 remains a trail-rated crossover with tolerable road manners, but that's set to change at least a bit.
Land Rover has an ambitious plan for the years ahead, reportedly adding 10 new models by 2020. The LR2 is set to be redesigned for 2015 into the very first middle-road "leisure" dubbed Freelander, to be topped out by a Discovery. The far ends of the new spectrum are a road-mannered "luxury" group including the Evoque, and an off-road dedicated "utility" lineup taking the bottom rungs of the ladder and the lion's share of debuts between now and 2020.
The LR2's redesign will be the first of 4 leisure types to arrive in the States by 2020, accompanied shortly thereafter by the redesigned LR4, which is expected to be more of a BMW X5 competitor. Land Rover is definitely adding a 7-seat format in the luxury category, but whether one might make it to the leisure types is as yet unclear. In any case, there are only 4 of these types planned, and the LR4 edition is merely rumored for a 7-seater, which is only marginally better than we can say for the LR2.
That means it's safe to expect the next-generation LR2 to be a lot like this 2014 edition. That said, a "super-frugal 4-cylinder" engine is reportedly under development, but when that might show up is anyone's guess at this point. Jaguar Land Rover is also very greatly expanding its manufacturing base around the world, opening jobs in China as well as the UK with no promises made so far regarding the usual standard for eco-friendly material sourcing and green production. In short, if this LR2 is an all-wheel driver you can believe in, here's quite possibly your last chance at a thoroughbred.
Updated
Your prototypical "Tom Girl" Patricia got her start digging into Ford engines before she aged into double digits. Gifted with a mechanical mind, her favorite pass-time in the summer is picking up a fixer-up'r at the local public auction and massaging its every ailment until it's primed for a new lover. From dirt bikes to land yachts, every partner offers something truly special in her love affair with the road - just don't tell her husband.
What's your take on the 2014 Land Rover LR2?
Have you driven a 2014 Land Rover LR2?
Cars compared to 2014 Land Rover LR2
Looking for a Used LR2 in your area?
CarGurus has 213 nationwide LR2 listings starting at $2,999.
Trims
Base AWD
HSE AWD

Avg. Price: $15,759
HSE LUX AWD

Avg. Price: $17,032
Quick Links