Looking for a Used Evora in your area?
CarGurus has 112 nationwide Evora listings starting at $47,800.
2013 Lotus Evora
Overview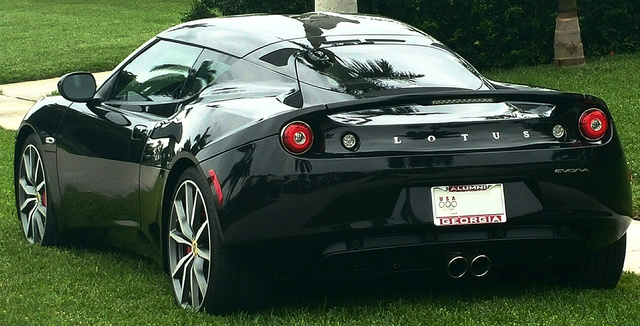 The mere sight of it brings about fits of cognitive dissonance. A 4-seat, midengine car? A Lotus you can haul your family around in (sort of)? If you're wondering why it is that you've never placed your peepers on this chimera of a car, blame planned sales figures that barely cap a couple thousand.
Despite these low goals, Lotus has been trying to attract demographics beyond its usual track folk and wannabe racers. For 2013, that effort comes in the form of some new colors and the first automatic option for the supercharged S trim.
But even without supercharging, the Evora can still hustle with haste. The mid-mounted, Toyota-sourced, 3.5-liter V6 will get you to 60 mph in the 3,000-pound Evora in just 4.9 seconds. And before you scoff at using a Toyota engine in a Lotus, take a look at some of the specs: aluminum block, heads and manifold; 24 valves, double overhead cams; direct injection and variable valve timing on both the intake and exhaust. Fitted to your average Toyota, it'll get you 265 hp and 245 lb-ft of torque. Lotus wanted to massage that a little, starting with the fact that the engine was originally designed for transverse front-wheel-drive mounting. Making it power the correct set of wheels was a good start, but adding some extra oomph is always welcome. Here, it gets you 276 hp and 250 lb-ft of torque with natural aspiration. Opt for the supercharging, and you'll see 345 hp and 295 lb-ft of torque on your spec sheet, and that's no Camry. It is still a Toyota though, and that doesn't do much to win over the more discerning enthusiasts.
For even more "go," an optional Sport setting on the automatic will quicken the Evora's throttle response, add a diffuser and engine oil cooler, upgrade your brakes and add a sports traction control mode. Redline is also raised here from 6,400 rpm to 7,000. Not bad in a car that will still return 20 mpg city/28 highway with the Intelligent Precision Shift (IPS) 6-speed automatic transmission. The 6-speed manual nearly matches it at 19/28, and while this was previously the only available option for the S trim, the IPS has been made available for all 2013 trims.
Perhaps more than any other manufacturer, Lotus is known for its handling. That means Lotus-tuned steering and a forged aluminum double wishbone suspension with Bilstein dampers and Eibach coaxial coil springs. Here, reviewers have emphasized the delicate balance Lotus has achieved between comfort and precision handling. Apparently it is possible to make a car handle without simultaneously attempting amateur chiropractor status.
But because performance isn't the only goal here, the Evora comes with a long options list. Three wheel designs and several leather color choices are a nod to style, while safety is handled by standard bi-xenon headlights coupled with optional rear parking sensors and a reverse camera. For some luxury, power-folding mirrors and two Alpine audio systems are available, as well as Bluetooth and cruise control.
But even without adding more pain to the price list, the Evora is well-equipped. Eighteen-inch front and 19-inch rear cast aluminum wheels, heated exterior mirrors, iPod integration and a tilt-and-telescoping steering wheel aid your access to this "most accessible Lotus ever."
Still, with all this to praise, there are criticisms to be found. Despite Lotus CEO Mike Kimberly's assertion that the Evora is built to accommodate both himself and 2 "99th-percentile males" (i.e. 6'5"), the back seat is unusable for adults. Keep it to small children or opt for the Plus Zero rear seat delete which gives you a parcel shelf instead. Rear visibility leaves a lot to be desired, and some have criticized the Evora's interior for feeling a little low-class for the price. Of course, interiors were never Lotus' focus.
Another small caveat regarding the Evora's size: The front left wheel well intrudes into your foot space, necessitating a clutch-pedal relocation and a near deletion of the dead pedal. Many find it awkward both when operating the clutch and when looking for a place for left feet when not operating the clutch.
Sad, but these compromises come when you try to make a purpose-built machine into something… else. However, for what you get, these small considerations do very little to take away from the overall experience. The Evora is very simply one of the most engaging, nimble cars on the road. That it comes with a little extra comfort is just that—extra. That said, with a nearly useless second row, why not just take the Elise or Exige and dress up the cabin a bit?
Updated
A CarGurus contributor since 2008, Michael started his career writing about cars with the SCCA - winning awards during his time as editor of Top End magazine. Since then, his journalistic travels have taken him from NY to Boston to CA, completing a cross-country tour on a restored vintage Suzuki. While his preference is for fine German automobiles - and the extra leg room they so often afford - his first automobile memories center around impromptu Mustang vs. Corvette races down the local highway, in the backseat of his father's latest acquisition.
What's your take on the 2013 Lotus Evora?
Have you driven a 2013 Lotus Evora?
Cars compared to 2013 Lotus Evora
Looking for a Used Evora in your area?
CarGurus has 112 nationwide Evora listings starting at $47,800.
Trims
Coupe
Coupe 2+2
S
S 2+2
Quick Links