Looking for a Used Aventador in your area?
CarGurus has 125 nationwide Aventador listings starting at $249,950.
2013 Lamborghini Aventador
Overview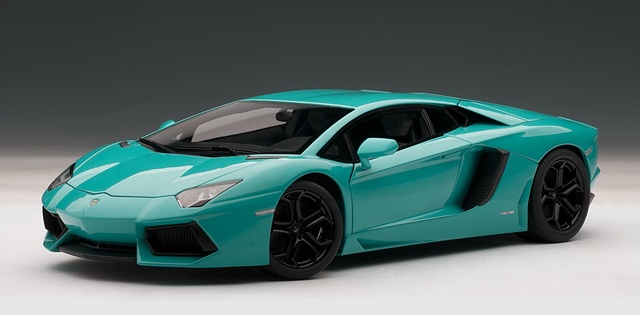 It's hard not to fall under the spell of the exotic Italian. With stunning looks and thrills that remind you what it's like to be alive, it's a dangerous combination. But a quick glance at the Italian offerings of the past will remind you: Looks quickly deteriorate, and that feeling of renewed vigor can too quickly be replaced by regret.
So it goes with the harsh lines of Lamborghini, and never more so than with the Aventador. It looks like it was carved with a machete, and in its most recent incarnation, that machete has been taken to the roof. That's right, the Aventador is going topless.
But isn't it folly to chop the top on a carbon-fiber monocoque? Lamborghini says it has things under control, with 110 pounds of reinforcement and a double-shell, carbon-fiber roof panel—things are supposed to stay stiff whether or not you can spot sky. So much so, in fact, that the Aventador can even achieve its 217-mph top speed without the roof. Try that in a Porsche.
It seems a 6.5-liter, mid-mounted, 690-hp V12 can't be held back by something as trivial as toplessness, especially when it gets its own, unique engine cover. Even the extra 110 pounds for structural rigidity add only 0.1 second to the sprint to 60, a mark the Aventador Roadster can still do in under 3 seconds. This is helped by the resident Lamborghini White Elephant—the 7-speed Integrated Shifting Rod (ISR) automated single-clutch manual transmission. While the dual-shifting rod setup is smaller and lighter than a comparable direct-shift gearbox and can manage cog swaps in less than 50 milliseconds, it still offers the lurching clunkiness that so pleasantly recreates the same experience from a more traditional 3-pedal manual. Sure, a dual-clutch system would've fixed this, but Lambo didn't want to waste the extra 26 pounds for such frivolity. Besides, something on a Lamborghini needs to be quirky and out of place, no?
Actually, they'll try hard to convince you that the problem can be mitigated by switching through the available shift profiles—Strada, Sport and Corsa—modes that also affect throttle, stability control and exhaust settings. Unfortunately, this is a lie. In Strada, your neck will get more exercise than your feet, as you resist against mid-shift head-nod. Corsa mode is intended for the track and is nearly too aggressive for even that application. One would think Sport would fall pleasantly betwixt the two, but this is not the case. Sport is definitely better than Strada, but couldn't it be a bit more betterer?
But then, has Lamborghini ever really been known for refinement? More like managed chaos or perhaps medicated insanity. Even with all 4 wheels handling power delivery in the Aventador, it can still manage to scare even seasoned enthusiasts.
If this hasn't been enough for you to choose a more sensible ride, you're in luck. Practicality is not left wholly behind with technology like cylinder deactivation, and for some unique (and not-frustrating) tech, a pushrod suspension at all 4 corners does its best to imitate F1. More, there's a unique color for the Roadster if that's your flavor: Azzuro Thetis, a hue-shifting blue that is supposed to go with the Sabbia Nefertem leather upholstery.
That's correct: special leather to match your color-shifting paint. Lamborghini is nothing if not absurd.
Sure, the English supercars may have more class, more longevity, and a German handles better than the Italians. But I'll give you two guesses as to which is more likely to be found hanging on bedroom walls.
Long live absurdity.
Updated
A CarGurus contributor since 2008, Michael started his career writing about cars with the SCCA - winning awards during his time as editor of Top End magazine. Since then, his journalistic travels have taken him from NY to Boston to CA, completing a cross-country tour on a restored vintage Suzuki. While his preference is for fine German automobiles - and the extra leg room they so often afford - his first automobile memories center around impromptu Mustang vs. Corvette races down the local highway, in the backseat of his father's latest acquisition.
What's your take on the 2013 Lamborghini Aventador?
Have you driven a 2013 Lamborghini Aventador?
Cars compared to 2013 Lamborghini Aventador
Looking for a Used Aventador in your area?
CarGurus has 125 nationwide Aventador listings starting at $249,950.
Lamborghini Aventador Questions
Trims
LP 700-4
LP 700-4 Roadster
Quick Links