Looking for a Used FF in your area?
CarGurus has 28 nationwide FF listings starting at $115,900.
2013 Ferrari FF
Overview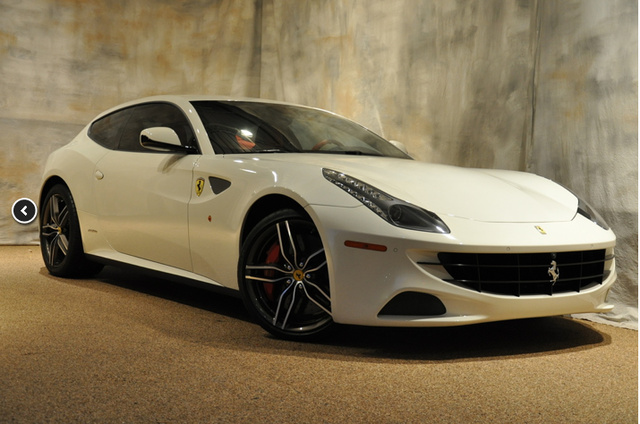 With 4 seats and 4-wheel drive, the Ferrari FF is not the sort of vehicle one expects to roll out of Maranello—but Big Red has been going through some changes of late. The California is bringing in thousands of new owners, and for something even more shocking, you can no longer buy a Ferrari with a traditional 3-pedal manual.
These surprises are signs of the times, just like this "new" shooting brake configuration. Everyone wants to claim their version of the 4-seat coupe as the original, even though it's been around for decades and decades. Still, the 2013 FF is a unique if not aesthetically appealing entrant for their flagship luxury grand-touring position. Like the Porsche Panamera, there's a definite division amongst the fan base regarding the looks here, thanks to a bulbous rear that makes even the convertible California's posterior look petite.
But looks aren't the only unique aspect of the FF. Yes, it's the sole entry in the Ferrari stables with power going to all 4 wheels, but even the method of delivery is unique. Most multi-axle drive setups utilize a transfer case—durable, but heavy. Ferrari is always concerned about weight and where to put it, so it decided on a dual-transmission setup with a 2-speed tranny up front and a 7-speed out back. Lighter than a transfer case, this configuration allows the 2-speed transmission to engage during the first 4 gears of the 7-speed tranny, as well as distribute power laterally for increased stability. Above fourth gear, it's all rear-wheel drive (RWD).
That helps with efficiency as well, and the FF is capable of feats like 11 mpg city/17 highway with emissions output of just 579 g/mi. Those are figures that generally don't come with a Ferrari, especially one that can hit 208 mpg thanks to its 651-hp, 6.2-liter V12 engine, but here you get to enjoy something extra—just like the extra powered wheels and extra seats and extra girth out back.
Did you ever really think you'd be able to haul with a Ferrari? More than 28 cubic feet of usable cargo space and a hatchback entry means this is your chance, although there are certainly more economical grocery-getters out there. Of course, none of them will make the sprint to 60 in 3.7 seconds or come with magnetorheological suspension dampers and carbon-fiber brakes, either.
You'll also get yards of leather to cover the interior and the thick, supportive front seats. Rear seats sadly don't earn the same descriptors, as they're disappointing with regard to room, both head and leg. The now-familiar 3-spoke tiller features all the buttons and dials that left the stalks in order to make room for paddle shifters. It's less confusing at first glance than last year's version, but it's still a bit overwhelming. The low point of the whole arrangement is the Chrysler-sourced Garmin navigation system—it should be a crime to put one with the other.
So if you can stomach its peculiar looks, Chrysler parts and exorbitant price tag, you've found your vehicle—all hail the 2-ton SuperWagon!
Updated
A CarGurus contributor since 2008, Michael started his career writing about cars with the SCCA - winning awards during his time as editor of Top End magazine. Since then, his journalistic travels have taken him from NY to Boston to CA, completing a cross-country tour on a restored vintage Suzuki. While his preference is for fine German automobiles - and the extra leg room they so often afford - his first automobile memories center around impromptu Mustang vs. Corvette races down the local highway, in the backseat of his father's latest acquisition.
What's your take on the 2013 Ferrari FF?
Have you driven a 2013 Ferrari FF?
Cars compared to 2013 Ferrari FF
Looking for a Used FF in your area?
CarGurus has 28 nationwide FF listings starting at $115,900.
Trims
GT AWD

Avg. Price: $157,182
Quick Links