Looking for a Used F12 Berlinetta in your area?
CarGurus has 38 nationwide F12 Berlinetta listings starting at $199,998.
2013 Ferrari F12 Berlinetta
Overview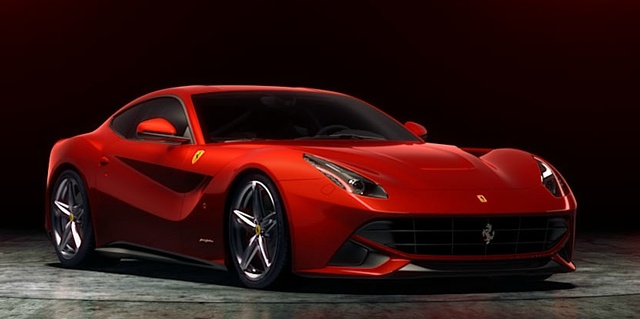 In automotive journalism, there are few phrases as attention-grabbing as "Ferrari's fastest and most powerful road car ever," and with the 5-year-old 599 GTB Fiorano already driving off into the sunset, that is the exact headline under which the 2013 F12 Berlinetta debuts. This all-new Grand Touring car features the three must-haves of classic Ferrari GTs of old: rear-wheel drive, a 2-seat configuration and a high-revving V12 sitting under a long, red hood.
The fact that the Berlinetta uses not one piece of sheet metal from its predecessor seems a trivial bit of information when faced with a high-winding, 740-hp V12, but the results of blending the 12 different alloys cannot be ignored, especially when some are making their first appearance in an automotive application. Combined with new joining techniques, the use of the aluminum-intensive spaceframe in the F12 Berlinetta resulted in a 20% increase in structural rigidity with a 360-pound drop in weight compared to the outgoing Fiorano. The Pininfarina-designed body uses some of the same alloys, further contributing to the weight loss, and thanks to an F1-developed, 7-speed, dual-clutch transaxle, the Berlinetta boasts 54% of its svelte 3,360 pounds sitting over the rear wheels.
A rear suspension redesign allowed a smaller rear deck, and overall the proportions followed suit, with the F12 coming in at 2 inches shorter and 2.5 inches lower than the Fiorano, with special attention paid to lowering the engine, seats and dashboard to lower the center of gravity. While numbers like these are hard to argue, the visual changes inspire the usual ire from the Ferrari faithful—a sure sign the F12 will fast become an accepted part of the pantheon. Besides, all of the strangest elements have functional justifications, with active shutters on the brake cooling ducts reducing drag and the funky "Aero Bridges" spanning the gap between the front wheel arches and the cowl actually channeling air down to the sides of the car. Like them or not, the Berlinetta has a 76% increase in downforce over the Fiorano as well as a slinky drag coefficient of just 0.299.
Combine that with a 740-hp V12 engine and an 8,700-rpm redline and you get a 211-mph top speed. Of course, 509 lb-ft of torque do the hard work up front, and the Berlinetta will jolt to 60 in just 3.1 seconds. Posting numbers like that, you might not expect it to be the same 6.3-liter mill powering the FF wagonette, but here it is in its direct-injected glory, albeit with a bit of a massage for a power boost. It's cleaner too, with this F12's 6.3-liter engine operating with a 30% increase in efficiency thanks to the HELE start-stop system, as well as a 16% decrease in carbon dioxide emissions.
Holding a title as venerated as "fastest/most-powerful ever" means you get all the goodies from Ferrari's parts locker, like the newest versions of the carbon-ceramic braking and magnetorheological suspension systems, an electronic differential and F1 stability control systems. Inside you'll find the usual smattering of thick leather, real aluminum and carbon fiber as you sit in a deep bucket seat, and a parcel shelf adds extra utility to a wholly practical purchase. Thankfully the navigation screen has been moved from the center console to the gauge cluster, with all infotainment screens displayed through what Ferrari calls the Human Machine Interface, controlled via switches to the right of the steering column. A rose by any other name, the new setup is a lot cleaner and easier to read. Now if they'd only lose those tacky round air vents that inevitably become the unintentional focus of the interior.
Of course, no sooner does Ferrari announce its fastest and most powerful road car ever than the rumors start circulating about an Enzo successor utilizing a more-powerful version of the 6.3-liter V12. Numbers are being bandied about willy-nilly, everything from 800 to 920 hp, either of which would walk all over the F12, in theory at least. For now I'll count horses rather than rumors, and the Berlinetta has 740 reasons backing up its claim. That's good enough for me.
Updated
A CarGurus contributor since 2008, Michael started his career writing about cars with the SCCA - winning awards during his time as editor of Top End magazine. Since then, his journalistic travels have taken him from NY to Boston to CA, completing a cross-country tour on a restored vintage Suzuki. While his preference is for fine German automobiles - and the extra leg room they so often afford - his first automobile memories center around impromptu Mustang vs. Corvette races down the local highway, in the backseat of his father's latest acquisition.
What's your take on the 2013 Ferrari F12 Berlinetta?
Have you driven a 2013 Ferrari F12 Berlinetta?
Cars compared to 2013 Ferrari F12 Berlinetta
Looking for a Used F12 Berlinetta in your area?
CarGurus has 38 nationwide F12 Berlinetta listings starting at $199,998.
Ferrari F12 Berlinetta Questions