Looking for a Used California in your area?
CarGurus has 117 nationwide California listings starting at $82,000.
2013 Ferrari California
Overview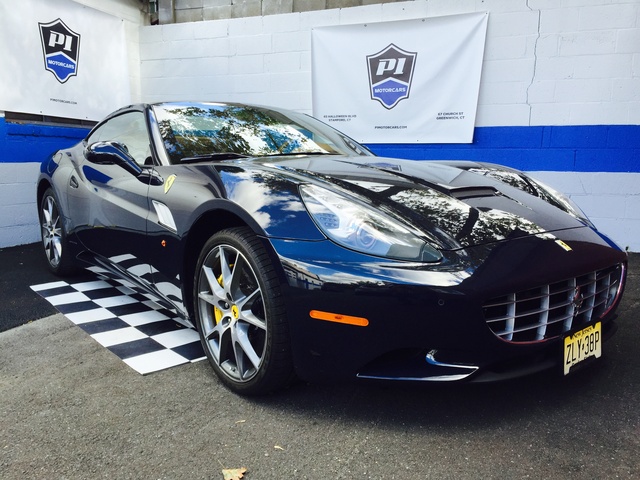 A soft Ferrari? A contradiction in terms perhaps, but the entry-level stallion has seen criticism for being a little too forgiving. Nothing like shedding some weight and adding some power to combat that critique, so that's exactly what Maranello has done with the California for 2013.
And lest you think this is some theater of upgrades, let's put the beefier numbers up front: 30 extra horses, 15 extra lb-ft of torque and 66 fewer pounds at the scale. Those are numbers to build on.
For those with their programs and pencils in hand, that brings power totals to 483 and 372, respectively. The previous powerplant was plenty potent at the old levels, so this is definitely a case of more simply being better for no other reason than it being more. Is there a big difference between hitting 60 mph in 3.8 seconds rather than 3.9? Not even close. Will you be able to feel that difference? Absolutely.
How was this achieved? New exhaust manifolds reduce backpressure, and a new reed valve in the crankcase allows blowby to escape. The ECU was tuned for some extra power, and new pistons with revised crown machining were fitted to complement these adjustments.
The weight loss was no simple endeavor either. Total number of alloy materials that go into California construction has increased by 150%—from 8 to 12—and their use is employed in some effective and novel ways. First, the engine cradle is no longer made of heavy steel, with an aluminum unit now doing duty up front. That swap alone was good for 13 pounds. Further, hollow pieces of the space frame are being constructed with a new core casting process that results in lighter, stronger parts.
There is some bad news to be had, however. Previously, the California was the only Ferrari that still offered the option of a traditional 3-pedal manual transmission. This is no more. The stick-shift Ferrari has gone the way of the Edsel and the DeLorean—if you want one, you'll have to get it used. People are quick to point out that of the 8,000 or so Californias sold to date, 2 were fitted with a manual. Sad, but understandable.
Thankfully, the 7-speed dual-clutch automated transmission is a dream. Gear changes happen at near race speeds, and the paddle shifters present power with such authority, it feels as though you're launching missiles rather than swapping cogs.
If this still isn't enough to satisfy, but you're not yet ready to jump to another Ferrari model, you have options. First there's the magnetorheological suspension, which uses electrically activated magnetic dampers to constantly adjust suspension settings. Still not enough? The new Handling Speciale package will incorporate the ECU to send info and make adjustments 50% faster, while simultaneously getting you a quicker steering rate and springs that are 15% stiffer up front and 11% out back.
And for even more accessibility from Ferrari's most accessible car, there is now a 7-year maintenance program that comes with any stallion you select. With it, you get regular maintenance including a complete inspection, original spares, filters and lubes every year or 12,500 miles—no mileage limits included. What's next, undercoating?
The California needed no help, either in selling itself or in bringing new customers to Ferrari. With the latest changes, perhaps it's moved a bit further away from the "Entry-Level" label it's carried around the last 4 years. But if not, it'll simply remain the most affordable, drivable Ferrari out there.
Updated
A CarGurus contributor since 2008, Michael started his career writing about cars with the SCCA - winning awards during his time as editor of Top End magazine. Since then, his journalistic travels have taken him from NY to Boston to CA, completing a cross-country tour on a restored vintage Suzuki. While his preference is for fine German automobiles - and the extra leg room they so often afford - his first automobile memories center around impromptu Mustang vs. Corvette races down the local highway, in the backseat of his father's latest acquisition.
What's your take on the 2013 Ferrari California?
Have you driven a 2013 Ferrari California?
Cars compared to 2013 Ferrari California
Looking for a Used California in your area?
CarGurus has 117 nationwide California listings starting at $82,000.
Ferrari California Questions
Trims
Roadster

Avg. Price: $127,856
Quick Links