Looking for a Used 200 in your area?
CarGurus has 4,776 nationwide 200 listings starting at $2,300.
Review
by Guru67MNR
— Car holds on the best options out of all of the models from Chrysler car is equipped with a power plant that will deliver more than enough horsepower to get you In-N-Out the Staley drives while at the...
Read more
Review
by Kenyatta
— I got this car for my mother for her birthday and Mr. Dallas Did a great job with assisting us in completing this purchase. She loves the car and it was a great deal!!.
Read more
This Car Looks Hot With The Top Down
by Vicki
— I have a custom stereo installed and custom interior. I love it. Its a great feeling to go food shopping in the summer with the top down. It makes a crazy day instantly relaxing and more enjoyable. Th...
Read more
2013 Chrysler 200
Test Drive Review
Typically, the presence of a convertible top makes any car incrementally more fun, and when the car in question is a Chrysler 200, the value-add of a drop-top is almost a necessity.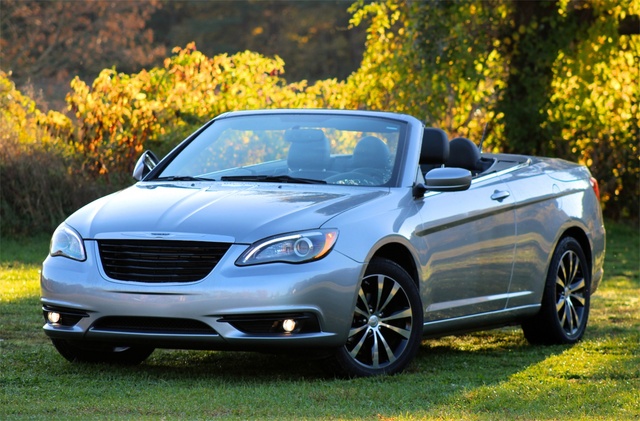 The Chrysler 200 is in no risk of going down in the pantheon of "Greatest Cars of All Time." In fact, it was one of the striking symbols of a low point for the American automaker. But few cars have managed to do more with less than the Chrysler 200 and 200 Convertible, a lineup of vehicles that soldiers on and stays competitive with internals that have now become exceedingly long in the tooth.
Despite what criticisms the 200 may endure, the mere fact that we're reviewing this vehicle is a function of the fact that it sells relatively well. People are drawn to the 200's simplicity (read: affordability). The just-enough-frills approach presents buyers with a vehicle that has just enough style and just enough features to justify the price of entry. Just.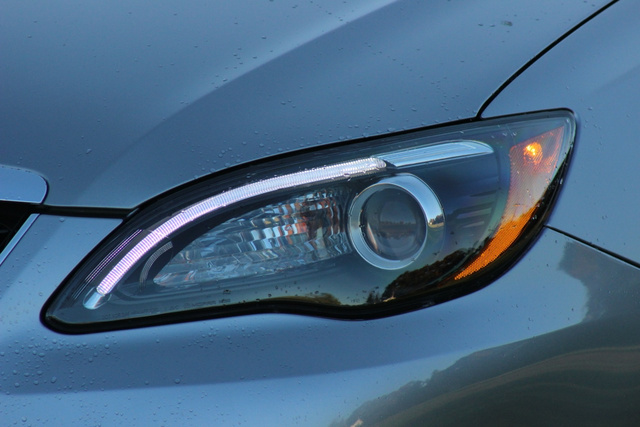 Considering that this is a 7-year old car (if you count its Sebring predecessor as the same car, which you should), the 200 looks quite sharp. In 2010, Chrysler "replaced" the Sebring with the 200. In effect, it was a mild update that happened to have a totally new name. The changes were thoughtful and well placed. The angles and character lines were smoothed out. Thankfully, the strake-lines that previously graced the hood were eviscerated.
The 200 looks right for a contemporary sedan and convertible. Headlights feature an LED accent strip, while the lower front fascia (aerodynamic bodywork below the front bumper) is elegant and sporting.
Trims for the 200 include the base LX, Touring and Limited. Our test model was a 200 S Convertible Limited (there is no LX drop-top). The S line trim is available with either the Touring or Limited. It adds a blacked-out grille, 17- or 18-inch wheels, and special S badging inside and out. It is an up-rated option, but does well to give the 200 a more aggressive appearance.
Overall, the 200 sedan looks well put together, but the area around the rear door and rear window fit into the trunk panel in a very awkward manner. Chrysler has done the best it can to breathe life into the old Sebring, but it could not get around this bit of the architecture. On the convertible, the ghosts of the old platform are seen in the poor spacing between the convertible cover/trunklid and the rest of the body.
The cabin of the 200 looks fresh at first glance, but closer inspection reveals poor fit and finish as well. This is to be expected, given how long the vehicle has been around, but there are little touches that signify its age. The turn signal stem (on the side of the steering column) always feels like breaking a chicken bone when turning directionals on and off. There is no other way to describe it.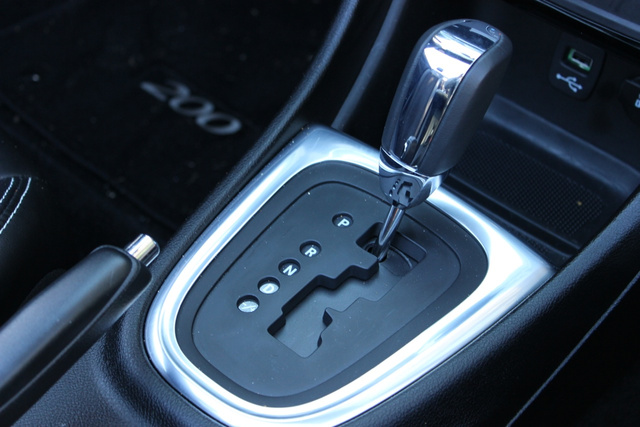 There's an old saying around muscle-car and NASCAR circles that, "There's no replacement for displacement." The same can be said about the engine offerings within the 200 lineup. We'll start with the good: Chrysler's 3.6-liter Pentastar V6 makes 283 horsepower and should be the engine to get. It is a robust yet efficient engine that has won awards and is quite capable of raising your heart rate.
This is not the case with the standard 2.4-liter inline 4-cylinder. Producing only 173 horsepower (to move a car that weighs 3,400 pounds, or 3,800 pounds in the case of the convertible), it is far from what one would consider performance machinery. It would be enough if this was just about sluggish acceleration, but there's more to it. The lackluster four-pot is so underpowered and has to work so hard to get the 200 anywhere that you'll barely gain any fuel economy by opting for it instead of the V6.
The 2.4-liter achieves fuel economy of 20 mpg city and 31 highway in the sedan when equipped with the 6-speed automatic. The base 4-cylinder-powered LX returns only 21 city and 29 highway (sedan) or 18/27 (convertible). Chrysler likes to boast about the 20/31 fuel economy, but that requires opting for a Touring or Limited trim. It is a lot of small print, when all you had to do was opt for the V6, which returns 19 city and 20 highway. Sure, you can trust the numbers and go for the 2.4-liter, but to get anywhere this century, you will be laying into the throttle so much that you will not return the advertised fuel economy.
The 200 certainly experiences body roll in corners, but not to the extent that it is unsafe. You will get used to its wallowy suspension, as it reminds one of the driving manners in a '90s coupe like a Chevrolet Monte Carlo. Owners won't be taking the 200 to a track day anytime soon (we really hope not), so its lack of stiffness should not be a major issue.
An added benefit of this older suspension is that it absolutely sops up imperfections in the road. Many of the latest midsize cars have very stiff suspensions, which are meant to provide a "sporty" ride. This might appease the Car and Truck of the Year voter, but the average driver could care less if a midsize sedan can maintain composure on a downhill stretch of road with a decreasing radius turn. The average driver would prefer not to have several fillings shaken loose by an impossibly hard ride, and the 200's squishy suspension is never in jeopardy of doing that.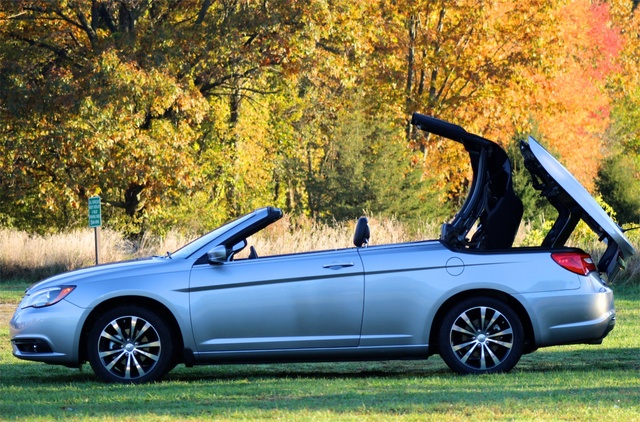 This happens to be another area where the 200 benefits from being a little long in the tooth. Many of the 200's contemporaries (which include the Lincoln MKZ and Buick Regal) are hellbent on stuffing every last feature into the center stack, which can overwhelm the driver. More is not always better, and this is especially the case when you enter your vehicle in the dark and cold and need to know exactly where a select few controls are to get going.
The 200 celebrates a traditional layout, with the logical placement of simple climate and audio controls. Simplicity is key with in-vehicle controls, and while the 200 achieves this because it has relatively few features, it is easy to use, nonetheless.
The convertible is available in hard- and soft-top versions—each presents a unique set of pros and cons. The hard-top offers more secure year-round protection from the elements and is becoming a more desirable option in the drop-top market segment. Unfortunately, this folding hard-top is an early design compared to its late-model rivals. The top takes a long time to deploy, and when it does, it makes for a rather awkward side profile and overall design.
The soft-top is far more visually pleasing, but also takes some time to deploy. The trunk that doubles as the convertible cover suffers from uneven spacing between panels. This makes for a low-quality appearance, and the top itself suffers from an awful lot of road noise.
But I would still recommend the soft top over the hard top, and either convertible over the sedan. Typically, the presence of a convertible top makes any car incrementally more fun, and when the car in question is a Chrysler 200, the value-add of a drop-top is almost a necessity.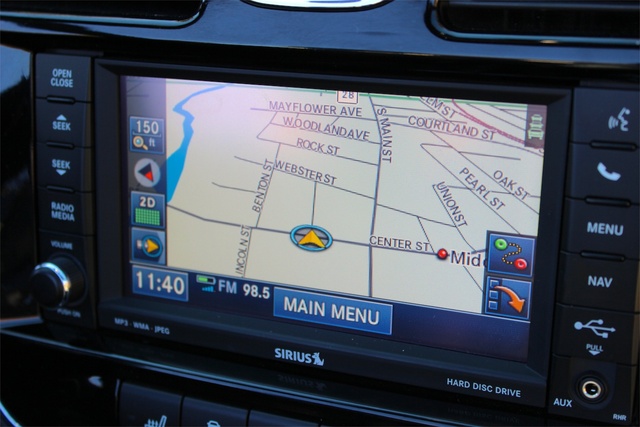 There's a bit of a sliding scale with the 200's tech credentials. That is to say, its technological level varies directly with price. The base entertainment system is something more at home in the late 1990s, but when the 200's fully equipped, it's as technically competent as vehicles that are completely redesigned for this year.
If you opt for the Uconnect system, you will not be let down. The graphics might be a little dated, but the system is advanced where it counts. The available Uconnect 730 features a 6.5-inch color touchscreen display, GPS navigation, Bluetooth hands-free calling and a 1-year subscription to Sirius XM Traffic. The latter is pretty spot-on for calling out backups, and when driving through the city of Boston (notorious for traffic), it got me around several jams.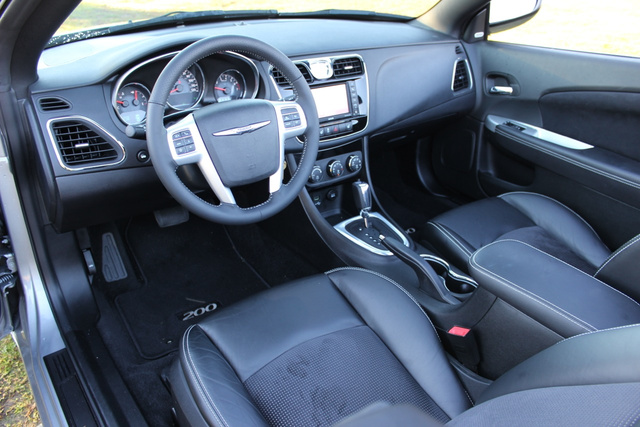 The 200 benefits from a full array of standard front and side impact airbags. The front multistage airbags deploy at different rates of intensity based on the severity of the crash. Side curtain airbags and front seat-mounted side airbags are also standard equipment.
The 200 has earned the Insurance Institute of Highway Safety 2013 Top Safety Pick+ Award. The "+" indicates the more rigorous safety testing by the IIHS.
Our 200 S Convertible did not come with a backup camera, which was concerning. When the top was down, overall visibility was great, but it still has a large behind, which is hard to see around regardless of the top's position. This car will be a headache backing up or parallel parking. At a time when even base vehicles are offered with a backup camera, this was a hard pill to swallow.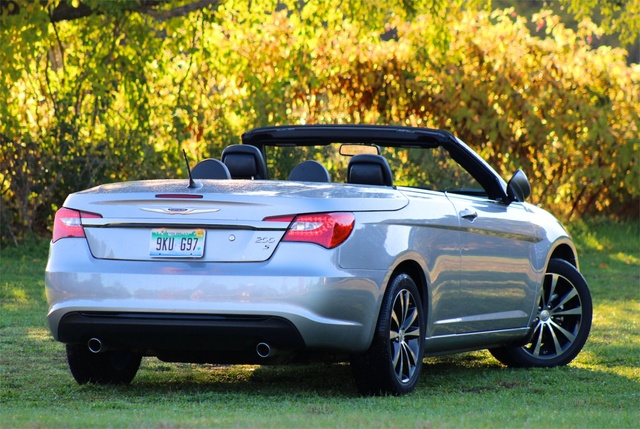 While the 200 is certainly long in the tooth, its added years present something of an extra value. The base 200 LX sedan costs $19,695, though we would suggest opting for the LX V6, with a starting price of $21,095.
As the 200 is nearing the end of its current generation (a new model is expected after the 2014 model year), Chrysler is putting a lot of incentives toward the purchase of a new 200. That means a fully loaded Limited sedan will cost less than $30,000. The 200 Convertible starts at $27,525 and can be fully loaded for around $33,000. The benefit of a 10-year, 100,000-mile warranty goes a long way for peace of mind when buying a new car, too.
If you are a younger buyer and looking for the latest gadgets in a car, the 200 is a hard sell. But older drivers that do not have the same demands and are slightly more accustomed to pre-bailout Chrysler's take on "fit and finish" may be more at home with the 200. It will not win the North American Car and Truck of the Year Award this year or next, but the 200 is far from a bad car. It comes outfitted with plenty of features, a competent ride and self-confident styling at pricing that is very attainable.
Updated
From open-wheel racecars to specialty off-road vehicles, George Kennedy has driven it all. A career automotive journalist, George has been a contributor, editor, and/or producer at some of the most respected publications and outlets, including Consumer Reports, the Boston Globe, Boston Magazine, Autoblog.com, Hemmings Classic Wheels, BoldRide.com, the Providence Journal, and WheelsTV.
What's your take on the 2013 Chrysler 200?
2013 Chrysler 200 Top Comparisons
Users ranked 2013 Chrysler 200 against other cars which they drove/owned. Each ranking was based on 9 categories. Here is the summary of top rankings.
Have you driven a
2013 Chrysler 200
?
Cars compared to 2013 Chrysler 200
Looking for a Used 200 in your area?
CarGurus has 4,776 nationwide 200 listings starting at $2,300.
Have questions?
Ask a question
Chrysler 200 Questions
DLC
I went to have my emissions done on my 2013 Chrysler 200 and it failed. Thecreasin was "loose DLC" could you please explain how this can be fixed? Don't ent to get ripped off by a repair shop if it...
My Alarm Goes Off When I Unlock And Start My Car Without Keyfob
Chrysler 200 Radio Issues
My father in law has a 2013 chrysler 200 and when he has the radio on am/fm there is no sound. But when it is on sirus or a cd there is sound. Any ideas?
TBC Or Intake/Vacuum Leak?
So I am 95.9% sure my Throttle Body is going out in my Chrysler 200 LX 13, but my husband thinks it's a vacuum/intake leak. I don't go to shop until next Friday. The few things I am experiencing i...
2013 Chrysler Wiring Harness
Anyone know of a good but cheap place to get a 2013 Chrysler 200 LX aftermarket radio harness kit that has the connections for the stearing wheel Wal-Mart doesn't have the single ones. The cheapest...
Trims
Limited Convertible FWD

10 national listings

Avg. Price: $12,862
Limited Sedan FWD

Avg. Price: $8,713
LX Sedan FWD

Avg. Price: $7,183
S Convertible FWD

Avg. Price: $11,929
Touring Convertible FWD

Avg. Price: $8,419
Touring Sedan FWD

Avg. Price: $7,581
Find great deals from top-rated dealersTM
Search
Quick Links