Looking for a Used ActiveHybrid 7 in your area?
CarGurus has 7 nationwide ActiveHybrid 7 listings and the tools to find you a great deal.
2013 BMW ActiveHybrid 7
Overview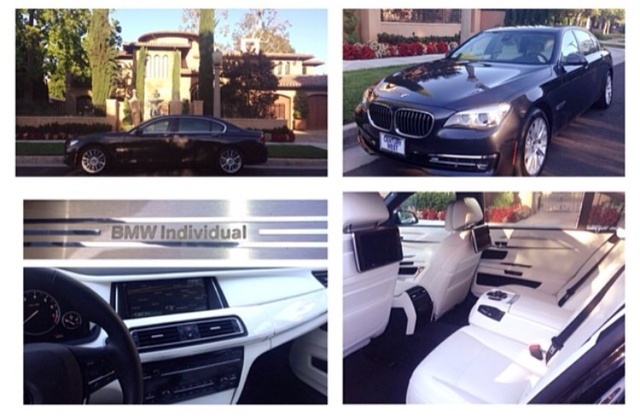 Nothing to see here. Sure, there's a new hybrid setup for the ActiveHybrid 7 (AH7) this year, but it's more of the same flavor of the last hypocritical hybrid. Any car that claims to be ecologically responsible while offering 350 hp, weighing 4,500 pounds and starting at $85K is surely an exercise in conceptualized duality. And that's not even getting into its fuel economy ratings.
Actually, before introducing that disappointment, let's take a look at what other changes were in store for the AH7 in 2013. After a year-long hiatus in 2012, the AH7 returns with a huge price drop and a mid-cycle refresh that sees the long-wheelbase version as the only layout available for the hybrid. That's a little trick manufacturers have been using for years: In order to increase fuel economy, make the car bigger!
Sarcasm aside, the price drop really is large enough to be noteworthy—around $15K. Sadly, it still places the AH7 about $15K shy of 100 grand, and there's nothing conservative about that. Still, it's not every year that a car gets a new drivetrain and a mid-cycle refresh while cutting the price so much.
And about that drivetrain….
The 7 Series sees a big downgrade in terms of engines this year, and the AH7 gets essentially the same drivetrain setup as found in the hybrid 3 & 5 offerings—a twin-turbo version of the N54 inline 6-cylinder with a 40-kWh electric motor and the venerable 8-speed automatic transmission. All that tech gets you 349 horses and 367 lb-ft of torque (down more than 100 for each category) and a return of 22 mpg city/30 highway.
Yes, that's a big improvement over 2011's 7 Series Hybrid's efficiency record of 17/26, but it's certainly not enough to impress. The Mustang manages in excess of 300 hp and 30 mpg from a simple V6, and that's without electric motors or turbochargers, and making due with a comparatively archaic 6-speed automatic.
But improvement is improvement, and we do like to reward good behavior. The entire 7 Series lineup also gets a self-leveling rear air suspension, and the iDrive and infotainment systems have been updated as well. You also might notice some small aesthetic changes, including revised kidney grills with larger chrome surrounds and new vertical slats and the new option of adaptive LEDs. Inside you'll find some massaged (not massaging) seats, extra sound insulation and an extra half-inch of headroom for the rear seats.
More than that, the normal 55 hp offered by the electric motor can be "Boosted" up to 155 hp for a short time, to totally obviate any pretensions of efficiency. Of course it utilizes all the standards of Start/Stop tech and regenerative braking, and this version is even capable of running electric-only for up to 2.5 miles, as long as you don't crest 35 mph. Additionally, if you're the type of person who sticks to routines, the navigation system will share info with the on-board computer systems to create the most efficient power-usage profile based on your usual routes to work/home/etc.
Now that is impressive, and tech that will soon become standard across the industry. We have to count on companies like BMW to make these advances, and wait for them to show up on cars attainable by mere mortals. Of course even BMW isn't immune, as it upgraded its lithium-ion battery pack this year as well, borrowing parts from the same manufacturer the Fisker Karma uses for its top-of-the-line offerings.
The Driving Dynamics Control system is the heart of the AH7, allowing customization of throttle, power steering, transmission and suspension settings through 5 default settings. Most important here is EcoPro, which makes sure everything from the powertrain to the climate control to the heated accessories is functioning in the most efficient manner possible. BMW claims it can reduce fuel consumption by 20%, but we'll wait until someone confirms that figure.
But that brings up another point. BMW has notoriously underreported its horsepower and fuel-efficiency figures. Could it be that the AH7 is waiting to wow us with a combined mileage rating that could touch 30 mph? Perhaps, but the AH7 will still be a ridiculous example of disguised excess.
Updated
A CarGurus contributor since 2008, Michael started his career writing about cars with the SCCA - winning awards during his time as editor of Top End magazine. Since then, his journalistic travels have taken him from NY to Boston to CA, completing a cross-country tour on a restored vintage Suzuki. While his preference is for fine German automobiles - and the extra leg room they so often afford - his first automobile memories center around impromptu Mustang vs. Corvette races down the local highway, in the backseat of his father's latest acquisition.
What's your take on the 2013 BMW ActiveHybrid 7?
Have you driven a 2013 BMW ActiveHybrid 7?
Cars compared to 2013 BMW ActiveHybrid 7
Looking for a Used ActiveHybrid 7 in your area?
CarGurus has 7 nationwide ActiveHybrid 7 listings and the tools to find you a great deal.
BMW ActiveHybrid 7 Questions