Looking for a Used ActiveHybrid 3 in your area?
CarGurus has 13 nationwide ActiveHybrid 3 listings starting at $14,500.
2013 BMW ActiveHybrid 3
Overview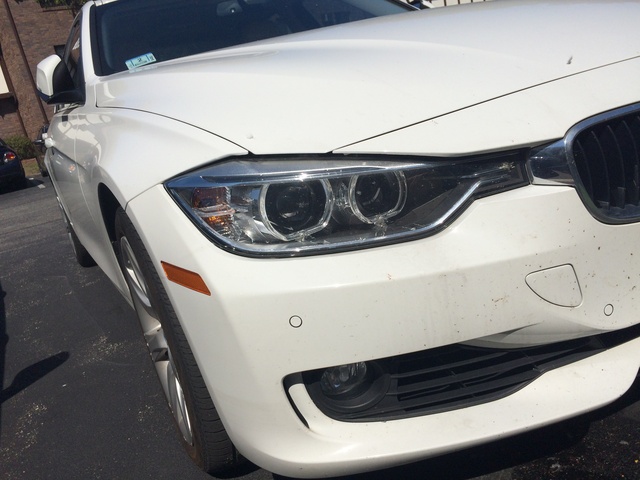 It must pain the Germans to do so, but they've taken BMW the hybrid route. While European buyers understand the half-step a hybrid setup represents, Americans clamor for the complexity of running multiple engines and motors in one vehicle. For the Deutschen, diesel does just fine and will certainly handle the efficiency crusade until BMW's line of fully electric offerings starts arriving shortly.
That's not good enough for us. We still don't trust diesel engines—especially in a luxury car—and patience has never been our strong suit. We demand hybrid, so hybrid we get. Of course BMW has to call it something more technical than that, so what we really get is the ActiveHybrid 3, essentially a 55-hp electric motor bolted to the 3.0-liter turbo straight six in place of the torque converter in the 8-speed ZF automatic. It's doing double duty as the alternator for the car, too, so don't call it lazy.
Whether or not it's a good setup isn't even in question. Whether it was necessary is another question, and one I'm not eager to answer. It's no secret that the ActiveHybrid line is little more than a stopgap—a way to keep BMW in the efficiency business on this side of the pond. That said, it's hard living as a placeholder.
But maybe middle-child syndrome is why the ActiveHybrid 3 tries so hard? It barely gives up any time to its conventional sibling. The sprint to 60 takes just over 5 seconds thanks to a boost of 35 hp and 32 lb-ft of torque over a regular-old 335i. The extra oomph is of course needed to overcome the extra 300 pounds the hybrid equipment adds, but rarely do a hybrid model and the model upon which it is based match so closely in terms of performance.
But straight-line acceleration isn't everything, and overcoming an extra 300 pounds takes more than power. Case in point, the ActiveHybrid 3's final drive ratio has been lengthened from 3.15 to 2.81 just to make up for the extra weight and power. Start/Stop and coasting technology are both applied here as well, but the real change is in weight distribution. Taking a 96-cell, 1.35-kW-hr lithium-ion battery pack and shoving it under the trunk floor will definitely affect handling, and it'll cost you 3 cubic feet of trunk space as well. Here it even changes the weight distribution from 51.5:48.5 percent in the 335i sedan to 49.7:50.3 percent in the ActiveHybrid 3. It doesn't seem like much on paper, but I'm guessing the AH3 will gain a reputation for having a more wiggle-prone rear than the standard 335i.
Of course, the standard 335i can't do what the ActiveHybrid 3 can, like travel up to 2.5 miles at speeds up to 45 mph on electric power alone. In EcoPro mode, that number changes to 100 mph, as long as you're headed downhill.
It all sounds very impressive, and for all this extra tech—and a significant price bump—you get a giant jump in fuel economy: 25 mpg city/33 highway. I'd love it if that were a typo, but it's not. All you see on paper is a 2-mpg increase around town here, and while the combined is sure to be a better demonstration of the increased efficiency of the ActiveHybrid 3 over the standard 335i, it's still not enough to impress. Hell, the 328i can do better without any of the hybrid nonsense or the weight gain.
The hypocrisy is highlighted when you consider the different profiles you can program, with EcoPro and Comfort modes landing at the eco end of the spectrum and Sport and Sport+ nearly erasing any efficiency gains.
But for all these shortcomings, the ActiveHybrid 3 does have some cool features. The navigation system integrates with the vehicle's computer systems to predict and plan for learned behaviors. This allows for more efficient power management during your normal commute, as the vehicle will know it can spend a little extra juice now thanks to an expected regenerative downhill slope later in the drive.
That aside, the ActiveHybrid 3 is mostly show and little go. It's a theatre of efficiency with no real sacrifice or benefit, other than meeting governmental standards and sales goals. It even comes in your choice of flavor: Sport (Red), Modern (Chrome), Luxury (Brushed Chrome) and M Sport (Blue). However, if you'd like the Liquid Blue Metallic paint that all the press has shown the AH3 sporting, it'll bump up the price again. Style costs, but at least some extra efficiency won't, as 18-inch Streamline alloys, which enhance aerodynamics and brake cooling, are a free option.
In all, BMW has put together a polished example of a hybrid, if not a new model for ecological responsibility. If conservation really was the goal, why not use the 4-cylinder instead of the 6? Or even better, how about not developing a placeholder model while we wait for the fully electric offerings to be ready? Still, if you're looking for a luxury midsize hybrid sedan, you could do much worse. Actually, you can't. The AH3 is the sole entrant in the category!
Updated
A CarGurus contributor since 2008, Michael started his career writing about cars with the SCCA - winning awards during his time as editor of Top End magazine. Since then, his journalistic travels have taken him from NY to Boston to CA, completing a cross-country tour on a restored vintage Suzuki. While his preference is for fine German automobiles - and the extra leg room they so often afford - his first automobile memories center around impromptu Mustang vs. Corvette races down the local highway, in the backseat of his father's latest acquisition.
What's your take on the 2013 BMW ActiveHybrid 3?
Have you driven a 2013 BMW ActiveHybrid 3?
Cars compared to 2013 BMW ActiveHybrid 3
Looking for a Used ActiveHybrid 3 in your area?
CarGurus has 13 nationwide ActiveHybrid 3 listings starting at $14,500.
BMW ActiveHybrid 3 Questions
hello, so I have a 2013 3 series hybrid and I messed up the DRIVER SIDE mirror to where it grinds whenever I unlock my car. instead of getting it fixed, I just want to take the fuse out that control...
Trims
RWD

Avg. Price: $16,349
Quick Links