Looking for a Used Vanquish in your area?
CarGurus has 26 nationwide Vanquish listings starting at $98,999.
2013 Aston Martin Vanquish
Overview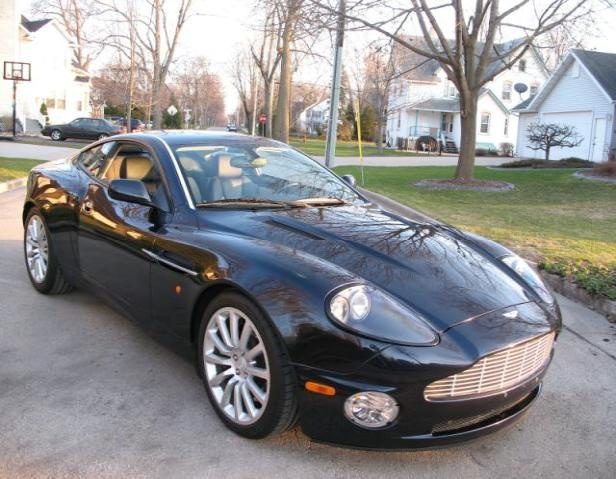 Being forced to change isn't always a bad thing. When looking at a car company like Aston Martin—notorious for its stalwart design approach—the word "adaptability" doesn't leap to mind. Its entire visual palette has been taken from a car that is nearly 20 years old, its main architecture is coming up on a decade anniversary, and its flagship's powerplant has 15 candles on its cake.
Change comes to all of us, however, and Aston is no different. With new pedestrian safety regulations in effect, the Vanquish is being forced to drop its engine 0.7 inches and move it forward a bit. Gotta protect all those rubbernecks you're mowing down in the crosswalks. This means a lower center of gravity and some new, lighter architecture up front. So far, so good.
More change: The button bomb previously residing on the center stack has finally been cleaned up like so many Hoovervilles. In its place you'll find 2 knobs and touchpads, a much more elegant approach, and you'll find more room inside as well: 1.5 inches of legroom, as the dash has been pushed forward, and thinner doors offer 3.5 inches of elbow room. The bad news is that the gain means you lose the glovebox in a car that wasn't exactly flush with space to start—an additional sacrifice at a price that should come with no compromise.
Outside changes are more subtle, and every carbon-fiber reinforced plastic body panel is brand new—a feature Aston claims is responsible for a 25% increase in torsional rigidity, along with a total weight reduction of nearly 150 pounds.
That means you'll get even more out of the substantial power increase that comes in the 5.9-liter V12 this year. Aston tries to claim it's a 6.0 and even puts a little badge under the hood to that effect, but it's simply not true. Still, you won't miss that tenth of a liter when you're winding out the car's 565 hp and 457 lb-ft of torque. Those are increases from 510 and 420, by the way. This was managed thanks to larger throttle bodies, variable timing on intake and new hollow exhaust cams, a revised intake and more. My favorite part? That glorious, naturally aspirated V12 no longer sounds like it's got a supercharger bolted to it—no more whine.
But it wouldn't be an Aston if there weren't some quirks and nods to tradition. It's still dealing with what is now considered an antiquated number of gears in its transmission, a 6-speed ZF-sourced automated "manual" that attaches to a rear transaxle via a carbon-fiber driveshaft. That said, no one seems to be complaining about the "missing" gears, other than those more concerned with numbers than actual performance. And the hydraulic power steering system is a welcome oversight in the updating department as well.
This all rolls on gorgeous offset 20-inch wheels wrapped in Pirelli P Zero tires—255/35 fronts and 305/30 rears—which hide massive 15.7-inch front and 14.2-inch rear carbon-ceramic brakes.
Despite attempts to confuse with both visuals and vernacular (this is the Vanquish, which is replacing the old DBS, which replaced the original Vanquish), what Aston wanted here is very clear. Rather than quietly corraling the Vanquish into its pasture before the next generation rises to take the top spot, Aston has given us its best version to date. With the Vanquish, it'd be hard to do better in a touring GT. Let's just hope that doesn't change.
Updated
A CarGurus contributor since 2008, Michael started his career writing about cars with the SCCA - winning awards during his time as editor of Top End magazine. Since then, his journalistic travels have taken him from NY to Boston to CA, completing a cross-country tour on a restored vintage Suzuki. While his preference is for fine German automobiles - and the extra leg room they so often afford - his first automobile memories center around impromptu Mustang vs. Corvette races down the local highway, in the backseat of his father's latest acquisition.
What's your take on the 2013 Aston Martin Vanquish?
Have you driven a 2013 Aston Martin Vanquish?
Cars compared to 2013 Aston Martin Vanquish
Looking for a Used Vanquish in your area?
CarGurus has 26 nationwide Vanquish listings starting at $98,999.
Aston Martin Vanquish Questions