Looking for a Used DB9 in your area?
CarGurus has 77 nationwide DB9 listings starting at $39,900.
2013 Aston Martin DB9
Overview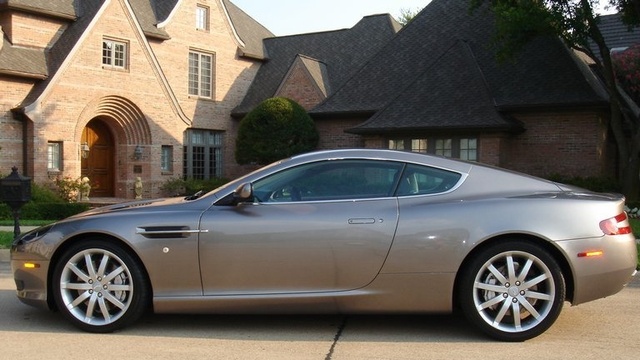 Love means being able to overlook flaws, and even embrace them. Be it the quirky handling of an old 911, the seating position of a Lotus or the lack of a cupholder in your Cabriolet. But love, like all the best things in life, is free. An Aston Martin is not.
When you're spending $200K on a car, there's an unspoken understanding that you shouldn't have to overlook flaws, let alone embrace them. Aston Martin has yet to learn this lesson, and the DB9 is certainly only as strong as its weakest link.
We'll get to that sore spot soon enough, because there really is a lot to love here.
With the DB9, handsome was never the problem. For that reason alone, we can forgive the extremely slow and subtle visual evolution here, although the apple doesn't shine as brightly now that so many models have mimicked its style. That's the danger of doing it right and doing it long. Still, there are slight changes that are definite improvements for 2013, much of it lifted from its would-be killer—the Virage. Fender vents and LED lighting, front and rear spoilers and redesigned headlights all keep things fresh while still remaining close enough to the original to confuse the uninitiated. In the classic British style, you won't know unless you know.
For the engine, it's more of the same. Pop the hood, and you're likely to assume you're staring at the same gorgeous V12 that's been singing its siren song for years. But here you're getting larger throttle bodies, a revised block and machined cylinders, a new intake manifold and dual variable valve timing. Top it all off with a new fuel pump and you get 510 hp and 457 lb-ft of torque delivered to a rear-mounted, ZF-sourced 6-speed automatic via a carbon-fiber driveshaft.
The fact that all this adds up to a 4.5-second sprint to 60 (a feat no longer very impressive, let alone exclusive) is a perfect example of a quirk to be overlooked. This is a gentleman GT, not a supercar.
The suspension's active dampening system gets an upgrade as well, with settings for Normal, Sport and Track that do their job with unflappable grace. And the new 6-piston front and 4-piston rear Brembo brakes with carbon-ceramic discs are a work of art in themselves. Despite being a massive 15.7 inches up front and 14.2 in the rear, they'll save a claimed 28 pounds over the old steelies, and they're so pretty they're worth removing the 20-inch wheels just to take a look.
The bonded/riveted aluminum architecture gets a massage too—30% stiffer and 30 pounds lighter—and the bi-xenon headlights are now automatic, with visibility further enhanced by a standard rear-view camera. However, this brings us to that sore spot I've been ignoring. To utilize the rear camera, you'll have to suffer through popping up the navigation display screen, exposing yourself to this base violation of the luxury creed. For $200K, no one should have to stare at equipment sourced from Volvo. If its origins were the only complaint, that would be bad enough, but this technology was outdated nearly a decade ago—here it looks as out of place as a wooden racket at Wimbledon. That it's fitted into an otherwise flawless interior—excepting a rear seat that's little more than a nod to usability—only emphasizes the point.
In short it's just not good enough, Aston. Of course, it wouldn't be a British car if there wasn't something to disappoint. These sorts of things just make the mark more memorable—a reason to nod knowingly at Aston gatherings and across parking lots. If you can afford the price of entry, you can likely afford some forgiveness as well.
Updated
A CarGurus contributor since 2008, Michael started his career writing about cars with the SCCA - winning awards during his time as editor of Top End magazine. Since then, his journalistic travels have taken him from NY to Boston to CA, completing a cross-country tour on a restored vintage Suzuki. While his preference is for fine German automobiles - and the extra leg room they so often afford - his first automobile memories center around impromptu Mustang vs. Corvette races down the local highway, in the backseat of his father's latest acquisition.
What's your take on the 2013 Aston Martin DB9?
Have you driven a 2013 Aston Martin DB9?
Cars compared to 2013 Aston Martin DB9
Looking for a Used DB9 in your area?
CarGurus has 77 nationwide DB9 listings starting at $39,900.
Aston Martin DB9 Questions
Maintenance expense each year, The Warranty cost each year on an Aston Martin
Trims
Coupe RWD
Volante Convertible RWD
Quick Links