Looking for a Used Murano CrossCabriolet in your area?
CarGurus has 30 nationwide Murano CrossCabriolet listings starting at $8,995.
Review
The Good
Boasting a well-wrought cabin, quirky looks, V6 power and performance, plenty of cabin room and a slew of standard creature comforts and conveniences, Nissan's 2012 Murano CrossCabriolet convertible crossover has its admirers.
The Bad
A hefty MSRP, some shaky ride and handling capabilities, a distinct lack of utility and, alas, that controversial profile assure that the 2012 Murano CrossCabriolet drop-top won't break any sales records.
The CarGurus View
If it's a question of just getting from here to there, the 2012 Nissan Murano CrossCabriolet does that admirably. Its funky, kind of nerdy look, however, as well as its tepid handling and the lack of any hint of the usefulness expected of a crossover ute, won't endear it to those looking for a practical family car. Before going out to kick some CrossCabriolet tires, ask yourself: How many of these things do you see on the road?
At a Glance
When is a crossover not a crossover? When it's the 2012 Nissan Murano CrossCabriolet. This 4-seat convertible is a direct descendant of the Japanese automaker's popular Murano midsize crossover ute, and though the folks at Nissan insist on lumping it in with their other sport ute offerings, it's at bottom a weird-looking rag-top coupe. And that's not necessarily a bad thing, at least concept-wise. Nissan admits that this quasi-crossover, with its questionable utility, quirky look and clumsy, heck, distinctly un-coupe-like handling, is far from a best seller. And a rather hefty MSRP doesn't help, either. Sure, top-down driving is cool, and it might draw a lot of glances, but don't look for this decorative drop-top to dominate American highways, as it's designed in homage to those who want (or dare) to be different. If, however, the thought of a unique, all-wheel-drive-equipped almost-crossover convertible appeals to one's inner… adolescent?… rebel? then read on.
The Murano CrossCabriolet, now in its second year, remains available in a single trim, the CrossCabriolet Base. It flaunts standard V6 power and all-wheel drive (AWD) and sports some high-end cabin accoutrements, not to mention 12.3 cubic feet of trunk space, which, to hear reviewers tell it, isn't bad for a drop-top. The high-riding front bucket seats are described by those in the know as comfy and supportive, while the rear seat, designated for 2 adults, is, therefore, a bit less cramped than the regular Murano's 3-across rear-seat arrangement. A power-opening soft top, needless to say, remains standard, adding to a profile that's essentially custom-made for the closet exhibitionist.
Practicality, on the other hand, is almost nil, except, perhaps, as an attention-gathering, sun-worshipping commuter car, while ride comfort simply doesn't measure up to the regular Murano lineup's, and the overwrought doors will often be too large, too unwieldy for windy days and crowded parking lots. Of course, being a pop-top, the CrossCabriolet can be expected to attract its share of road and wind noise, and even hard acceleration of the V6 will interrupt the conversation until it gets up to cruising speed. Finally, the hard-drive-based navigation suite that was standard in the 2011 edition is now relegated to standalone-option status.
So, the decision has been made to purchase a convertible quasi-crossover. Are there any others out there that can offer anything similar to the CrossCabriolet experience? Well, Jeep's legendary Wrangler, with its over-the-top off-road capability and rugged, not to mention more traditional look, seems, according to reviewers, the only contender to be considered in the same league as Nissan's rarely encountered rag-top.
Drivetrain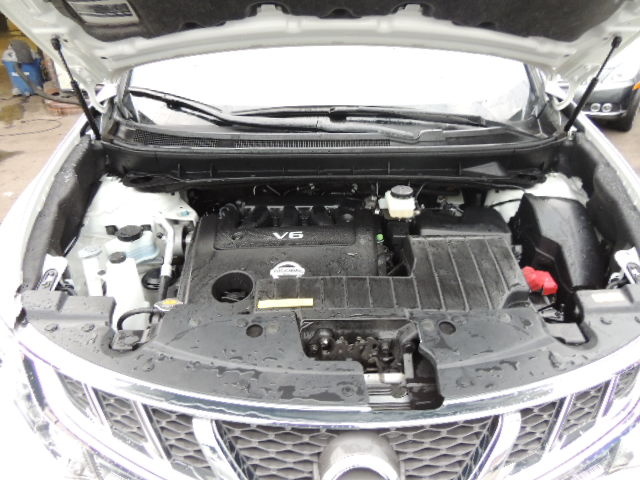 As with its more traditional cousins, the 2012 Murano CrossCabriolet packs a 3.5-liter variable-valve-timed (VVT) V6 powerplant that mates with a continuously variable transmission (CVT) for 265 hp at 6,000 rpm and 248 lb-ft of torque at 4,400 rpm. Mileage estimates for this AWD 2-door, meanwhile, run 17 mpg city/22 highway, which is, at best, only tepid. And to add insult to injury, Nissan recommends premium-grade gasoline for this otherwise run-of-the-mill V6.
Toyota proclaims its rather oddball CrossCabriolet to be the "first and only AWD convertible" on the market by providing it with standard Intuitive AWD. This now-common setup allows normal cruising in front-wheel drive (FWD), while torque can be automatically and instantly transferred from the front wheels to all 4 wheels when surfaces get slippery. Beware, however, that unlike its 4-wheel-drive-toting Wrangler rival, Nissan's crossover wannabe is not designed to be taken far from the beaten path.
Tests found the 2012 CrossCabriolet to journey from 0-60 in 8.2 seconds, some 0.3-seconds slower than its regular Murano kinfolk. A number of reviewers find this lackluster acceleration a bit baffling considering the CrossCabriolet weighs over 800 pounds less than its more traditional progenitor. However, the creamy CVT is described by virtually all reviewers as performing flawlessly, resulting in quiet and smoothly competent shifting in all driving situations, from hills to highways, and all those heavy traffic encounters in between. Though a few reviewers note a bit of extra racket from the V6 on hard acceleration, all concede that this is due more to the flimsy sound insulation properties inherent in the soft-top than to any extraneous drone from the CVT.
Ride & Handling
Like its counterparts in the quasi-ute segment, the 2012 Murano CrossCabriolet sports a 4-wheel independent suspension that's bolstered by MacPherson front struts, a multi-link rear end and a stabilizer bar at front and rear. The standard 20-inch alloy wheels and all-season tires, meanwhile, are considered by most reviewers too large for a truly comfortable ride. Even smaller bumps and cracks are noticeable, according to nearly all reviews, while the inherently weak convertible body structure, despite some extra strengthening, nevertheless allows a bit too much disconcerting vibration and sway, with larger imperfections rattling the wheel and pounding the frame.
Steering is described by most reviewers as confidently true and competently weighted, with a plethora of road feel allowed the driver. However, reviewers are wont to point out that this out-size rag-top is simply too heavy to make easy work of fast corners, and those oversize tires seem more suited to a trailer-hauling pickup truck than to a semi-sporty convertible.
Finally, all reviewers agree that brakes in the CrossCabriolet remain admirably strong and straight, with no noticeable pedal glitches. Tests of this unique Nissan found it coming to a stop from 60 mph in a commendable 124 feet.
Cabin & Comfort
As a somewhat high-end (dare we call it sporty?) variation of its midsize Murano crossover, Nissan has endowed its unconventional 2012 Murano CrossCabriolet with an eclectic sampling of standard appearance, comfort and convenience amenities.
Starting with the power-operated soft-top convertible roof and heated power-adjustable mirrors outside, the list of standard goodies continues with leather upholstery, a height- and power-adjustable driver's seat with power lumbar support, remote power door locks and power windows with remote capability on the inside. A manually adjustable rear seat makes entry and exit marginally easier, while the power-adjustable tilt-wheel steering plays well with cruise control, a universal remote garage door opener, an auto-dimming rear-view mirror, memory for driver's settings and a rear-view camera in adding to the convenience factor. Meantime, the heated steering wheel combines with front auto climate control to ensure comfort, while a Bose premium audio system boasts a single-CD player, 8 speakers, satellite radio and an audio/video display screen, and a USB port pumps out the tunes. Finally, Bluetooth hands-free communications rounds out this drop-top's standard techno-bling.
The once-standard touchscreen navigation suite is now offered as the sole noteworthy option, with such lesser extras as carpeted floor mats, upgraded leather (Camel and Cashmere) and splash guards also available for 2012.
Reviewers find the surprisingly upscale cabin atmosphere to be among the CrossCabriolet's strong points, with many finding gauges to be well-located (though a bit difficult to read in daylight) and controls logically placed for easy manipulation. Admirable separation of climate controls and audio functions is lauded by most reviewers, with the available navigation system intruding only slightly into the more than competent mix. Meantime, cabin room, as well as comfy and well-bolstered seats and generally high-end cabin materials each come in for a share of additional praise in virtually all reviews.
Top-up rearward visibility, however, is noted by reviewers to be challenging because of the tiny rear window, while cargo space is not even close to crossover standards. Finally, reviews lament that intrusive road noise inherent in the convertible design also tarnishes the otherwise well-wrought cabin atmosphere.
Safety
Standard safety features aboard the 2012 CrossCabriolet pretty much mirror those in its regular Murano siblings. Four-wheel antilock brakes with emergency braking assist and electronic brakeforce distribution come standard in this quasi-ute, as do traction and stability control. Front and rear airbags, dual front side-mounted airbags and front head restraint whiplash protection also come standard, bolstered by front fog/driving lights, dusk-sensing xenon high-intensity-discharge (HID) headlights and a remote antitheft alarm.
Neither the National Highway Traffic Safety Administration (NHTSA) nor the Insurance Institute for Highway Safety (IIHS) has rated the 2012 edition of the CrossCabriolet.
What Owners Think
Difficulty in maneuvering into the rear seats (despite their alleged adaptibility) and iffy handling qualities head the list of owner complaints regarding Nissan's latest edition of its funky Murano CrossCabriolet. Its rather large and distinctly heavy doors are mentioned by a number of owners as awkward to open and shut, especially in gusty winds, and they remain prone to dings and dents in crowded lots. Rearward visibility is, according to more than a few owners, difficult at best, while others note that the remote power door locks can be frustrating with their inability to be unlocked while the car is running.
On the positive side, owners enjoy this convertible's quirky look, though virtually all admit that it's not for everyone. It does, however, add to the fun factor claimed by most owners in bopping around in a hefty sized AWD convertible semi-crossover. The spiffy cabin comes in for a share of owner praises, as does its lofty ride height, while the power and performance of the V6/CVT drivetrain also make a positive impression.
Updated
Have Laptop. Will Travel. I'm retired and travelling the country in a 34' motor home. I'm really digging meeting people . . and sometimes their cars . . . getting a sense of what makes this nation tick. The plan is to visit all the national parks in the continental US, then cruise to Alaska to visit Denali, and to Hawaii to check out Haleakala and the Hawaii Volcano's national parks. Anyhow, when I'm not horsing the motor home around the roadways, I'm tooting around in the 2012 Ford Focus that we tow behind, or making runs to Home Depot and various malls with the 2004 F-150 that just won't die.
What's your take on the 2012 Nissan Murano CrossCabriolet?
Have you driven a 2012 Nissan Murano CrossCabriolet?
Cars compared to 2012 Nissan Murano CrossCabriolet
Looking for a Used Murano CrossCabriolet in your area?
CarGurus has 30 nationwide Murano CrossCabriolet listings starting at $8,995.
Nissan Murano CrossCabriolet Questions
Nissan Murano CrossCabriolet Experts
View All
Quick Links