Looking for a Used Cooper Clubman in your area?
CarGurus has 886 nationwide Cooper Clubman listings starting at $4,000.
Review
The Good
Agile and funky, small and maneuverable, with peppy and prudent turbocharged 4-cylinder power and economy, MINI's 2012 Cooper Clubman remains an appealing little hatchback.
The Bad
A noisy cabin and a bone-jarring ride, as well as cramped rear seating, comparatively scant cargo space, pretty rather than practical instruments and controls, and a base engine that could use a few more ponies limit the 2012 Cooper Clubman to dubious utilitarian value.
The CarGurus View
If something quaint and quirky is on the automotive bucket list, keep the 2012 MINI Cooper Clubman in mind. This sporty little hatchback is one of the most fun-to-drive autos in North America, and the available turbocharged engines offer some hefty horses to toss around the switchbacks. Bear in mind, however, that in MINI-land, funkiness often takes precedence over function, and that an actual family car might be a useful backup for serious people and cargo toting, not to mention ride comfort.
At a Glance
Just by looking at it, you can tell that the 2012 MINI Cooper Clubman subcompact hatchback is foreign to these shores. Its "veddy proper" trim designations, that legendary Anglicized adorableness and a 4-cylinder powerplant that seems oh-so-Euro-chic combine to bespeak staid British reserve and a smidgeon of nearly regal snobbishness. Yeah, right! This compact 4-passenger hatchback is a hoot to drive, knocks styling freaks into next week and shouts "sporty" in big bold letters.
This pint-size Tommy remains available in three trims, the self-proclaimed Base, the turbocharged—yep, turbocharged—S, and the even more turbocharged flagship of the lineup, the John Cooper Works, hereafter to be called the JCW. Just a bit larger than their pint-size MINI Cooper cousins, though not quite as hefty as their 4-door Countryman kinfolk, all Clubman trims come with 4-passenger capacity, 2 standard doors, a passenger-side, rear-hinged back ("club") door and a split-opening rear cargo door. Bearing only 32.8 cubic feet of cargo room with the rear seats folded and only a meager 9.2 cubic feet with upright rear seatbacks, this sub-compact hatchback is, alas, not intended for heavy hauling duties.
In any case, the various Clubman editions see few significant changes for 2012, preferring, apparently, to stand pat with 2011's power tweaks and standard feature add-ons. A set of fancy floor mats is about all that's new for this year, while available customizing doodads remain all but limitless. Be prepared, however, for optional upgrades to drive prices from merely a tad steep to stratospheric, especially in the higher trims, which aren't exactly cheap to start.
The standard and only engine for this pint-size parakeet of an automobile remains a BMW-inspired 4-cylinder powerplant, with the Base Clubman toting the normally aspirated version, while the S and JCW trims boast a turbocharged variation that gives this funkwagon some serious pep. Once again, all trims sport very un-European front-wheel drive (FWD), while both the Base and S versions can be delivered with either the standard manual transmission or a zippy auto-manual that's short on mileage, but long on convenience. The JCW edition, meanwhile, is available only with the stick shift.
For sheer driving fun, the MINI Cooper Clubman has few rivals, though Ford's snappy Fiesta, Hyundai's surprisingly well-wrought Veloster and Mazda's spiffy Mazda3 all take a shot at it. Though no competitor can match the Clubman's oh-so-chic Britishness, all do offer a bit more practicality and value.
Drivetrain
Standard power for the 2012 MINI Cooper Clubman comes from a 1.6-liter inline 4-cylinder (I4) engine that has its origins in the famed Bavarian Motor Works (BMW) complex. The Base trim's version of this finesse-laden four-banger is a normally aspirated variation that's managed by a standard 6-speed manual transmission for 121 hp at 6,000 rpm and 114 lb-ft of torque at 4,250 rpm. Mileage is again estimated at 27 mpg city/35 highway. Of course, the quietly efficient 6-speed auto-manual transmission, offering the same performance numbers and mileage figures, can also be delivered in this entry-level trim.
Any thoughts of the proto-typical popcorn-popper of a European four-banger get laid to rest with the performance of the turbocharged 1.6-liter I4 inhabiting the Clubman S. Again under the auspices of the standard 6-speed stick-shift, this blown I4 pounds out 181 hp at 5,500 rpm and 177 lb-ft of torque at 1,600 rpm. Mileage with the manual transmission is once more estimated at 27/35, while the available 6-speed auto-manual transmission, again optional with the S trim, drops mileage marginally to 26/34.
Finally, the Clubman JCW totes an even more potent version of the 1.6-liter turbocharged I4 and remains solely under the management of the 6-speed manual transmission. Look for an impressive 208 hp at 6,000 rpm and 192 lb-ft of torque at 1,850 rpm from this spiffy speedster, though mileage numbers plummet to 25/33.
Tests of the turbo-less Base four-banger have it powering this tiny toy from 0-60 in 8.9 seconds with the stick shift and 10.2 seconds with the auto-manual. The turbocharged S makes the same journey in a fairly impressive 6.8 seconds when toting the stick shift and 7.1 seconds bearing the available auto-manual transmission. The up-powered JCW, meanwhile, completes the voyage in an impressive 6.5 seconds.
Reviewers note that even the Base trim's normally aspirated four-banger, when combined with either the stick shift or the automatic, puts out quite enough oomph for driving around town, but all are quick to point out that, when in hilly terrain or attempting to merge and pass on the highway, a bit of foresight will be required. Both turbocharged versions of the I4 are, needless to say, considerably handier with the aforementioned driving decisions. The S version does, however, suffer a bit of turbo lag at low speeds, according to many reviews, but recovers nicely as speed builds. The JCW's tweaked turbo, meanwhile, suffers noticeably less turbo lag, say most reviewers, and offers significantly more power in all driving situations. It should be noted, finally, that a couple of reviews mention some distinctly non-European twitches and jerks, occasionally bordering on a disturbing harshness, from the S version's auto-manual transmission.
Ride & Handling
Among the many attributes that reviewers agree on concerning the 2012 Clubman trim variations, cat-like agility and sheer driving excitement are at the top of the list. Boasting a 4-wheel independent suspension that flaunts MacPherson front struts, a multi-link rear end and front and rear stabilizer bars, not to mention improved electric power steering, this precious peanut delivers adroit response to any input from the steering wheel, notably little body lean in fast corners and an uncanny ability to outwit even the tightest of spaces. With the sport-tuned suspension and electronic limited-slip rear differential that are available to the S and JCW trims, handling is brought to a level unprecedented in any comparably priced so-called sports car. Additionally, the Sport mode, standard on all Cooper Clubman trims, allows a further bracing of the suspension and increased throttle response that does nothing but enhance this compact hatchback's reputation for nimbleness.
Ride comfort, you ask? Well, that's a different story. Virtually all reviewers opine that on all but ultra-smooth surfaces, the Clubman, in any guise, will jitter and jive, bang and bounce. Base trims are equipped with 15-inch alloy wheels and performance tires, always a deadly combination to passenger stability, while the S with standard 16-inch alloy wheels and the JCW with its 17-inch wheels each sport run-flat tires, and, ride-wise, things just get worse. Reviewer consensus is that should even a modicum of genteel posh be desired in one's daily commute, the Base remains the only Clubman trim to even approach such lofty aims.
In any case, with their comparatively trim figures, all Clubman trims boast some hefty braking finesse. Stopping power is impressive, and pedal feel remains unparalleled. A test of the Clubman S found it coming to a stop from 60 mph in a scant 112 feet. Try that in your overwrought sedan or outsize SUV.
Cabin & Comfort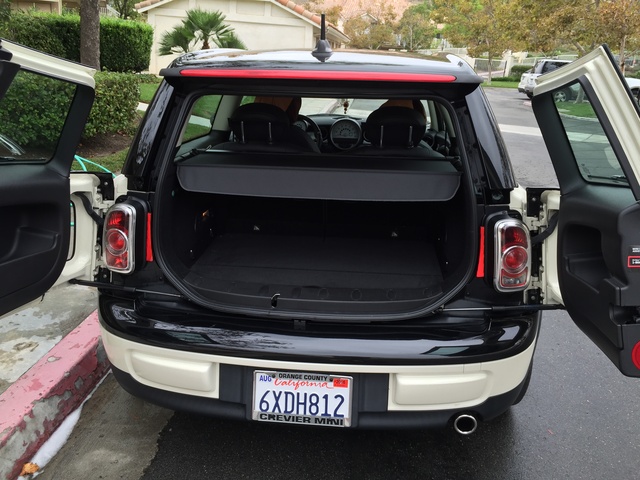 Americans have become used to a certain level of creature comfort and convenience enhancement in their family automobile, thus the no-frills English have had to modify (slightly) those MINI Coopers that are destined for the colonies. The Base Cooper Clubman, for example, sports standard leatherette upholstery (we call it vinyl over here) and height-adjustable front seats. Remote power door locks, meantime, are complemented by power windows and outside mirrors, while a trip computer (cleverly retro-ized in the tachometer), cruise control and telescoping tilt-wheel steering all remain within the confines of simulated alloy dashboard and door trim and embraced by the obligatory air conditioning. A cooled beverage storage compartment is a distinctly decadent feature that remains standard in the Clubman Base, with entertainment desires fulfilled by a single-CD player boasting 6 speakers, satellite radio and auxiliary MP3 input. Both the turbocharged S and JCW trims come similarly equipped, with each flaunting sport front seats and the JCW additionally boasting cloth upholstery.
Options, of course, are where the MINI brand stands out, with so many customization opportunities that their delineation can take volumes. Here are presented a mere sampling of the Clubman's more noteworthy add-ons.
The Base Cooper Clubman offers an available White Silver Edition that boasts 17-inch painted alloy wheels, white silver exterior tints and trims offset by gloss black accents, and, lastly, upgraded performance tires. The John Cooper Works Package, meanwhile, adds a sport steering wheel, dynamic traction control (DTC), unique John Cooper Works badges and exterior upgrades, and an electronic locking rear differential sporting 3 levels of automatic brake intervention for added stability in fast corners.
The Sport Package, again offered with the Base Clubman, comes with upgraded 16-inch alloy wheels, 6-way manually adjustable sport front seats with added bolstering and rally stripes. The Cold Weather Package, meantime, continues to be available in all 3 trims and offers heated front seats, heated windshield washer jets and heated outside power-adjustable mirrors.
The Premium Package, again available to all 3 trims, adds auto climate control, remote keyless entry and ignition, upgraded interior trim accents and an auto-dimming rear-view mirror, while the MINI Connect with Navigation Package throws in a navigation suite and Cooper's MINI Connect apps for internet radio and news reception on your iPhone.
The Technology Package adds a 480-watt Harman Kardon premium audio system with 14 Surround Sound speakers as well as Bluetooth hands-free calling and a 6.5-inch touchscreen display onto the MINI Connect with Navigation grouping and remains available to all trims.
Finally, packaged options are finalized with the Hampton Package's countless exterior and interior trim customizations, each grounded in Damson leather upholstery and trim appointments.
Customization combinations are boosted into the truly ethereal with the MINI Yours enhancements to inside and outside décor, while a veritable cornucopia of color, fabric, design and striping options suggest there's hardly a MINI out there that looks exactly the same as another. Recaro leather front sport seats, auto-dimming outside mirrors, a power-opening dual-pane panoramic sunroof and heated front seats are all standalone options, and many items that come in packaged form also remain available individually.
Reviewers positively salivate at the plethora of interchangeable exterior and interior adornments available to the Clubman trims, but caution that otherwise it depends more on funkiness than functionality for its laissez-fair appeal. Too many deliberately retro controls and gauges make for difficult reading and manipulation, while the rear seats, albeit some few centimeters larger than those in the regular-size Cooper, still leave more than a bit to be desired, space-wise. Fairly high-end materials, however, as well as a slinky atmosphere, and that oh-so-English alliteration in every bloody detail again distinguish the Clubman lineup from the usual bland U.S. sub-compact. Lastly, the height-adjustable front seats and hefty seat travel make for comfy font seating and good all-around visibility and are looked at favorably in many reviews, while the rear-opening passenger-side back door makes things a little easier for those passengers destined for the rear seats.
Safety
Notable standard safety features for the 2012 Clubman lineup include 4-wheel antilock brakes, with electronic brakeforce distribution and emergency braking assist, and, of course, traction and stability control. Standard dual front side-mounted airbags, meanwhile, as well as front and rear head airbags are complemented by a post-collision safety system.
A plethora of optional safety equipment, including rear parking sensors, rain-sensing wipers, front fog/driving lights, rain-sensing wipers and a remote antitheft alarm are offered to the Clubman trims in various option packages, while available Dynamic Traction Control (DTC) offers 3 levels of electronically controlled braking to help stability in fast corners.
No 2012 Clubman trims have been tested for safety by either government or insurance organizations, but rest assured that this little hatchback packs all the necessary safety stuff to ensure adequate occupant protection.
What Owners Think
Some unexpected problems with build quality and a few pesky glitches in some of the techno-goodies aboard leave a number of owners questioning the true worth of the 2012 MINI Cooper Clubman series. Those too-retro controls and gauges leave more than a few owners cold, too, while the available sport front seats have drawn complaints for allowing too much dangling thigh, especially after a journey of bouncing from bump to dip. Finally, several owners find issues with MINI's customer service, discovering that warranty issues can become frustratingly hassle-laden.
Moving to more positive impressions, this upsize MINI hatchback has owners praising its precocious styling and downright giddy driving habits. The turbocharged 4-cylinder powerplants adorning the S and JCW trims gather a hefty share of owner kudos, while the Clubman's agility in every trim configuration keeps blowing minds from coast to coast. The cool cooled storage bin gathers a hefty share of salutations, as does the silky smooth 6-speed stick shift. Finally, a number of owners wonder how they could have survived without the handy third door allowing easier access to those 2-place rear seats.
Updated
Have Laptop. Will Travel. I'm retired and travelling the country in a 34' motor home. I'm really digging meeting people . . and sometimes their cars . . . getting a sense of what makes this nation tick. The plan is to visit all the national parks in the continental US, then cruise to Alaska to visit Denali, and to Hawaii to check out Haleakala and the Hawaii Volcano's national parks. Anyhow, when I'm not horsing the motor home around the roadways, I'm tooting around in the 2012 Ford Focus that we tow behind, or making runs to Home Depot and various malls with the 2004 F-150 that just won't die.
What's your take on the 2012 MINI Cooper Clubman?
Have you driven a 2012 MINI Cooper Clubman?
Cars compared to 2012 MINI Cooper Clubman
Looking for a Used Cooper Clubman in your area?
CarGurus has 886 nationwide Cooper Clubman listings starting at $4,000.
MINI Cooper Clubman Questions
Trims
FWD

Avg. Price: $9,638
John Cooper Works FWD

Avg. Price: $12,733
S FWD

Avg. Price: $11,366
Quick Links