Looking for a Used F-350 Super Duty in your area?
CarGurus has 10,682 nationwide F-350 Super Duty listings starting at $3,494.
Review
The Good
A choice of potent V8 engines, including a turbodiesel, loads of passenger and cargo/payload room and a surprisingly compliant ride all help Ford's 2012 F-350 Super Duty lineup lead the class in sales.
The Bad
Some work needs to be done in boosting the big F-350 Super Duty's less-than-appealing gas mileage, while cabins are looking a tad dowdy, steering is ponderous and this rig is just too big for the daily commute to the office.
The CarGurus View
A perennial best-seller, Ford's 2012 F-350 Super Duty pickups just keep pouring on the muscle, the towing capacity and the workhorse image. Sure, the Chevys and the Rams have their ups and downs, but the blue oval has owned the full-size pickup class for going on 14 years, and there's no sign of it slowing down.
At a Glance
When the heavy work absolutely has to get done, expect the one-ton 2012 Ford F-350 Super Duty pickup to come through. Though similar in appearance to the re-tooled 2011 lineup, 2012 trims boast increased towing capacity with a bulked-up frame and trailer-towing equipment, as well as freshly available AppLink smartphone integration via Ford's popular SYNC system. A perennial workhorse, the F-350 lineup, as of last year's trims, stars a pair of V8 engines, one an ethanol-capable Flex-Fuel (FFV) gasoline version and the other a twin-turbocharged torque-heavy diesel. All trims continue to share a single transmission, and all come with the usual well-rounded performance numbers, but with less-than-stellar mileage figures despite the automaker's claim to best-in-class economy.
Once more, the F-350 Super Duty lineup is divided into four trim levels, the base XL, lower-midlevel XLT, higher-midlevel Lariat and the flagship King Ranch. All trims can be delivered with either standard rear-wheel drive (RWD) or available 4-wheel drive (4WD). The XL and XLT levels are available in three cabin configurations, the 3-passenger Regular cab, 5- or 6-passenger SuperCab and the 5- or 6-passenger Crew Cab, with the latter featuring four independently opening doors. The Lariat trim level, meanwhile, is delivered only in SuperCab and Crew Cab versions, and the King Ranch level is available only in Crew Cab variants. Finally, Regular-cab trims all tote an 8.2-foot bed, while both the SuperCab and Crew Cab versions can be delivered with either the 8.2-foot bed or the more parking-friendly 6.8-foot bed. Those trims sporting the longer bed are additionally eligible for an available dual-rear-wheel (DRW) axle configuration.
Make no mistake, this is one big 3-to-6-passenger heavy-duty pickup, able to tow up to 17,000 pounds when properly equipped with the standard straight towing rig and up to 22,700 pounds with a fifth-wheel or gooseneck hitch. It's also a long, hefty brute, with the most compact versions, the Regular-cab XL or XLT with their standard 8.2-foot bed stretching the tape to 227.6 inches overall on a 137-inch wheelbase, and Crew Cab variants with the 8.2-foot bed running 263 inches overall on a 172.4-inch wheelbase.
Granted, this big truck is a beast on the job, but higher trims boast a plethora of standard and available appearance, work and cabin goodies that put them in a class by themselves. Power accessories, dual-zone climate control, leather upholstery, memory for driver's settings and premium audio systems are routine, as is Ford's available and very popular SYNC voice-activated audio and communications interface. The F-350's SuperCab and Crew Cab trims, meanwhile, are often considered the roomiest in their class, though based on a number of reviewer opinions, cabin design throughout the lineup is beginning to show some signs of aging.
Nonetheless, Ford's Super Duty pickups are perennial best-sellers, though both Chevy and Dodge offer competitively priced and similarly performing ultra-size pickups. Chevy's Silverado 3500HD, though a tad less powerful, runs a few thousand dollars cheaper than the Ford Super Duty and matches up well in standard features in the higher trims. The ex-Dodge, now-just-Ram 3500 is another beast that'll steal a tire-kicker or two away from Ford with a lower base price and only marginally lighter performance numbers. Ford has not, however, hosted the best-selling full-size pickups on the market by skimping on the muscle or the details.
Drivetrain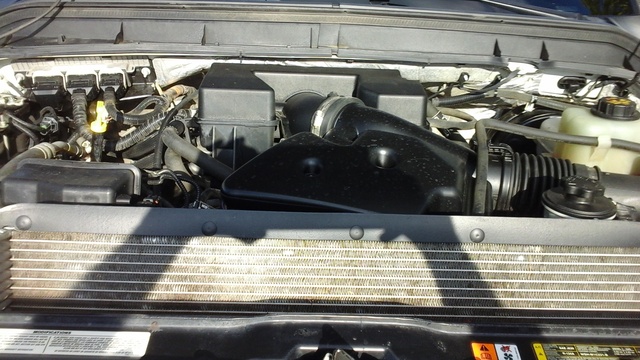 Standard power for all F-350 Super Duty trims is a 385-hp (at 5,500 rpm) ethanol-capable Flex-Fuel (FFV) 6.2-liter V8 gasoline engine. With the standard 6-speed shiftable automatic transmission, expect 405 lb-ft of torque at 4,500 rpm and up to 15,000 pounds of trailer-towing power. Mileage is estimated to average only in the mid-teens with this big V8, but fortunately, it burns regular-grade unleaded and is available in a compressed natural gas (CNG) version that puts out identical performance numbers.
Available to all F-350 trim levels, meanwhile, is a 6.7-liter turbodiesel V8 that once more mates with the 6-speed shiftable automatic to pound down 400 hp at 2,800 rpm and a whopping 800 lb-ft of torque at 1,600 rpm. With the available 4.30 rear axle ratio, dual rear wheels and standard heavy-duty towing equipment, this monster can tow up to 17,500 pounds, while the available fifth-wheel or gooseneck hitch will allow it to handle some 22,700 pounds of trailer. The Regular-cab F-350 with DRW can, by the way, accommodate up to 7,110 pounds of payload, no matter whether gas or diesel equipped.
Some adornments to the 6-speed automatic transmission include a brake hill-holder feature, as well as TorqueShift driver-selectable shifting, in which the Progressive mode locks out the overdrive gear while Full Manual mode allows drivers to utilize the full range of gears, both handy items in front of a loaded trailer. The part-time 4WD system, meanwhile, boasts manual or electronic hi-lo gear selection, and manual or auto-locking hubs, depending on the trim. Finally, all trims are equipped with a standard trailer brake controller, anti-sway system and auxilliary transmission-fluid cooling system.
Reviewers remain fairly generous in their praise for both F-350 Super Duty engines. The turbodiesel, however, comes in for special mention for its over-the-top pulling power both off the line and with a maximum trailer load. Acceleration in the gasoline V8 is deemed adequate, though it can be a bit uneven at less demanding input. A number of reviews lay much of the blame for this on a bit of indecision in the 6-speed shiftable automatic. Virtually all reviewers, therefore, note that for best towing performance, the turbodiesel is the powerplant of choice. Beware, however, that though numerous reviews point out that the potent diesel may idle quietly, this monster gets fairly noisy under heavy acceleration.
Ride & Handling
Most reviewers are surprised at the 2012 F-350's compliant ride, though they are quick to point out that posh wouldn't exactly be an accurate description. The standard 17-inch steel, painted steel or alloy wheels (XL, XLT) and standard 18-inch alloy wheels (Lariat and King Ranch) absorb most bumps admirably, according to reviewers, with even the available 20-inch alloy wheels refusing most bumps to simply have their way. All reviews, however, mention that when empty, this big rig will occasionally dance and stutter a bit on broken pavement, but that's a given with any pickup truck. Put a load in the F-350, however, and reviewers say that this brute, while not silky, gives as good a ride as any on the market.
Steering, on the other hand, is understandably dull, but according to a majority of reviewers, overall handling capabilities will surprise most owners without letting them forget they're in a big pickup. Reviewers also caution that tight maneuvering will be a challenge, especially in the Crew Cab long-bed trims. It might be best to keep away from crowded malls and downtown traffic, when possible.
Finally, brakes are strong and true, according to reviewers, with no glitches in pedal movement. Additionally, in the opinion of virtually all reviewers, the integrated trailer brake controller that's standard in the higher trims and optional for lower trims is a must for heavy towing duties.
Cabin & Comfort
Face it, Ford's big F-350 Super Duty pickup is a worker, not a lover, though the Lariat and King Ranch trims bring a substantial gathering of standard and optional goodies together in their spacious 5-passenger cabins. In the base XL trim, however, expect vinyl upholstery, front bench seats and air conditioning to be the only standard nods to comfort. Telescoping tilt-wheel steering, meantime, is complemented by a trip computer for some semblance of convenience, while a standard heavy-duty trailer hitch and wiring encourages owners to take care of business. Finally, a standard AM/FM radio with its two speakers is the sum of standard entertainment, while phone pre-wiring might come in handy if the optional Bluetooth system is selected.
The somewhat more occupant-congenial XLT comes with a few additional standard doodads, including cloth upholstery, remote power door locks, power windows and heated power-adjustable outside mirrors. Cruise control with steering-wheel-mounted buttons is standard aboard, as are front and, in SuperCab and Crew Cab versions, rear floor mats, while an MP3-capable single-CD player with 4 speakers sparks an effort to relieve some road weariness.
Moving up to the F-350 Super Duty Lariat begets standard premium leather upholstery, 8-way power-adjustable front bucket seats, digital keypad door locks and adjustable pedals, just for starters. A front console along with leather and simulated wood console, dash and door accents are complemented by a leather steering wheel and dual-zone climate control, while an electrochromatic inside rear-view mirror and rear parking sensors are bolstered by turn-signal-integrated outside mirrors. Entertainment, meantime, becomes downright decadent with the addition of 5 more speakers (9 in all), while Sirius XM satellite radio and a USB connection complete the audio ensemble. Finally, Bluetooth hands-free communications technology also comes standard in this upper-echelon trim.
At last, we come to the flagship of the 2012 F-350 Super Duty fleet, the King Ranch. This unapologetic paean to gentleman-farmer posh has no shame in flaunting such added attractions as standard step running boards, heated front seats with driver's memory, a universal remote garage door opener, rear-view camera, power-adjustable pedals and memory settings for the driver's seat and outside mirrors.
Options-wise, lower trims remain eligible for much of the equipment that comes standard on the higher trims, while upgraded axle ratios, upfitter switches for added power devices, fifth-wheel hitch and upgraded 17- and 18-inch wheels are available lineup-wide. The popular SYNC audio and communications interface, along with SYNC AppLink smartphone-applicable selected internet service is available to all trims, as are upgraded tubular side steps, a stowable bed-extender, spray-in bedliner and Crew Chief telemetrics that monitor idle time, location and fuel mileage of the vehicle, as well as Ford's popular Work Solutions technology that offers a mobile computer work station, including printer. XLT and higher trims can be delivered with a 4.2-inch LCD Productivity Screen, while a pair of chrome packages, a 10GB digital music jukebox and a hard-drive-based navigation system with DVD-capable dash-mounted display are limited to the two higher F-350 Super Duty trims. Finally, Chaparral leather upholstery and a power moonroof are options only in the King Ranch, while the rugged FX Off-Road Package, with descent control, all-terrain tires, skid plates, Rancho-brand shocks and electronic shift-on-the-fly 4WD is available for all 4WD trims.
Reviewers, in lauding the roominess of the F-350 in its SuperCab and Crew Cab variants, don't fail to note that the cabin setup is becoming a bit long in the tooth. A few reviews mention that several of the more useful controls may be a bit of a stretch for some drivers, but that the available SYNC voice-activation system helps keep driver's eyes on the road in performing a number of audio and communications adjustments. The upscale atmosphere in the Lariat and King Ranch cabins will, according to a number of reviewers, lead some to rethink their definition of a work truck, though most are more impressed with the durability of the premium leather upholstery endowing these upscale trims than with its posh. Finally, most reviewers are pleased with seat comfort aboard any trim, no matter the upholstery, though a few complain that rearward visibility isn't the best, but that the rear-view camera available to the Lariat and standard on the King Ranch should help, as will the large bi-level mirrors and rear parking sensors delivered in the Lariat and King Ranch trims.
Safety
The considerable bulk inherent in the full-size 2012 F-350 Super Duty lineup means fewer worries about occupant safety in the event of an accident. This does not indicate, however, a total neglect of the traditional safety equipment that is usually mandated for simply driving on increasingly crowded roads. Four-wheel disc antilock brakes (ABS) with electronic brakeforce distribution are complemented by traction control in Regular and SuperCab trims and both traction control and stability control in all Crew Cab trims. Dual front side-mounted airbags and front head airbags are standard in all trims, while 6-passenger trims additionally sport rear head airbags. Further, a post-collision safety system is standard throughout the lineup, while XLTs and above get a remote antitheft alarm, with the Lariat and King Ranch also boasting standard front fog/driving lights (optional for XLTs) and dusk-sensing headlights. Exterior back-up chimes are optional in all four trims in SuperCab and Crew Cab iterations.
Because of its hulking size, the F-350 lineup is not safety-tested by either the National Highway Transportation Safety Administration (NHTSA) or the Insurance Institute for Highway Safety (IIHS). Suffice to say that there are few vehicles on the road better able to withstand a bad driving day than Ford's Super Duty pickups.
What Owners Think
Gas mileage is the one downside of the 2012 Ford F-350 Super Duty lineup that generates complaints from virtually all owners. Most owners realize, of course, that the dominating V8 horsepower generated by these brutes isn't conducive to MINI Cooper mileage, but that doesn't make reaching for the wallet any easier; nor does the complaint that fuel tanks are too small help much, either. Other gripes common to owners of this big rig include its dowdy and dated cabin ambiance, plastic oil pan, massive turning radius and some occasionally balky shifts from the 6-speed automatic.
All of this, however, is mitigated in the minds of numerous owners by this big pickup's pure trailer-towing power, smooth turbodiesel, contrite ride, adequate handling, roomy cabins and comfy seats. The available SYNC system gets its usual owner kudos, too, as does the surprisingly quiet interior of all trims and those quasi-plush standard features endowing the Lariat and King Ranch trims.
Updated
Have Laptop. Will Travel. I'm retired and travelling the country in a 34' motor home. I'm really digging meeting people . . and sometimes their cars . . . getting a sense of what makes this nation tick. The plan is to visit all the national parks in the continental US, then cruise to Alaska to visit Denali, and to Hawaii to check out Haleakala and the Hawaii Volcano's national parks. Anyhow, when I'm not horsing the motor home around the roadways, I'm tooting around in the 2012 Ford Focus that we tow behind, or making runs to Home Depot and various malls with the 2004 F-150 that just won't die.
What's your take on the 2012 Ford F-350 Super Duty?
2012 Ford F-350 Super Duty Top Comparisons
Users ranked 2012 Ford F-350 Super Duty against other cars which they drove/owned. Each ranking was based on 9 categories. Here is the summary of top rankings.
Have you driven a 2012 Ford F-350 Super Duty?
Cars compared to 2012 Ford F-350 Super Duty
Looking for a Used F-350 Super Duty in your area?
CarGurus has 10,682 nationwide F-350 Super Duty listings starting at $3,494.
Ford F-350 Super Duty Questions
Trims
King Ranch

Avg. Price: $35,404
Lariat

Avg. Price: $42,640
XL

Avg. Price: $25,429
XLT

Avg. Price: $23,443
Quick Links