Looking for a Used SX4 in your area?
CarGurus has 170 nationwide SX4 listings starting at $2,500.
Review
The Good
Light, tight steering and all-wheel drive availability make the 2011 Suzuki SX4 an interesting entry in the subcompact market.
The Bad
Too noisy, too slow and too forgettable, the 2011 Suzuki SX4 manages to make all the wrong moves and float into obscurity despite some rather unique advantages.
The CarGurus View
Unfortunately, there are just better options out there than the SX4, unless you're interested in all-wheel drive. For anyone needing the AWD option, it's an economical and practical choice. While the Sportback avoids the visual blandness that plagues the sedan, there are cheaper and more refined examples on the market with better efficiency. If the SX4 is on your shortlist, go for the Crossover with the 6-speed manual and revel in the fact that you're driving the most affordable AWD crossover on the market – not to mention the additional benefit of being almost certain never to see another on the road.
At a Glance
You can't blame Suzuki for trying. Sadly, it seems to be its own worst enemy in this case. With its attempts to raise its own bar with the Kizashi, it has inadvertently highlighted some of the weaker points of its second-most-ignored entry – the SX4.
The SX4, especially in gray sedan form, has suffered from what I've always called "Cavalier Syndrome," the unfortunate occurrence of a vehicle being so boring, so visually indistinct that it simply melds into ubiquitous anonymity. Hatchback "Sportback" and Crossover trims avoid this malady well, and even manage to skirt the edges of stylish, but the sedan is nearly invisible.
Of course, that might have something to do with the fact that Suzuki's share of North American sales continues to drop well below the 1% line - .02% as of this writing. As such, the SX4 has managed to become lost in a sea of barely distinguishable carbon copies. What's worse is that it's undeserved in large part. The SX4 has a lot going for it, perhaps most impressive being its status as the most affordable AWD crossover on the market for several years running.
Drivetrain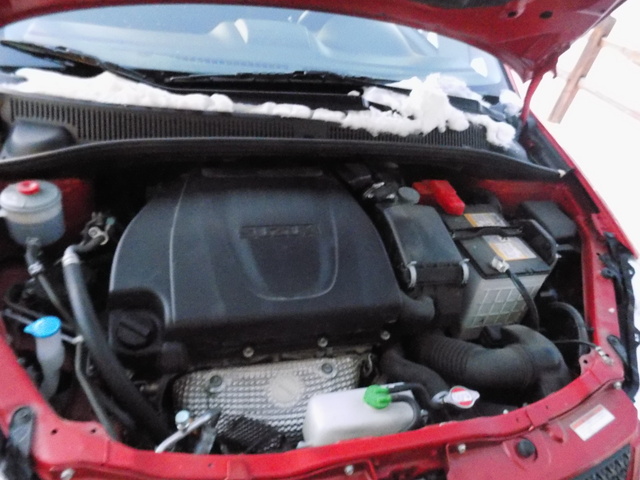 With the extreme emphasis manufacturers have understandably placed on fuel efficiency as of late, the SX4 is getting lost in a rising tide of vehicles that can go further and further between refuels. On paper, the SX4 should be quite the efficient little roundabout, with a 2.0-liter inline 4-cylinder engine fitted to a 6-speed manual or continuously variable transmission (CVT). The manual is by far the better choice, with smoother action, increased peppiness and fun factor, as well as not suffering from the boggy tendencies of the CVT, which can sometimes feel as though the car will flat out die during fast deceleration. The 6-speed setup even offers more power, albeit just 2 extra horses – 150 for the 6-speed at 6,200 rpm versus 148 with the CVT at 6,000 even. Torque ratings are identical regardless of transmission, 140 lb-ft at 3,500. In the sedan, those setups will return EPA-estimated fuel efficiency figures of 23/33 with the 6-speed and 25/32 with the CVT.
The engine can be a bit rough as well, especially when taxed. At higher speeds or even when pushed hard around town, the coarse nature of the 2.0 presents itself, betraying the limitations of its design. It has plenty of power but simply isn't as refined as the powerplant in some more expensive offerings.
Ride & Handling
Ride and steering response are perhaps the most impressive aspects of the SX4, with even the base suspension offering a competent and comfortable ride. The optional sport suspension firms things up quite a bit, although you'll still encounter some lean in harder cornering, but things never get uncomfortably stiff, and that's a plus. Curiously, the SX4 has a wide turning radius that seems out of place for a car of its size and frustrates city drivers.
Cabin & Comfort
Taller drivers will find difficulty with regard to legroom in the SX4, and the pedal configuration could be better spaced, especially for those with larger feet, but overall room is generous front and back. Budget-appropriate fabrics cover the seats, which are both comfortable and well-bolstered, especially for a vehicle in this price range.
Interior materials are constituted largely of hard plastics, but they don't seem overly cheap, especially for the class, however the design of the gauges and controls is a bit too old-fashioned for some. They are all legible and well within sightlines and reach alike, but their traditional design loses a lot of appeal, dropping their overall worth in the eyes of some. Perception is everything. The optional touchscreen Garmin navigation system works well, although some find its screen too small and far away for easy operation.
Safety
The SX4 starts with a modicum of standard safety features and adds additional tech as you move up in trim level. Sedan Base and LE trims get dual front, front and rear side and curtain-side airbags, antilock brakes with brake assist and daytime running lights. The Sedan LE Anniversary trim gets 4-wheel antilock discs, while the Sport GTS adds traction and stability control. While National Highway Traffic Safety Administration (NHSTA) ratings are not available for 2011, the Insurance Institute for Highway Safety (IIHS) has awarded the SX4 its highest rating of Good in all test categories excepting a Marginal rating in Rear Overall and Dynamic Rating tests, as well as an Acceptable in Frontal Restraints and Side Impacts involving driver torso injuries.
It should be noted that the SX4 suffered a recall that involved a tension adjuster pulley spring, affecting almost 33,000 SX4s.
What Owners Think
While Suzuki's SX4 is a cute little roundabout and easy to maneuver in tight places, owners are upset about the lack of noise dampening and acceleration alike, as well as a frustratingly wide turning radius. A bit more power would really open up the utility of this forgotten entrant, as would some extra time spent polishing those rough edges. AWD does give it an edge, especially in its category, but the negatives overshadow even that exclusive positive with owners.
Updated
A CarGurus contributor since 2008, Michael started his career writing about cars with the SCCA - winning awards during his time as editor of Top End magazine. Since then, his journalistic travels have taken him from NY to Boston to CA, completing a cross-country tour on a restored vintage Suzuki. While his preference is for fine German automobiles - and the extra leg room they so often afford - his first automobile memories center around impromptu Mustang vs. Corvette races down the local highway, in the backseat of his father's latest acquisition.
What's your take on the 2011 Suzuki SX4?
Have you driven a 2011 Suzuki SX4?
Cars compared to 2011 Suzuki SX4
Looking for a Used SX4 in your area?
CarGurus has 170 nationwide SX4 listings starting at $2,500.
Can I have an extra key made for my 2011 Suzuki sx4?
Hi All, Wondering if this great little car can handle two large dogs. I have a Wirehaired Pointer and a French Spaniel (the breed is Setter sized). I take my dogs for a hike or snowshoe daily so they...
Trims
Base

Avg. Price: $6,879
Base Crossover AWD

Avg. Price: $6,666
GTS
LE Anniversary Edition
Premium Crossover AWD

Avg. Price: $6,840
Premium Crossover Tech AWD
S
Sportback Crossover
Sportback Tech Crossover
Show 1 more trim
Quick Links