Looking for a Used Forester in your area?
CarGurus has 9,788 nationwide Forester listings starting at $950.
Review
The Good
Style, value, standard all-wheel-drive traction and a roomy cabin, not to mention better-than-average ride and handling capabilities, keep the 2011 Forester riding high.
The Bad
Lackluster interior materials, an outmoded 4-speed automatic transmission and uninspired build quality continue to keep this otherwise competent crossover from its true potential.
The CarGurus View
Despite a few niggling issues, the 2011 Subaru Forester continues to lead the automaker's sales charts. Those who are on a budget and in need of a small, versatile, all-wheel-drive, family-friendly crossover SUV could do far worse. It's not fancy, and it's not particularly quick, but it gets the job done in any weather, and it gets it done economically, if not always efficiently.
At a Glance
It isn't big or glitzy, but the 2011 Subaru Forester fits right in as the ideal family-friendly, utilitarian crossover SUV. Since its U.S. introduction for the 1998 model year, this 4-door, 5-passenger compact ute has consistently performed at or above expectations, while an extensive re-design on '09 stepped passenger and cargo room up to American standards with little compromise in price or performance. Perhaps the most annoying glitch remains this midlevel automaker's refusal to equip this originator of the breed with an updated automatic transmission. A few upgrades to what's often considered, by both reviewers and consumers, a less-than-inspired interior would also boost the Forester's prestige. Value, however, is what this crossover shoots for and nails on a regular basis, and a base MSRP of around $20,500 for an all-wheel-drive-equipped (AWD) family automobile with an economical 4-cylinder engine (or turbocharged four-banger), loads of passenger and cargo room, and a ruggedly handsome exterior makes the Forester a very attractive proposition. That semi-copious cargo area, by the way, contains 31 cubic feet of space behind the second-row seat and 63 cubic feet with the rear seatbacks folded.
This traditionally versatile little crossover is offered in four trims, all indicative of the 2.5-liter powerplant ubiquitous to the lineup. The base 2.5 X is topped by the lower midlevel 2.5 X Premium, then the upper midlevel 2.5 X Limited and, finally, by the flagship 2.5 X Touring. The Premium and Touring are available in the turbocharged 2.5 XT sub-trims, a well. The 2.5 XT Limited trim, meanwhile, has been dropped, with the new-for-2011 2.5 XT Touring version as a replacement. Further changes for 2011 include some tweaks to the normally aspirated 2.5-liter four-banger bumping torque by some 4 more lb-ft and adding a single extra mpg, while several trims receive upgraded audio components as well. Additionally, for 2011, the Premium 2.5 X and XT are delivered with a standard power-adjustable driver's seat, as well as becoming eligible for a portable Tom Tom navigation unit, and all trims except the 2.5 X are equipped with standard Bluetooth hands-free communications technology.
Perhaps the 2011 Forester's strongest rival is Hyundai's impressively well-wrought Tucson. This peppy people-hauler is more refined than Subaru's offering, and generally more fun to drive, but, alas, AWD is not standard. The posh Honda CR-V and the Toyota RAV4, with an available V6 and available third-row seating, as well as Chevy's touted Equinox, also challenge the Forester, again with more refinement, larger cargo capacity, and more standard features, all of which come with a correspondingly higher price tag. In any case, though not as refined as some mini-utes out there, and certainly not as luxurious as others, the Forester nevertheless forces rivals to sit up and take notice.
Drivetrain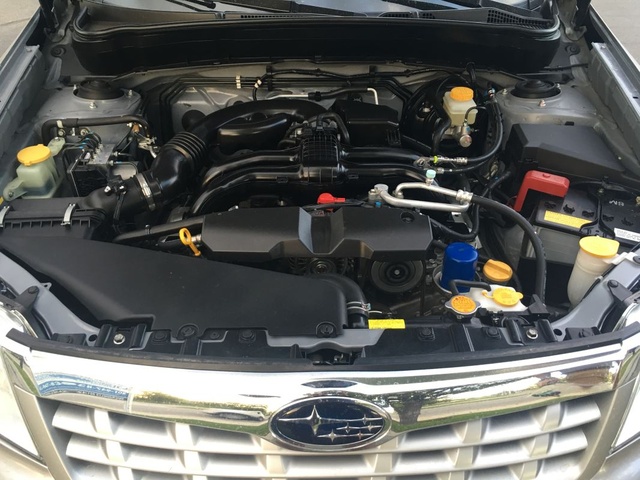 Standard in all 2011 Forester X trims is a normally aspirated 2.5-liter, horizontally opposed 4-cylinder engine (H4, sometimes known as a flat-4) that combines, in the 2.5 X and 2.5 X Premium, with either the standard 5-speed manual transmission or the available 4-speed shiftable automatic for 170 hp at 5,800 rpm and 174 lb-ft of torque at 4,100 rpm. The Limited and Premium trims, meantime, receive the 4-speed shiftable automatic as standard equipment with the same performance parameters. Towing with the non-turbo four-banger is maxed out at 2,400 pounds, with the proper equipment, while mileage, boosted by variable valve timing (VVT) is an acceptable, if not overwhelming, 21 mpg city/27 highway with the automatic, and a bit better with the 5-speed stick shift.
Both the 2.5 XT Premium and Touring trims boast a potent turbocharged 2.5-liter H4, also with VVT, mated with the 4-speed shiftable automatic transmission. This combo throws down 224 hp at 5,200 rpm and 226 lb-ft of torque at 2,800 rpm, though mileage drops to 19/24. The turbocharged H4 is designed for quickness, as opposed to sheer grunt, thus towing capacity still tops out at 2,400 pounds, again, with the proper equipment.
All 2011 Forester trims, indeed all Subaru vehicles, are full-time-AWD only, with the Forester's Symmetrical AWD system managed via a mechanical center differential to allow power to all four wheels all the time. A number of reviewers laud the Forester's AWD system as one of the few drivetrains rugged enough to tackle at least some light-duty off-road traveling.
Though both powerplants have their merits, reviewers overwhelmingly recommend the turbocharged H4 for a less challenging trip, especially on the highway and in hilly terrain. The non-turbo powerplant is fine around town and can be coaxed into a semi-respectable highway performance, according to reviewers, but in tests, the turbo racks up a 6.8-second time from 0-60 as opposed to the non-turbo's pokey 9.2 seconds. There is, however, a brief turbo lag reported by virtually all reviewers that, most note, keeps this otherwise potent powerplant from achieving real greatness. Meanwhile, most reviewers, as seems traditional, question the wisdom of Subaru for maintaining the ancient 4-speed automatic transmission, claiming that the lengthy gearing leads to inefficient shifting that wastes gas and causes some noticeable lag time and jerkiness in changing gears. A number of reviews concur that even in manual mode this quaint artifact is useful only for engine braking on long, steep downgrades. The 5-speed stick shift, meanwhile, is mentioned only as a competent enough performer in that it saves its fair share of gas. Finally, a number of reviewers mention the non-turbocharged H4 engine as being somewhat noisy and unrefined, while the turbocharged powerplant is considerably more subdued.
Ride & Handling
Traditionally, crossover SUVs are known for their sedan-based underpinnings that ordinarily result in surprisingly silky ride comfort and impressive handling characteristics. The 2011 Forester lineup, therefore, continues to impress with its traditional cushy ride and competent, though hardly exhilarating, agility. The base Forester 2.5 X, with its standard 16-inch steel wheels, and the rest of the lineup, all delivered with 17-inch alloy wheels, generally carry themselves in a stately and stable manner over the road. A short wheelbase, however, means some exaggerated rise and sink on wavy roads, according to reviewers, while larger bumps are plainly felt. On the other hand, that same short wheelbase does give the Forester a distinct advantage in close quarters.
Meantime, the standard 4-wheel independent suspension is complemented by MacPherson front struts, front and rear stabilizer bars and a double-wishbone rear suspension. Speed-proportional power steering has most reviewers describing the 2011 Forester's steering feel as well-balanced, with little body lean in corners. A number of reviewers do mention, though, that this mini-ute feels a bit top-heavy to them and advise a bit of circumspection on winding roads.
Finally, the 2011 Forester's braking characteristics seem to be rarely discussed in reviews, though at least one describes braking as "solid". Plainly, this compact crossover's brakes are more than merely competent, with no anomalies in either pedal or mechanics worth mentioning.
Cabin & Comfort
Creature comforts are a bit sparse in the 2011 Forester, especially the base 2.5 X. As far as simple cabin ambiance is concerned, this base trim sports standard cloth upholstery and a few simulated-alloy trim pieces on the dash, doors and center console. It does, however, boast such convenience and comfort goodies as remote power door locks, power-adjustable outside mirrors, cruise control, tilt-wheel steering and air conditioning. Entertainment, meantime, consists of a standard MP3-compatible single-CD player with 4 speakers, while a trip computer makes things easier to keep track of from the driver's seat.
The next-level 2.5 X Premium adds a roof rack, power glass sunroof, 8-way power-adjustable driver's seat with power lumbar support, power windows, telescoping tilt-wheel steering and reclining rear seatbacks to the list of standard creature comforts. Additionally, entertainment features are bolstered by auxiliary audio inputs and iPod integration. The Premium trim also gets standard Bluetooth hands-free technology and phone pre-wiring for added communications capabilities.
Ratcheting the list of standard equipment up another level, the 2.5 X Limited boasts leather upholstery and Subaru's touted All-Weather package, with heated front seats and heated outside mirrors. Other standard additions include a leather-wrapped steering wheel and shifter knob, as well as a 6-CD changer with 7 speakers, including a subwoofer.
The 2011 Forester's flagship 2.5 X Touring features, in addition to all equipment in the lower trims, a rear-view camera, front and rear floor mats, dual-zone climate control and one-touch folding rear seats. Finally, Sirius satellite radio is also delivered with the Touring trim.
The 2.5 XT Premium and Touring trims, meanwhile, each pack a standard integrated rear spoiler as an added extra over their non-turbo siblings, not to mention a functional hood scoop providing a bit of added airflow to the turbocharger.
Options for the 2011 Forester lineup include 16-inch alloy wheels for the 2.5 X, as well as a number of Rugged packages that are available across the lineup and include a number of exterior protection and appearance upgrades as well as a color-coordinated rear spoiler. Several Popular Equipment Group packages, also available for all trims, combine the items in the Rugged packages with an auto-dimming rear-view mirror and a remote garage door opener. An optional trailer hitch is available lineup-wide as well, though a ball and trailer wiring remain dealer-installed options. The Premium trim is additionally eligible for the All-Weather package, as well as Sirius satellite radio and a portable TomTom navigation unit that's also available to the higher trims, while the Limited and Touring trims can be delivered with touch-screen in-dash DVD navigation that integrates reverse parking sensors.
Virtually all reviewers are impressed with the legibility of the 2011 Forester's gauges and the simplicity and placement of most controls. They are not so impressed, however, with cabin materials and design. All concede, however, that in this crossover's price range, posh is hardly to be expected. Passenger head- and legroom are ample, according to reviews, with entry and exit facilitated by relatively low ground clearance and wide doors, while reasonably sized roof pillars and large mirrors provide good visibility all around. Alas, one reviewer notes that child seat anchors are woefully difficult to locate in the Forester, despite Velcro flaps that ought to signify their location but don't.
Safety
Family-oriented as it is, the 2011 Forester has long maintained an enviable safety record. The list of standard safety equipment on all trims begins with 4-wheel antilock brakes (ABS) with emergency brake assist and electronic brakeforce distribution, as well as traction and stability control, which Subaru calls Vehicle Dynamic Control (VDC). Dual front side-mounted airbags, front and rear head airbags and front head-restraint whiplash protection, meanwhile, bolster occupant protection. Additionally, daytime running lights and a remote antitheft alarm, with optional shock sensors, are also included on the list of standard safety features.
The Forester's Limited and Touring trims also feature standard front fog/driving lights, while the Touring additionally sports standard bi-xenon headlights that are optional for the Limited.
The National Highway Transportation Safety Administration (NHTSA), with its new, more stringent testing, gives the 2011 Forester its second highest rating of 4 stars in frontal crash tests and rollover tests and a third-best 3 stars in side impact tests. Thus this mini-ute ends up with four stars in overall safety performance.
The Insurance Institute for Highway Safety (IIHS), meanwhile, gives the 2011 Forester its Top Safety Pick award for a best score of "Good" in front impact, side impact and roof strength tests.
What Owners Think
The outdated 4-speed automatic transmission equipping most of the 2011 Forester trims tops the list of owner complaints, with virtually all wondering why Subaru won't match both the turbo and non-turbo engines with a 5- or 6-speed automatic. A number of owners also have a problem with seat comfort, noting that long trips often require a number of stops to get out and stretch. Finally, low-rent cabin materials, tepid mileage with the turbo and some build issues have disgruntled a number of owners. Opinion about the Forester's ride and handling is divided, with some finding this compact crossover overly buoyant on the highway and top-heavy in cornering, while others claim a better ride than most of the competition, with an agility that many find surprising for this class and price level.
On a more positive note, most owners are extremely happy with the Forester's rugged good looks, roomy cabin and, of course, full-time AWD traction. Mileage with the non-turbo four-banger is touted by numerous owners as better than expected, with the turbocharged H4 getting its share of praise for stress-free merging and passing on the highway. A decent number of standard features on the higher trims, as well as the plethora of standard safety equipment, have a vast majority of value-conscious owners feeling just fine about the Forester.
Updated
Have Laptop. Will Travel. I'm retired and travelling the country in a 34' motor home. I'm really digging meeting people . . and sometimes their cars . . . getting a sense of what makes this nation tick. The plan is to visit all the national parks in the continental US, then cruise to Alaska to visit Denali, and to Hawaii to check out Haleakala and the Hawaii Volcano's national parks. Anyhow, when I'm not horsing the motor home around the roadways, I'm tooting around in the 2012 Ford Focus that we tow behind, or making runs to Home Depot and various malls with the 2004 F-150 that just won't die.
What's your take on the 2011 Subaru Forester?
Have you driven a 2011 Subaru Forester?
Cars compared to 2011 Subaru Forester
Looking for a Used Forester in your area?
CarGurus has 9,788 nationwide Forester listings starting at $950.
Subaru Forester Questions
Trims
2.5 X

Avg. Price: $10,638
2.5 X Limited

Avg. Price: $12,108
2.5 X Premium

Avg. Price: $11,330
2.5 X Touring

Avg. Price: $11,909
2.5 XT Premium

Avg. Price: $11,476
2.5 XT Touring

Avg. Price: $12,185
Quick Links