Looking for a Used Mariner Hybrid in your area?
CarGurus has 21 nationwide Mariner Hybrid listings starting at $5,000.
Review
The Good
The 2010 Mercury Mariner Hybrid offers the fuel efficiency of a compact and the comfort of a sedan with the space of an SUV.
The Bad
EPA estimates that range between the mid-20s and mid-30s don't exactly blow anyone's mind anymore, and the 2010 Mariner Hybrid has little else to set it apart, especially at its premium price.
The CarGurus View
For less money, you can put yourself in an Escape or Tribute Hybrid and get what is essentially the exact same vehicle. For even less money, you can find a more efficient vehicle with comparable room. With the extra cost of the Mariner alone, not taking into consideration the premium the Hybrid fetches, mileage that tops out at 34 mpg just doesn't seem to make sense.
At a Glance
The Mercury Mariner Hybrid was the second member of its family to go electric, following the Escape Hybrid in 2005 and followed by the Mazda Tribute Hybrid in 2008. The three have been called the most fuel-efficient SUVs on the market, and all run on the same chassis that was first used by the Escape back in 2001.
Available in front-wheel or all-wheel drive, the Mariner is powered by a 2.5-liter four-cylinder gasoline engine paired with an electric motor for a combined output of 155 hp, which Mercury claims will provide performance nearly identical to that of the V6 engine in the traditional Mariner, but with 75% better fuel efficiency.
Drivetrain
The Mariner Hybrid has a full hybrid system, which means the Mariner's engine can run on full gasoline, full electric, or a combination of the two. With gentle acceleration and flat ground, the Hybrid can go up to 40 mph for almost 2 miles before the batteries are fully discharged, necessitating the gasoline engine to kick in. Regenerative braking and deceleration obviate the need for plug-in charging, as the vehicle's inertia is captured via the electric drive motor acting as a generator, recycling energy back into the batteries.
The sole transmission is a continuously variable (CVT) unit that has been praised by reviewers and owners alike. EPA estimates for the front-wheel-drive Hybrid are 34/31 mpg, while the AWD version manages 29/27 - impressive for an SUV, but decreasingly so as more vehicles comfortably enter the 30-mpg range.
Ride & Handling
The Mariner surpasses class standards with regard to overall ride and handling and offers an impressive turning radius of 18.35 feet. That said, this is still a crossover SUV on a chassis that is approaching a decade old. Steering is increasingly numb as speed increases, with an unnatural compensation at highway speeds, and handling is compliant around town, but slightly loose above 50 mph.
Cabin & Comfort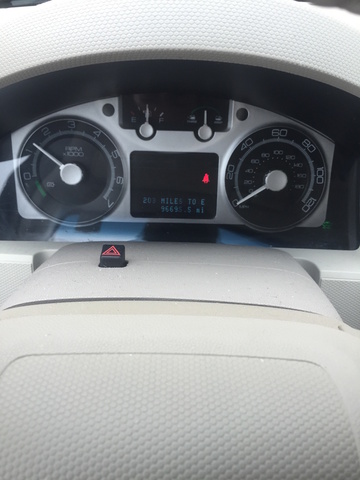 While many have criticized the tacky, plastic-ridden interior of the Mariner as not fitting its upscale pretensions, the Hybrid does come well-equipped with many standard features. An upgraded 6-CD stereo comes with satellite radio, an iPod adapter, voice recognition, and Bluetooth, dual-zone automatic climate controls replace air conditioning, and the driver enjoys a 6-way power bucket seat. Still, the two-tone interior is comprised mainly of hard, cheap, and sometimes ill-fitting plastics, with many owners and testers alike finding both mismatched surfaces and misaligned joints.
Controls have been lauded as well-placed and mostly intuitive, with minor exceptions. Ford's Sync voice command system has received particular praise for both its ease of use and ability to simplify otherwise complicated controls. Seats are supportive and comfortable, with an abundance of room for both passengers and cargo, aided by a low deck height and easy entrance and exit for passengers. Taller drivers may want to delete the sunroof, however, as it intrudes on headroom.
Safety
The 2010 Mercury Mariner Hybrid comes with dual front, front-side, and full curtain-side airbags that benefit from rollover deployment, as well as antilock four-wheel disc brakes with antiskid, a tire-pressure monitor, traction control, electronic stability control, and a brake/shift interlock.
The NHTSA has awarded the Mariner five stars in all tests excepting rollover resistance, in which the Mariner earned three stars.
What Owners Think
The 2010 Mercury Mariner Hybrid's drivetrain provides ample power and a versatility that offers impressive efficiency for an SUV, however those numbers become less impressive with each passing year. Many have been disappointed by the interior materials and finish, especially given the increased price point of the Mariner, even with the upgraded trim of the Hybrid. However, comfort and styling continue to please, and sales seem to reflect that.
Updated
A CarGurus contributor since 2008, Michael started his career writing about cars with the SCCA - winning awards during his time as editor of Top End magazine. Since then, his journalistic travels have taken him from NY to Boston to CA, completing a cross-country tour on a restored vintage Suzuki. While his preference is for fine German automobiles - and the extra leg room they so often afford - his first automobile memories center around impromptu Mustang vs. Corvette races down the local highway, in the backseat of his father's latest acquisition.
What's your take on the 2010 Mercury Mariner Hybrid?
Have you driven a 2010 Mercury Mariner Hybrid?
Cars compared to 2010 Mercury Mariner Hybrid
Looking for a Used Mariner Hybrid in your area?
CarGurus has 21 nationwide Mariner Hybrid listings starting at $5,000.
Mercury Mariner Hybrid Questions