Looking for a Used IS in your area?
CarGurus has 5,125 nationwide IS listings starting at $3,390.
Review
The Good
The 2010 Lexus IS 250 puts quality construction and sleek styling in a comfortable package, as long as you fit its profile.
The Bad
The 2010 IS 250's weak and inefficient engine and cramped quarters cripple an otherwise competent car.
The CarGurus View
A well-constructed package doesn't mean it's a well-thought-out package. The 2010 Lexus IS 250 does many things well - suspension, gauge and control layout, overall visual appeal - but its weak engine and cramped interior simply hurt the overall package too much. In all, the 2010 IS 250 is an entry-level middle child best left in the orphanage.
At a Glance
The Lexus IS series is the manufacturer's entry-level range of compact and luxury vehicles, dubbed "Intelligent Sport." With a nod toward performance, these forgo the front-wheel-drive (FWD) layout that has become almost standard for the class and use sportier rear-wheel drive (RWD) and all-wheel drive (AWD) configurations, with a range of V6 and V8 engines.
The IS 250 was introduced in late 2005 as a 2006 model, with a direct-injected 2.5-liter V6. This engine, designated the 4GR-FSE, is used in several applications for Toyota Japan, but sees deployment in the U.S. solely in the IS 250. Both the FWD and AWD versions of the four-door IS 250 are powered by this 2.5-liter V6, with the option of a six-speed manual or automatic transmission.
Drivetrain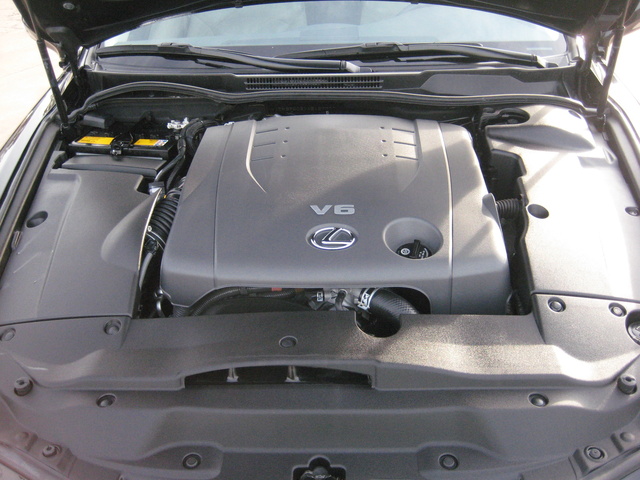 For a vehicle that purports to have performance ambitions, 204 hp and 185 lb-ft of torque fail to impress. While both transmissions perform with smooth precision, the engine simply lacks the power to match their achievement. Whether from a stop or at speed, the 2.5-liter engine simply struggles, with a torque curve that doesn't peak until almost 5,000 rpm and peak hp that waits until 6,400 before delivery and arrives with some sound but little fury. Couple this with comparatively dismal EPA estimates of 18/26 mpg for the manual and 21/29 for the automatic, and the IS 250 very simply disappoints, especially considering its premium fuel requirement.
Ride & Handling
Handling in the IS 250 fails to impress or disappoint, with an expected level of performance and comfort. Mild lean and float is experienced in corners and over dips, and some have complained of harsh reactions to jagged pavement, but this is neither disruptive nor unexpected for the class. In all, the IS 250's double-wishbone front and multi-link rear suspension offers little for comment either way, and perhaps this is a good thing, as there's a subtle grace in doing something quietly well. The IS 250's electronic steering is a good example of this, providing responsive and communicative steering that fails to announce itself, but it's a shame that it hasn't had more impact on fuel economy.
Cabin & Comfort
One of Lexus' best attributes is its ability to design an interior filled with gauges and controls that are easy to read, easy to reach, and easy to operate. The IS 250 maintains this legacy well, even with its navigation system, which absorbs audio and climate controls without the complication of many manufacturers' units. Some have complained about lower controls being obscured by the tilt/telescopic steering wheel, but small adjustments seem to alleviate most issues.
For a compact, front space is ample with an excess of legroom, although taller drivers will find themselves wanting more headroom. The rear is simply cramped, even for the class. Unless the front seats are moved fully forward, there is just no legroom for even the smallest adults, who thanks to an angular footwell design need to sit askew from the thankfully comfortable and supportive seats.
Several option packages are available, with a Premium Value Edition adding heated and ventilated front seats and wood interior accents to the FWD IS 250, options included with the AWD trim. A Luxury Plus Value Edition package will add heated and ventilated front seats, a power tilt and telescoping steering wheel, memory system, wood interior accents, rain-sensing wipers, illuminated door sills, power rear sunshade, and steering-linked bi-xenon headlights to the FWD automatic and AWD trims, but it's unavailable on FWD trims equipped with the manual transmission.
Safety
Despite dual front, front-side, curtain-side, and front-knee airbags, the IS 250 only managed a four-star rating in most of the NHTSA's tests, excluding side impact involving the driver and rollover. Still, the IS 250's four-wheel antilock disc brakes provide confident stopping power and good pedal feel, with the standard brake assist and anti-skid system. Daytime running lights provide additional assurance, as does a tire pressure monitor.
What Owners Think
Pleased with its overall style and construction, owners have nevertheless found several shortcomings in the Lexus IS 250. Its 2.5-liter engine is underpowered and overtaxed in all situations, and despite its anemic performance, fails to produce the expected fuel economy. Both transmissions perform without flaw, but the manual comes with a confusing mileage penalty. Couple this with a lack of space in both cargo and the rear, and the debits start outweighing the credits.
Updated
A CarGurus contributor since 2008, Michael started his career writing about cars with the SCCA - winning awards during his time as editor of Top End magazine. Since then, his journalistic travels have taken him from NY to Boston to CA, completing a cross-country tour on a restored vintage Suzuki. While his preference is for fine German automobiles - and the extra leg room they so often afford - his first automobile memories center around impromptu Mustang vs. Corvette races down the local highway, in the backseat of his father's latest acquisition.
What's your take on the 2010 Lexus IS?
Have you driven a 2010 Lexus IS?
Cars compared to 2010 Lexus IS
Looking for a Used IS in your area?
CarGurus has 5,125 nationwide IS listings starting at $3,390.
Trims
250 Sedan AWD

Avg. Price: $14,251
250 Sedan RWD

Avg. Price: $13,672
250C Convertible RWD

Avg. Price: $17,880
350 Sedan RWD

Avg. Price: $15,708
350C Convertible RWD

Avg. Price: $20,510
F Sedan RWD

Avg. Price: $32,468
Quick Links