Looking for a Used Elise in your area?
CarGurus has 23 nationwide Elise listings starting at $43,990.
2008 Lotus Elise
Overview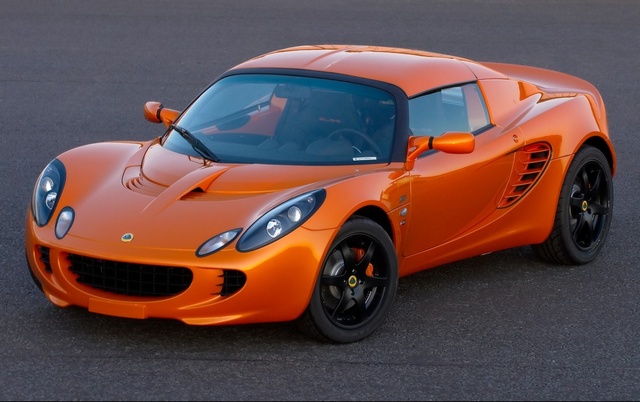 Reviews of the Lotus Elise, at least among driving aficionados, brim with superlatives. 2008 brings a new instrument display with a trip computer, the new Elise SC, featuring a supercharged version of the standard four-cylinder engine, a limited California Special Edition, and a collector's 35th Anniversary Commemorative Edition type 72D.
The standard Elise continues to feature a mid-engine layout with a Yamaha-built, Toyota 1.8-liter four-cylinder engine that employs variable cam timing and lift technology to produce a mere 189 hp at 7,800 rpm. Toyota also supplies the C64 six-speed manual transmission. That "mere 189 hp" propels this two-seat roadster to a 4.8-second 0-60 time (according to Car and Driver) and produces 1.0g of lateral grip - more than both the Porsche Boxster S and the Corvette Z06. The Elise does this by remaining faithful to its founder, Colin Chapman's racing philosophy: Lighter is faster. The Elise's remarkable extruded aluminum, epoxy-bonded chassis weighs only 150 pounds. Clad in lightweight composite body panels, the car tips the scales at an amazing 1,984 pounds, 514 pounds less than a Miata and about 300 pounds less than a Toyota Yaris.
With the weight issue in their favor, this year Lotus adds a supercharged SC model. They're using a slightly detuned version of the supercharged Lotus Exige S's four-cylinder engine. Further, Lotus engineers employed a new intake manifold that incorporates an Eaton M45 Roots-type supercharger and saves 17.6 pounds by eliminating the intercooler used in the Exige S engine. The 1.8-liter engine produces 218 hp, and the performance increase drops the 0-60 time to 4.4 seconds, equaling that of the 420-hp Audi R8. Along with the supercharged engine, the SC trim includes a rear spoiler, specially designed alloy wheels, and a single central exhaust pipe. Lotus gives mileage estimates of 21/27 mpg for the Elise and 20/26 mpg for the SC. Car and Driver saw 25 mpg combined after 2,000 miles of "flogging the holy hell" out of the Elise and 30 mpg from some of their testers.
The other new face in the Elise lineup is the very limited edition California Edition. It's basically a base Elise upgraded with the Touring Pack option, a larger rear spoiler, special exterior trim and wheels, a two-tone leather interior, a hardtop, upgraded sound system, and the Starshield clear protective film body-coat option. Fifty cars will be offered worldwide, twenty-five in Saffron Yellow and twenty-five in Ardent Red. The California Edition has the same performance specs as the base Elise.
Further, to commemorate the Lotus Formula One 72 race car, which powered Emerson Fittipaldi's drive to become the youngest F1 champion in 1972, the type 72D is being offered in a limited fifty-car production run. This will be available in only one color: black with gold accents, pinstriping, badging, etc. This collectible edition is sequentially numbered and autographed by both Clive Chapman, the son of Lotus founder Colin Chapman, and Michael J. Kimberley, Lotus CEO. It features a two-tone leather and Alcantara interior, gold cast wheels, and a type 72D rear spoiler. The configuration also includes the following options: Touring Pack, Sport Pack, metallic paint, and Starshield. A commemorative driving helmet and display case are also included. According to the official Lotus website, the type 72D has 190 hp and a 0-60 time of 4.7 seconds.
With a 1.0-g grip, mid-engine configuration, and super-low weight, the Elise's handling is phenomenal. Don't expect a daily driver's soft ride, but do expect to have some serious fun. Motor Trend compared the accuracy and lightness of the steering "the rival of any Porsche," needing only three-quarters of a turn to negotiate most switchbacks. They conclude that the supercharged engine in the SC actually improves the fabulous handling of the base Elise due to its extra torque at all engine speeds - it's the torque that boots you out of the corners. Yet other reviewers question if the additional $8,000 to move up to the SC is worth its slight performance increase.
Standard equipment on all Elise models includes 16-inch front wheels and 17-inch rear wheels, Lotus/AP Racing (front) and Brembo (rear) brakes, air-conditioning, power windows and locks, an aluminum handbrake and shift knob, a trip computer, a four-speaker Alpine stereo with CD player, an anti-theft system with engine immobilizer, and black cloth ProBax anatomically designed seats, which are said to improve blood flow to the legs, negating the need for an adjustable lumbar.
Weight is a major factor in the Elise, and thus reviewers all note its rather spartan interior. This is a driver's car - there's even a checkbox on the order form to skip the air-conditioning to save weight. After all, full floor carpeting and a cupholder are part of the Touring Pack option package, which also includes a thermal and sound-insulated soft top, full leather seat and door trim, a leather-trimmed center console, an iPod connector, and "additional sound insulation." Safety equipment, besides the car's handling and braking capabilities, includes driver and passenger airbags.
The Elise leaves much to be desired in terms of everyday driving practicality, but the Elise is a driver's machine, and as Car and Driver put it, "The soul, the fluidity, the sheer genius of the thing - those are what matter."
What's your take on the 2008 Lotus Elise?
Have you driven a 2008 Lotus Elise?
Cars compared to 2008 Lotus Elise
Looking for a Used Elise in your area?
CarGurus has 23 nationwide Elise listings starting at $43,990.
Will the Lotus Elise ever have an electric top?
Car is nice, new tires on rear and all are in great condition. my email: sim5mons@bellsouth.net
Trims
California Edition
Roadster
Quick Links