New Toyota Tacoma For Sale Near Lake Havasu City, AZ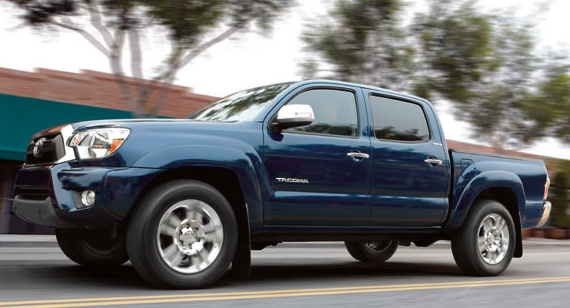 New Search Toyota Tacoma
Within 75 miles of Lake Havasu City, AZ
2012 Toyota Tacoma Access Cab V6 4WD Review
"Reliable, Versatile, and well balanced"
I have driven my Toyota Tacomas in everything from sunny road trips to trudging through rough Midwest blizzards. I have pulled out numerous people after each snow storm we have had with ease, never once feeling as if I was going to get stuck. This is a larger "midsize" perfect for those who don't quite need a full size pickup but still dont want a ...
No results found. Try a new search with a larger radius, or search for a different model.
Checking your number
We will call you first if it is unverified.
Close
Similar Cars
New Car Listings By City
New Toyota Tacoma in Indio CA

21 dealers, 251 listings starting at $17,988

New Toyota Tacoma in Yuma AZ

2 dealers, 8 listings starting at $26,327

New Toyota Tacoma in Las Vegas NV

6 dealers, 45 listings starting at $18,705

New Toyota Tacoma in Phoenix AZ

10 dealers, 127 listings starting at $18,254

New Toyota Tacoma in Flagstaff AZ

2 dealers, 14 listings starting at $22,575

New Toyota Tacoma in San Diego CA

21 dealers, 229 listings starting at $19,605

New Toyota Tacoma in Los Angeles CA

58 dealers, 723 listings starting at $17,988

New Toyota Tacoma in Tucson AZ

3 dealers, 58 listings starting at $19,425

New Toyota Tacoma in Bakersfield CA

5 dealers, 118 listings starting at $18,705

New Toyota Tacoma in Santa Barbara CA

17 dealers, 110 listings starting at $18,705

New Toyota Tacoma in Fresno CA

7 dealers, 70 listings starting at $19,640

New Toyota Tacoma in Albuquerque NM

3 dealers, 92 listings starting at $19,410

New Toyota Tacoma in Provo UT

6 dealers, 93 listings starting at $21,987

New Toyota Tacoma in Stockton CA

42 dealers, 416 listings starting at $16,738

New Toyota Tacoma in San Jose CA

38 dealers, 341 listings starting at $18,205

New Toyota Tacoma in Salt Lake City UT

7 dealers, 93 listings starting at $21,987

New Toyota Tacoma in Reno NV

3 dealers, 64 listings starting at $18,705

New Toyota Tacoma in El Paso TX

3 dealers, 72 listings starting at $19,580

New Toyota Tacoma in Sacramento CA

30 dealers, 346 listings starting at $16,738

New Toyota Tacoma in Oakland CA

40 dealers, 391 listings starting at $17,373

New Toyota Tacoma in San Francisco CA

38 dealers, 381 listings starting at $17,373

New Toyota Tacoma in Colorado Springs CO

9 dealers, 201 listings starting at $18,902

New Toyota Tacoma in Pocatello ID

4 dealers, 12 listings starting at $19,565

New Toyota Tacoma in Redding CA

2 dealers, 34 listings starting at $18,740