New Nissan Murano CrossCabriolet For Sale Near Detroit, MI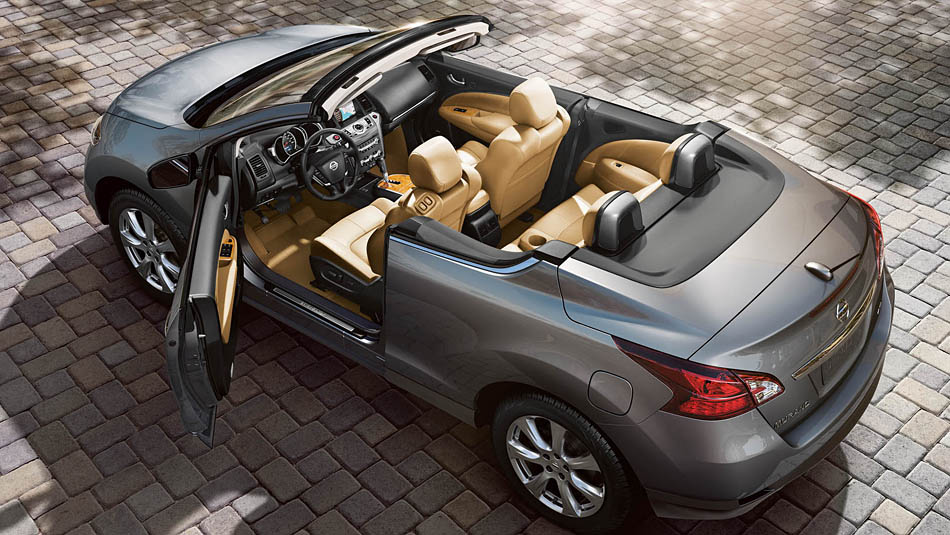 New Search Nissan Murano CrossCabriolet
Within 75 miles of Detroit, MI
2011 Nissan Murano CrossCabriolet Base Review
"a truely unique vehicle that is fun to drive and gets attention wherever you go."
The level of comfort/luxury (except for no cooled seats) is more infiniti level than Nissan. The ride is supple, no it does not handle like a sports car, but guess what, its not a sports car! The quality, fit, and finish of the vehicle are exceptional. My dealer service to date has been better than at my infiniti dealer.
No results found. Try a new search with a larger radius, or search for a different model.
Checking your number
We will call you first if it is unverified.
Close
Similar Cars
New Car Listings By City
New Nissan Murano CrossCabriolet in Toledo OH

13 dealers, 1 listings starting at $45,380

New Nissan Murano CrossCabriolet in Saginaw MI

6 dealers

New Nissan Murano CrossCabriolet in Cleveland OH

19 dealers, 1 listings starting at $40,250

New Nissan Murano CrossCabriolet in Akron OH

20 dealers, 1 listings starting at $40,250

New Nissan Murano CrossCabriolet in Fort Wayne IN

6 dealers, 1 listings starting at $45,380

New Nissan Murano CrossCabriolet in Grand Rapids MI

7 dealers

New Nissan Murano CrossCabriolet in Erie PA

5 dealers

New Nissan Murano CrossCabriolet in Columbus OH

16 dealers, 3 listings starting at $45,015

New Nissan Murano CrossCabriolet in Dayton OH

18 dealers, 5 listings starting at $45,015

New Nissan Murano CrossCabriolet in Pittsburgh PA

17 dealers, 2 listings starting at $43,765

New Nissan Murano CrossCabriolet in Buffalo NY

9 dealers, 2 listings starting at $45,380

New Nissan Murano CrossCabriolet in Cincinnati OH

11 dealers, 3 listings starting at $45,015

New Nissan Murano CrossCabriolet in Indianapolis IN

9 dealers, 1 listings starting at $45,515

New Nissan Murano CrossCabriolet in Chicago IL

30 dealers, 11 listings starting at $38,995

New Nissan Murano CrossCabriolet in Milwaukee WI

19 dealers, 3 listings starting at $38,995

New Nissan Murano CrossCabriolet in Charleston WV

6 dealers, 3 listings starting at $45,015

New Nissan Murano CrossCabriolet in Rochester NY

13 dealers, 2 listings starting at $45,380

New Nissan Murano CrossCabriolet in Green Bay WI

4 dealers

New Nissan Murano CrossCabriolet in Lexington KY

15 dealers

New Nissan Murano CrossCabriolet in Louisville KY

10 dealers

New Nissan Murano CrossCabriolet in Champaign IL

3 dealers

New Nissan Murano CrossCabriolet in Madison WI

7 dealers, 2 listings starting at $39,414

New Nissan Murano CrossCabriolet in Harrisburg PA

28 dealers, 7 listings starting at $42,995

New Nissan Murano CrossCabriolet in Syracuse NY

13 dealers