New Nissan Armada For Sale Near San Diego, CA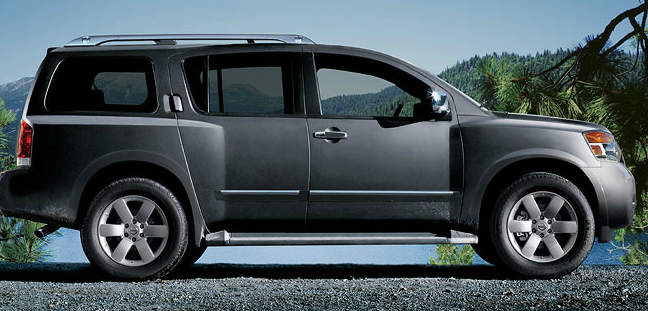 New Search Nissan Armada
Within 75 miles of San Diego, CA
2004 Nissan Armada LE Review
"our armada"
great for towing my jet skis, just wish the seating was different because our familly expanded and we need more room. beautiful truck, feels great. wish we could get better gas mileage out of it. acceleration is slow sometime but i think it will improve after a few more tune ups.
No results found. Try a new search with a larger radius, or search for a different model.
Checking your number
We will call you first if it is unverified.
Close
Similar Cars
New Car Listings By City
New Nissan Armada in Indio CA

16 dealers, 9 listings starting at $42,225

New Nissan Armada in Los Angeles CA

43 dealers, 27 listings starting at $31,988

New Nissan Armada in Yuma AZ

2 dealers, 1 listings starting at $46,525

New Nissan Armada in Santa Barbara CA

13 dealers, 5 listings starting at $42,815

New Nissan Armada in Lake Havasu City AZ

2 dealers

New Nissan Armada in Bakersfield CA

5 dealers, 2 listings starting at $42,815

New Nissan Armada in Las Vegas NV

4 dealers, 17 listings starting at $33,399

New Nissan Armada in Phoenix AZ

13 dealers, 45 listings starting at $31,396

New Nissan Armada in Fresno CA

5 dealers, 4 listings starting at $42,815

New Nissan Armada in Tucson AZ

3 dealers, 1 listings starting at $37,280

New Nissan Armada in Flagstaff AZ

3 dealers, 2 listings starting at $47,560

New Nissan Armada in San Jose CA

29 dealers, 48 listings starting at $37,988

New Nissan Armada in Stockton CA

34 dealers, 64 listings starting at $37,988

New Nissan Armada in Oakland CA

31 dealers, 53 listings starting at $37,988

New Nissan Armada in San Francisco CA

29 dealers, 52 listings starting at $37,988

New Nissan Armada in Sacramento CA

28 dealers, 55 listings starting at $37,988

New Nissan Armada in Reno NV

1 dealers

New Nissan Armada in El Paso TX

3 dealers, 8 listings starting at $43,750

New Nissan Armada in Albuquerque NM

3 dealers, 5 listings starting at $48,025

New Nissan Armada in Provo UT

7 dealers, 56 listings starting at $42,300

New Nissan Armada in Redding CA

2 dealers

New Nissan Armada in Salt Lake City UT

8 dealers, 56 listings starting at $42,300

New Nissan Armada in Medford OR

2 dealers, 3 listings starting at $47,435

New Nissan Armada in Pocatello ID

1 dealers