New Mitsubishi Galant For Sale Near Las Vegas, NV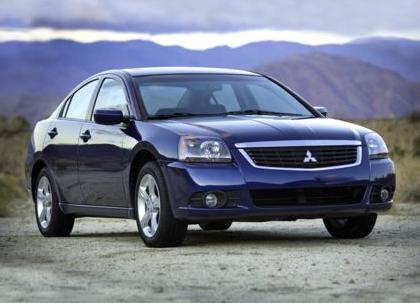 New Search Mitsubishi Galant
Within 75 miles of Las Vegas, NV
2010 Mitsubishi Galant SE Review
"I really like this car! It's fun to drive and is very responsive."
I dislike the fact that Mitsubishi does not make this car in a manual. It is making my attempt to convert it more difficult than I wanted it to be. I really like that it is comfortable to be in and at least it has the sport manual option.
No results found. Try a new search with a larger radius, or search for a different model.
Checking your number
We will call you first if it is unverified.
Close
Similar Cars
New Car Listings By City
New Mitsubishi Galant in Indio CA

4 dealers, 3 listings starting at $25,629

New Mitsubishi Galant in Bakersfield CA

1 dealers, 1 listings starting at $23,319

New Mitsubishi Galant in Los Angeles CA

15 dealers, 4 listings starting at $19,490

New Mitsubishi Galant in Fresno CA

2 dealers

New Mitsubishi Galant in Phoenix AZ

5 dealers

New Mitsubishi Galant in San Diego CA

2 dealers

New Mitsubishi Galant in Santa Barbara CA

2 dealers, 1 listings starting at $23,319

New Mitsubishi Galant in Reno NV

2 dealers

New Mitsubishi Galant in Provo UT

6 dealers

New Mitsubishi Galant in Stockton CA

5 dealers, 6 listings starting at $17,770

New Mitsubishi Galant in Salt Lake City UT

7 dealers

New Mitsubishi Galant in San Jose CA

5 dealers, 6 listings starting at $17,770

New Mitsubishi Galant in Sacramento CA

4 dealers, 4 listings

New Mitsubishi Galant in Oakland CA

5 dealers, 6 listings starting at $17,770

New Mitsubishi Galant in San Francisco CA

5 dealers, 6 listings starting at $17,770

New Mitsubishi Galant in Albuquerque NM

5 dealers

New Mitsubishi Galant in Boise ID

1 dealers

New Mitsubishi Galant in Colorado Springs CO

4 dealers, 2 listings

New Mitsubishi Galant in Denver CO

4 dealers, 2 listings

New Mitsubishi Galant in Amarillo TX

1 dealers

New Mitsubishi Galant in Kennewick WA

1 dealers

New Mitsubishi Galant in Lubbock TX

1 dealers, 2 listings starting at $26,219

New Mitsubishi Galant in Portland OR

4 dealers, 6 listings starting at $18,605

New Mitsubishi Galant in Midland TX

1 dealers